Data report-Production and Market of Fructose Oligosaccharide (FOS) in China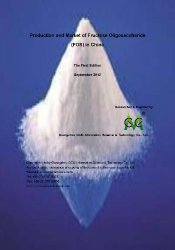 China's FOS industry has seen a fast growth since 2008. As the important prebiotics, FOS producers benefit from the continuous price hike. Many producers have enlarged their capacity to chase the product's remarkable profit. In this report, you can find out the latest production situation in China.
Additionally, the latest consumption of FOS in China is another focus in this report, and we also provide forecast on it in the coming few years.
The following aspects are shown in this report:
Production situation of FOS (2008-2012)
Price change of FOS (2010-2012)
Consumption pattern of FOS (2011)
Forecast on consumption for FOS (2012-2015)
EXECUTIVE SUMMARY

METHODOLOGY

1 PRODUCTION OF FOS IN CHINA, 2008-2012

2 PRODUCER

3 PRICE CHANGE OF FOS IN CHINA, 2010-2012

4 CONSUMPTION OF FOS IN CHINA AND FORECAST, 2011-2015


LIST OF TABLES

Table 2-1 Major producers of FOS in China, 2011


LIST OF FIGURES

Figure 1-1 Production of FOS in China, 2008-2012
Figure 3-1 Monthly ex-work price of type FOS P(95%)S in China, Jan. 2010 - July 2012
Figure 4-1 Consumption patterns of FOS in China, 2011
Figure 4-2 Forecast on consumption of FOS in China, 2012-2015

COMPANIES MENTIONED

Jiangmen Quantum Hi-tech Biological Co., Ltd.,Baolingbao Biology Co., Ltd.,Shandong Bailong Chuangyuan Biotechnology Co., Ltd., Yunnan Jiangsheng Biological Technology Co., Ltd., Guangxi Honghua Oligao Biotechnology Co., Ltd.
---
---
More Publications