5 Leading LCD TV Manufacturers by Share of Global Shipments
21 Sep 2018 • by Natalie Aster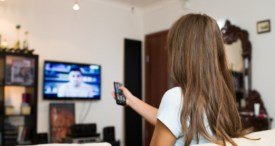 LONDON – Television has long been an important part of a household in the modern world. for many years, TV has been an essential source of visual entertainment giving access to an array of informative programs, news, sporting events, daily soaps, etc. With the lapse of time, TVs have witnessed revolutionary transformations in terms of shapes, sizes, designs, and the way it is used. With continued developments in the Internet connectivity and speed, the demand for different online content as well as streaming video services is mounting at a brisk pace. To satisfy this rising demand, many global leading manufacturers of TVs has introduced smart TVs (that enable viewers to use social media sites, stream online programs, surf the web and play casual games directly on their TV sets) to the lists of their offerings. One of the most prominent developments in TVs is the introduction of liquid crystal displays (LCD).
The world's LCD television market has already reached a certain level of maturity, therefore, it has exhibited a sluggish decline since 2014. Last year, the volume of the world's shipments of LCD TVs shrunk by nearly 6% YoY and totaled slightly over 210 million units, whilst the shipments value declined to USD 102 billion. In 2018, the worldwide LCD TV shipments volume is projected to recover and add approximately 3% YoY.
Global LCD TVs sales value and volume over 2012 – 2017 (in USD billion)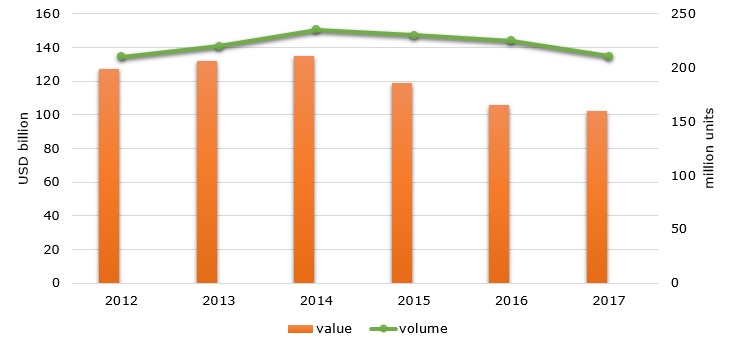 As for regions, the Asia-Pacific region is the biggest regional market for LCD TVs with China making the major contribution to the regional market. It is followed by the North American region.
Top five vendors of LCD TVs together account for a share of almost 55% of the world's total volume of LCD TVs shipments.
LCD TV manufacturers' shares of global market during 2010 – 2017 based on shipments (in %)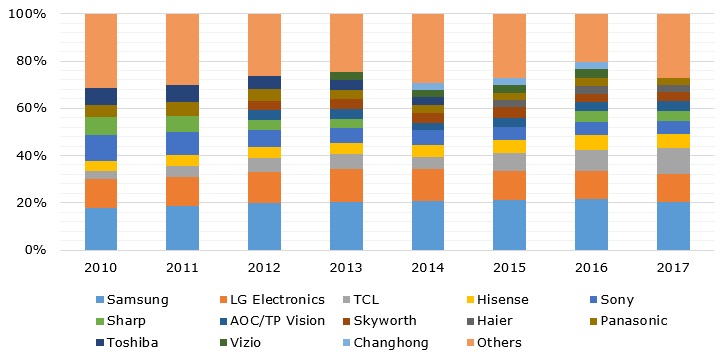 1. SAMSUNG
Samsung (headquartered in South Korea) ranks as the leading manufacturer of LCD TVs on the basis of its share of the global shipments volume. Last year, Samsung grabbed a lion's share of over 20% of the world's total shipments of LCD TVs. This company has maintained the lead in the LCD TVs sector for more than a decade. In Q1 2018, Samsung shipped about 10 million units of LCD TVs. In Q2 2018, the company's shipments totaled 8.9 million units. Due to the strong performance in the LCD TVs market along with a tremendous success in the smartphones market, Samsung generates billions of dollars in revenues. Last year, the company's revenues exceeded USD 222.8 billion.
2. LG
The second spot on the list of the world's dominating LCD TVs manufacturers is also held by the South Korean Company – LG Electronics. As of 2017, the company's share in the world's total shipments volume was over 12%. With a great experience in TV manufacturing, LG has been a pioneer in the introduction of modern technologies. The company shipped approximately 7 million LCD TVs in Q1 2018 and nearly 6.7 million units in Q2 2018. In 2017, LG had total revenues of more than USD 57.7 billion.
3. TCL
The Chinese company – TCL Corporation, is the third leading manufacturer of LCD TVs in terms of global sales. In 2017, TCL captured a share of around 10.9% of the total volume of LCD TVs shipped across the globe. In Q1 2018, the company reported shipments of about 3.97 million LCD TVs, whilst in Q2 2018, it sold 3.77 million units. The revenues generated by TCL Corporation surpassed USD 16.2 billion.
4. HISENSE
The fourth position in terms of LCD TVs sales belongs to the China-based company – HISENSE. This company accounted for a share of approximately 6% of the world's total volume of LCD TVs shipments. HISENSE shipped about 3.25 million LCD TVs in Q1 2018 and nearly 3,02 million units in Q2 2018. Meantime, HISENSE's revenues crossed USD 4.8 billion.
5. SONY
Sony Corporation, headquartered in Japan, takes the fifth spot on the list of the global leading LCD TVs manufacturers in terms of shipments, holding a share of about 5.6% of the world's total volume. The company's share in global LCD TVs shipments has considerably declined since 2008 when it was around 13.7%. However, LCD TVs still remain one of the major segment of the corporation's business performance. As of 2017, the overall revenues generated by Sony Corporation amounted to USD 77.04 billion.
© MarketPublishers.com, 2018