World's Top 5 Construction Equipment Manufacturers
06 Jun 2018 • by Natalie Aster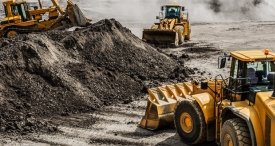 LONDON – In the wake of robust urbanization, surging modernization, and expanding construction sector, construction equipment is of crucial importance, as it allows to cut down labor costs, enhance efficiency and reduce implementation time of a project. Today, a wide choice of construction equipment is available in the market. Owing to remarkable technological progress modern construction machinery can perform various tasks on construction and mining sites (e.g., hauling, hoisting, grading, excavating, drilling, paving, etc.) and has numerous applications in the building and realty sectors.
Booming infrastructure development backed by the rising population coupled with the increasing movement of people to urban settlements acts as the key driver of the construction equipment market growth. Another important market growth engine is an upturn in government spending on public infrastructure development in many countries.
Globally, the construction equipment market has demonstrated good traction during the last several years. At present, 5 leading manufacturers of construction equipment together grab a share of over 40% of the overall market.
Shares of top construction equipment manufacturers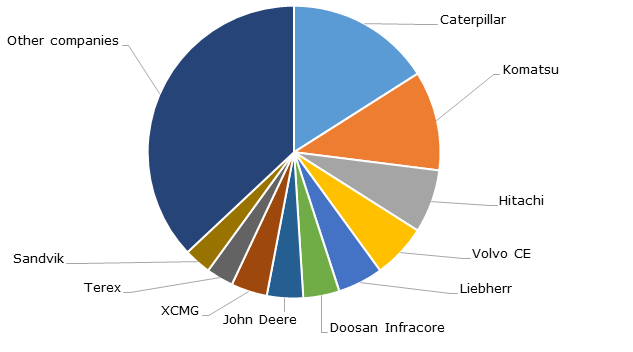 Here is a look at the world's top five manufacturers of construction equipment:
5. Liebherr
Liebherr is a large Switzerland-based construction equipment manufacturer encompassing more than 100 subsidiaries worldwide divided into 10 major product categories: mining, earthmoving, tower cranes, mobile cranes, maritime cranes, machine tools and automation, concrete technology, domestic appliances, transportation and aerospace systems, and other products and services. The company's revenues generated in the construction equipment sector reached appr. USD 7.4 billion in 2017.
Liebherr's sales globally by product category, in FY 2017 (in billion EUR)

Liebherr employs over 42 thousand people across the globe. Last year, this company generated about EUR 9 billion in revenues. At present, Liebherr boasts the world's tallest and most powerful crawler crane, LR13000, which has a maximum pulley height of 248 meters and is able to lift up to 3000 tones.
4. Volvo
Volvo CE (headquartered in Gothenburg, Sweden) is a subsidiary of the Volvo Group. It is engaged in the development, production, and marketing of equipment for the construction industry and other related sectors. This manufacturer has production units in Brazil, the USA, Germany, Sweden, Brazil, Poland, Korea, Russia, India, France, China, Korea and Scotland.
Volvo CE's offerings include a great variety of motor graders, wheel loaders, articulated haulers, asphalt and soil compactors, milling machines, skid steers, pavers, etc. In 2017, Volvo generated nearly USD 7.81 billion on construction equipment sales.
Volvo CE total net sales during 2013-2017 (in billion SEK)

3. Hitachi
Hitachi, Ltd. is a large multinational Tokyo-headquartered conglomerate. 'Construction equipment' is one of the company's major business areas. Today, Hitachi supplies both large- and small-scale equipment to numerous clients worldwide for a broad range of construction tasks (including loading, digging, breaking, carrying, cutting, screening, crushing, grabbing, etc.). Hitachi's construction equipment offerings include wheel loaders, mining dump trucks, crawler dump trucks, forestry equipment, hydraulic excavators, mechanical and hydraulic cranes, etc. Last year, Hitachi generated around USD 8.3 billion in the construction equipment segment.
Hitachi's total net sales during FY 2014-2018 (in billion USD)

2. Komatsu
The 2nd position in the world's construction equipment market is held by the Japanese multinational corporation, Komatsu, Ltd. This well-known manufacturer of mining, construction, and military equipment, also supplies a range of industrial equipment like lasers, press machines, thermoelectric generators, etc. Komatsu has manufacturing facilities in Japan, Europe, Asia, and Americas. The largest, most powerful bulldozer in the world, D575, is made by Komatsu. Last year, Komatsu generated around USD 19.4 billion in the construction equipment segment.
Komatsu's total net sales during FY 2014 – 2017 (in trillion JPY)

1. Caterpillar
The American corporation, Caterpillar, tops the list of the world's largest construction equipment manufacturers with a great advantage over other competitors. This company develops, manufactures, and sells a range of mining and construction equipment, natural gas and diesel engines, diesel-electric locomotives and industrial gas turbines. Caterpillar's sales of construction equipment surpassed USD 26.64 billion in 2017.
Caterpillar's total net sales during FY 2013-2017 (in billion USD)

World's Construction Equipment Market Outlook
Spurred by the increasing construction activities along with rising investments in infrastructure development from pole to pole, the world's construction equipment market reached the value of around 192 billion USD in the past year. It is projected to garner about USD 231 billion by late 2022, registering a CAGR between 6-7% in the short-term. Regionally, the highest growth rate (appr. a 7.5% CAGR) is expected in the APAC construction equipment market.
World's construction equipment market value during 2014 – 2017 (in billion USD)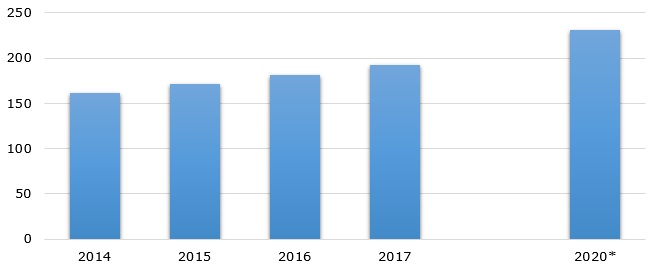 As for product types, the loader segment accounts for the bulk share of the construction equipment market given the widespread use of loaders in mining, construction, and public works sectors. The loader segment is anticipated to hold the lead in the coming years. The cranes and excavators segments also capture big market shares and are predicted to see exciting growth in the short run.
Size of key product segments of global construction equipment market, 2000-2020 (in billion USD)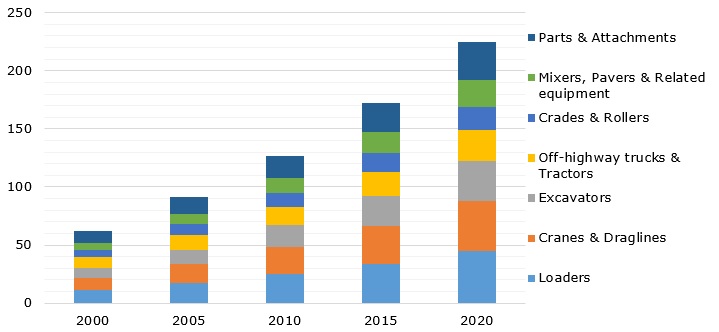 Most Prominent Market Trends to Keep Track in 2018:
Road construction machinery sector is slated to exhibit robust growth spurred by the increasing number of road development programs, especially in the Asia-Pacific region.
Regulatory pressures for lower emissions along with the mounting demand for cost-effective machines is pressuring manufacturers of construction equipment to opt for hybrid and electric vehicles instead of traditional mechanical or hydraulic ones.
Asia-Pacific is expected to stay in the forefront of the construction equipment sales, with China, Japan, and India demonstrating the highest demand.
Loaders are likely to remain the most popular type of construction equipment in 2018, capturing a share of around 38%.
The adoption of VR simulator to train workers to operate construction machinery is projected to increase.
© MarketPublishers.com, 2018