Robotic-Assisted Surgeries to See Increased Adoption Worldwide
01 Feb 2019 • by Natalie Aster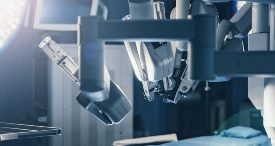 Robot-assisted surgery is taking off on account of the surging demand for technologically sophisticated minimally invasive surgical (MIS) procedures from doctors' and patients' end alike, and the field is becoming increasingly diverse. The surgical robotics sector – part of the broader MIS market – encompasses surgical robots able to implement MIS procedures with a high degree of precision and sensitivity by minimising the size of incisions. That is, robot-aided surgery implies a surgical procedure in which surgeons utilise a computer to hold control over very small tools fixed to a robot. Hence, it is also termed as computer-guided MIS.
The first usage of a robotic surgery took place over 30 years ago when the robotic surgical arm, PUMA 560, was utilised in a delicate stereotactic biopsy. The procedure was formerly prone to error owing to hand tremors during the placement of the needle. Two years later was performed the first robot-assisted laparoscopic cholecystectomy. In 1990, Computer Motion's AESOP emerged as the first FDA-approved system for its endoscopic surgery. At the turn of the 21st century, Intuitive Surgical's da Vinci robot opened up new perspectives in the domain by becoming the first FDA-approved robotic surgery system meant for use in general laparoscopy. This technique has received a global acceptance within the health community and has been adopted by US and European hospitals to treat a diversity of illnesses.
The market for surgical robotic systems globally is forecast to increase in size – from 5.1 billion as of 2017 to around 12.6 billion USD to 2025. It is projected to grab a lion's share of the MIS market owing to the falling price per install.
World's surgical robots market size in 2016, 2017, and a forecast for 2025 (in billion USD)

The major drivers of the market growth include the soaring demand for automation in the healthcare universe, escalating incidence rates of various chronic illnesses, complexity of surgeries, booming geriatric population, and the changing tendency to non-invasive surgeries with higher precision and flexibility, etc.
High Initial Costs Present Major Challenge to Market Growth
Meantime, the high cost relating to computer-assisted surgeries and robotic systems, as well as the lack of trained healthcare professionals to operate the equipment will likely hinder the market growth. Moreover, untapped economies like Brazil, India, China, and others are likely to open a range of lucrative growth opportunities in the surgical robotics space.
However, with more players emerging in the market, there will be higher pressure on the current players to decrease the systems' overall price, leading to higher uptake of robotic-assisted surgeries.
Instruments & Accessories to See Slight Decrease in Market Share but Continue to Dominate
By product category, services are likely to see the fastest growth given the high need for maintenance and upgradation that these systems require. It is forecast that over the next 7 years the market share of services will grow mildly – from 24% as of 2016 to 26%. Top players normally provide an annual service agreement at the point of system sale, which can be reactivated by the hospitals. The services entail basic training and scheduled technology maintenance and upgrades to optimise the system efficiency. The market share of surgical systems is projected to see a very slight increase and be equal to some 28% in 2025.
Instruments and accessories are set to keep on being the biggest segment in the foreseeable future on the back of the surging volume of robotic surgeries. However, their market share is expected to decline by 3% through 2025 and total appr. 46% by the end of the forecast period. A hike in the adoption of robot-assisted surgeries has been observed specifically in regions like the USA, the UK, India, China, and Saudi Arabia.
Structure of global surgical robots market by product type in 2016 and 2025* (in %)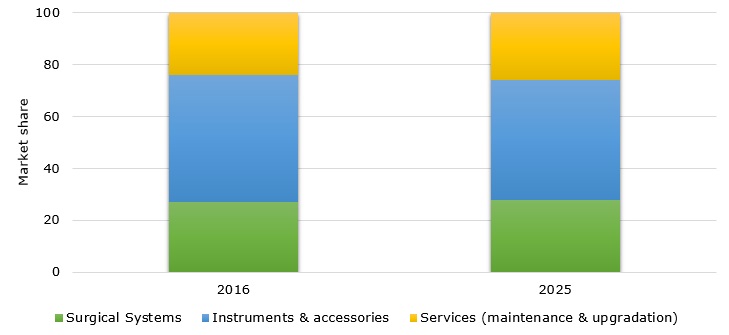 Robotic Surgery Market Shares in Gynecology & Urology to Decline in Due Course
The number of application fields for robotics in the world healthcare sector has seen a great upturn. New-day healthcare services are required to be of high efficiency and absolute precision. In the given scenario, hospitals and surgeons have a propensity for using robotic surgery systems, which have already become a successful alternative in versatile general surgical procedures, as well as in gynecological, neurological, urological, cardiothoracic, and orthopedic surgeries. As technological advances are unavoidable in the short run, the robotic surgery universe is poised to see the advent of novel applications by integrating up-to-the-minute technologies, pushing world market revenue.
Gynecology emerges as the key application area, contributing over 31% of the overall revenue. The rising adoption by US gynecologists in conducting prostatectomy is a vital driver that is propelling the growth. Nevertheless, by 2025, globally, the market share of surgical robots within the gynecology domain is projected to decrease to 24% from 31% in 2016; while that of robotic procedures in urology is set to decrease to 12%.
Structure of global surgical robots market by applications in 2016 and 2025* (in %)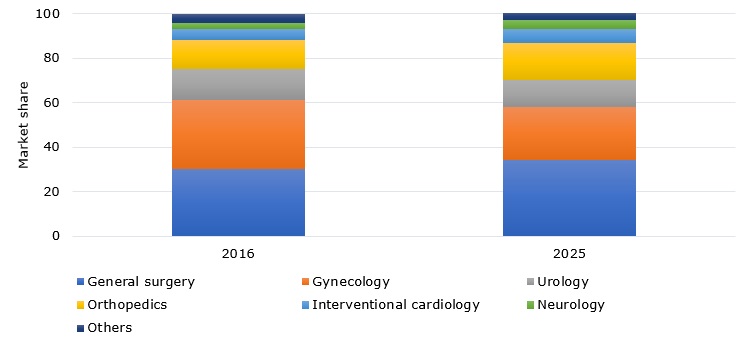 Meantime, the market share of robotic systems in orthopedic surgeries is forecast to increase by 4% to reach 17% in 2025 due to an upsurge in orthopedic injuries from pole to pole.
Da Vinci Systems Still Take Centre Stage in Robotic Surgery Universe
The competitive scenario for surgical robots is diverse and ample, with large transnationals and small start-up firms alike venturing into the domain.
Intuitive Surgical maintains its status of the leading player with its products, comprising da Vinci surgical systems and related instruments & accessories, being in the extensive use from pole to pole. The use of this advanced technology has been allowing patients to enjoy a slew of major benefits, comprising fewer post-surgical complications like wound infections, less bleeding and pain, reduced scarring, decreased duration of hospital stays, etc. And the demand for the technology is on the rise, and the company's installed base of these devices rose to 4,400 in 2017, leading to the sales growth of instruments & accessories. The da Vinci systems' sales are projected to continue witnessing a low double-digit increase in the short run, driven largely by the company's focus on novel products and expansion of procedures. Thus, the company has recently got a FDA approval of their new SP surgical system to treat urological issues and plans to seek approvals for other applications.
The company's services revenue followed an upward trend during the past few years, demonstrating moderate double-digit growth, and came to USD 0.7 billion in 2018 owing to high single-digit growth in installed base.
Intuitive Surgical's revenue from services and products during 2016-2019* (in billion USD)
However, Intuitive Surgical is facing certain market competition from overseas companies rivalling to capture the surgical robotics space with their versions of brand-new robots.
Despite being the biggest mover of the industry, da Vinci systems have been subject to patent expiry as of late resulting in the introduction of new entrants, especially of smaller-sized or startup companies that are dependent on financing and investment raisings for ongoing development.
TransEnterix is one of the new entrants and is seen as one of Intuitive Surgical's most important rivals, with its revenue worth around USD 20 million in 2018. The firm is focused on the commercial realisation of the Senhance™ Surgical System. The ALF-X multi-port and SurgiBot systems are the company's two lucrative products.
Medrobotics and Medtronic have been the second and third largest competitors, generating USD 5 million and USD 36.8 billion in total revenue, respectively, last year.
Other competitors comprise Hansen Medical, Boston Scientific, Verb Surgical, C. R. Bard, Auris Health, CMR Surgical, Applied Medical, and Titan Medical Inc. The latter focuses on the development and commercialisation of its novel advanced SPORT Surgical System.
MACO System to See Fastest Growth
In the upcoming years, MAKO is likely to observe the most rapid growth due to the rising volume of orthopedic surgeries alongside Stryker's joint marketing initiatives for the system. The company is poised to launch the MAKO brand into new geographies resulting in the rising sales in the offing.
Bottom Line
Robot-aided surgical procedures are increasingly gaining popularity in parallel with the ongoing progress in technology, which implies more efficient and precise procedures, with fewer complications and negative outcomes as well as less and less discomfort of patients. As partnerships and financing keep on supporting innovation in the surgical robotics universe, the market will likely get more inhabited along with intensifying competition. The world's surgical robotics market is projected to expand in the foreseeable future to support a broader diversity of surgeries and patients.
© MarketPublishers.com, 2019