Virtual Reality (VR) Market: Most Promising Sectors in 2018
09 Feb 2018 • by Natalie Aster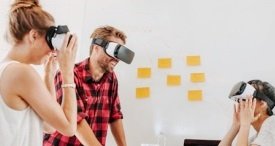 LONDON – Nowadays, the virtual reality (VR) field is changing incredibly fast and becoming mainstream, with a slew of growth opportunities and new applications emerging in different industrial sectors. 2018 is also promising to be a big year for the VR technology.
The total revenues generated by the VR (hardware and software) industry stood at appr. USD 3.7 billion in 2016, and exceeded USD 6.4 billion in 2017. This year, the VR (hardware and software) industry revenues are likely to cross the USD 12.1 billion mark. In the coming years, the global VR industry is anticipated to witness robust growth at an enormous double-digit CAGR. In 2020, the world's VR (hardware and software) market is forecast to go beyond USD 40 billion.
Virtual Reality (Hardware & Software): Global Market Size, 2016-2020, bn USD


It is not surprising that the VR industry revenues are growing at a swift pace, as the demand for VR-based wearable displays and other equipment is steadily rising, whilst prices of hardware components are falling, thus, making them more affordable. Furthermore, the penetration of mobile devices is increasing from pole to pole along with ongoing technological advancements in their capabilities, including built-in VR functionalities; this is also spurring growth in the VR market. Besides, top VR market players are stepping up investments into R&D of the VR technology, thus, boosting the market growth.
At present, the hardware segment holds the lion's share of the overall VR market revenues. However, by 2025 it will likely be outperformed by the software segment, which is poised for robust growth in the years ahead owing to expanding adoption of VR software platforms and applications worldwide.
Global Virtual Reality Market Revenue by Component, 2017-2020, bn USD

Who Leads Global VR Market?
Today, the VR market is highly fragmented across various end-use areas. Therefore, manufacturers and technology developers engaged in this sphere need to understand differential features/characteristics and requirements of each industry in particular and have to adapt to new scenarios to be effective. Presently, 5 leading players in the VR market together contribute around a half of the total revenues.
Sony is an unrivaled leader in the global VR market with a share of nearly 30%. This is mainly owing to the vast installed base of PlayStations and the best "performance-to-price" balance of the VR headsets.
The second and the third places are held by Facebook (Oculus platform) and Google, respectively. Neither of this two companies has such a huge VR user pool as Sony. Also, their products are at the low end or too expensive. Still, both players have already generated hundreds of million dollars due to their well-known brands and high quality of technologies provided.
Samsung and HTC round out the top five VR vendors.
Structure of the Global Virtual Reality Market by Vendors, 2017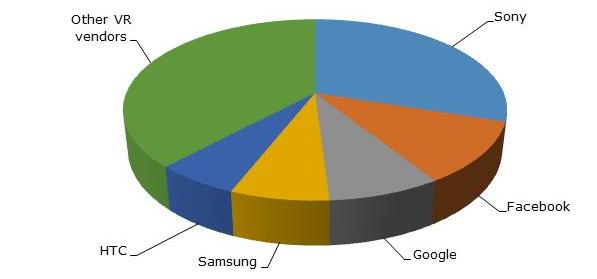 Sectors Promising Growth for Virtual Reality Technology in 2018:
The healthcare industry was one of the first adopters of the VR technology, and currently it is amidst the largest end-use industries. The VR technology finds numerous applications in the healthcare industry, for instance, it is used in skills training, robotic surgery, phobia treatment and surgery simulation, to name a few.
What makes the VR technology especially important for the healthcare industry is that it gives medical professionals great opportunities to learn new skills and also train/refresh existing ones in a safe environment without imposing any risks of harm to a patient.
The world's virtual reality in healthcare market is projected to see tremendous growth at a CAGR between 55-60% through 2022. Growth in this market will likely be supported by rising healthcare expenditures, expanding prevalence of neurological disorders and escalating demand for innovative diagnostic techniques. Furthermore, ongoing advancements in endoscopic surgical techniques, rising number of robotic surgeries and enormous growth potential of emerging economies are anticipated to open further opportunities for the VR in healthcare market growth in the foreseeable future.
The VR technology has opened an entirely new dimension in the gaming industry. Nowadays, video games certainly present the biggest market for VR. Gaming consoles are forecast to continue holding the biggest share of the overall VR gaming market in the near future. Popular genres of VR games are adventure, simulation, and action games.
The most noteworthy trend in the gaming world is increasing adoption of and preference for 360-degree videos, enabling viewing videos at any angle and with options to rotate and pan the videos.
Propelled by elevating demand for modern technologies in electronic games, enhancing awareness of VR technology, expanding Internet penetration and increasing disposable income of consumers across emerging nations, the global virtual reality gaming market size is projected to see impressive growth and increase from around USD 3.6 billion in 2016 to amount to appr. USD 22.9 billion by late 2020.
Presently, Europe and North America rank the largest markets for VR gaming. As of 2016, the value of Europe's VR gaming market stood at USD 1.9 billion, while North America's VR gaming market was estimated at USD 1.5 billion.
Construction & Real Estate
The VR technology has bright growth potential in the construction and real estate industries with game-changing value for designers, architects, engineers, builders, and realtors.
BIM and 3D modeling programs that have already made considerable advancements in the field of project modeling now can be adapted to VR tools to get a fully visualized representation of an idea and, thus, get an 'all-around' view of a project.
The VR technology provides undeniable benefits for the construction industry, for example, it allows to save time and money by giving professionals, engaged in the construction project, a great possibility to test any features before a project is launched. With VR tools they can detect potential risks or identify required changes at the design stage rather than during construction activities when they will become extremely costly to correct. The VR technology also improves collaboration and communication between all parties engaged in a construction project, as it helps to assess the finalized building and prevent any misunderstandings.
Furthermore, VR tools can be effectively used by realtors to showcase properties of buildings (even unfinished) to customers in a realistic way with an ability to explore location and neighborhood.
The VR technology can become an important tool in the travel & tourism industry. It allows travel agents to provide their clients with an engaging free sample of any tour they are interested in.
Most people usually get lost in a great variety of traveling options and tourism destinations, they need just have a small bite of real experience to make their choice, and VR equipment can effectively deal with it. The VR technology helps clients looking for a tour to have a glimpse of different destinations, attractions, and sights, and then make an informed decision. VR could also give a hand to travel agencies in rising their brand awareness.
There is no doubt that the VR technology is an ideal supplement for marketing and promotional campaigns in the travel and tourism industry, therefore it is expected to enjoy the increasing adoption in this field in the coming years.
The VR technology has an immense potential in the education industry. It allows organizations to educate their employees in new and better way as well as teach students with more engaging and effective tools. The VR technology is expected to revolutionize not only how people learn, but also the way they behave in real-world applications.
The VR technology in education market reached the value of around USD 116.7 million in 2017. The market is projected to witness a tremendous CAGR of over 70% to amount to nearly USD 2 billion through 2022, encouraged by increasing adoption, declining prices of VR tools, introduction of better content and rising awareness of the VR technology.
Virtual Technology Is About to Change Every Sphere of Everyday Life
Initially simply thought of as a new frontier in gaming, the virtual reality technology has found its way to more practical applications. Besides, the promising sectors mentioned above, VR technology can be efficiently used in:
retailing: to provide online shoppers with an opportunity to test and experience products before purchasing, for instance, to try on clothes in virtual dressing-rooms or to see how new furnishings would look in your house;
business meetings/conferences: to gather partners, speakers, colleagues or potential customers in a virtual environment, thus helping them to save time and money on business trips;
in military/defense sector: to train recruits more effectively and optimize military strategies and operations;
in marketing & advertising: to inform customers about various product/services and interact with a target audience in unique ways;
in recruiting & HR: to meet with potential hires and assess their skills in an immersive environment;
and many more.
Whilst some consider VR to be just a modern gaming technology, many investors have already identified the considerable potential for VR across a wide range of industries. With VR hardware and software becoming more and more affordable and user-friendly, the adoption of this technology across various verticals is expected to continue gaining traction at a swift pace during 2018.
© MarketPublishers.com, 2018
CONTACTS
The Market Publishers, Ltd.
Natalie Aster
Tel: +44 208 144 6009
Fax: +44 207 900 3970
[email protected]
MarketPublishers.com