Huawei Report 2011: Securing New Markets and Gaining Competitive Advantage in the LTE Domain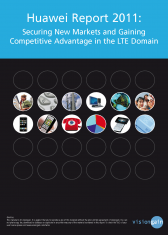 LTE Pioneer Huawei, Seeks to extend its LTE Successes
Is Huawei emerging as a dominant force in the LTE market? Visiongain research shows that Huawei's rivals such as Ericsson, NSN and Alcatel Lucent have the greatest to lose if they do not address the competitive threats from Huawei and formulate emergent strategies in the infrastructure and professional services market. The LTE network infrastructure market alone is forecast to grow rapidly to be worth $68 billion by 2016, with just a handful of key vendors fighting for market share. Visiongain's new report quantifies these market changes and analyses the impacts of these variations.
Competitors Move to Block Huawei's Continuing Growth in Key Markets
Huawei will move from being the fourth to third largest ICT vendor in the world over the forecast period. This new visiongain report examines the full competitor landscape and establishes Huawei's position against its main rivals in the ICT market overall and in the rapid growth sector of LTE. MNOs, investors and affiliates can position themselves favourably by having a view of the market positions as they are now, and how they will be in the near future.
Huawei is Emerging as a Significant Force in the Handset Market
In 2011, 18% of Huawei's revenue is derived from mobile devices, but 2016, this will have risen to 30% as the company refocuses it's structuring to target consumer electronics markets globally. Readers of this report will discover the projected worth of key markets in which Huawei operates and what influence Huawei will exert upon these markets. Operators, vendors and MNOs working in these markets will learn key information from this report concerning Huawei's business movements and prospects, allowing them to strategically position themselves to maximise revenues.
What is Unique about this Report?
Visiongain research presents independent, unbiased analysis in detail and presented in easily digestible terms. Through key industry contacts, our primary and secondary research provides you with the very latest, accurate market data available. The LTE market is an extremely high growth category of the ICT industry and revenues over the forecast period will become massive. Visiongain's analysis of Huawei's growth in this market and insurgence into other related markets, such as mobile devices and tablet PCs provides a clear picture through to 2016.
Who needs to read this report?
Handset Manufacturers
As the prospect of ubiquitous LTE standardisation comes ever closer, Huawei is positioning itself in high end smartphone markets in developed economies and in low cost handset markets for emerging markets. Given the potential revenues involved in these markets, Huawei will seek to acquire market share from existing device vendors, is your company ready to deal with this competition.
OS Vendors
Huawei has formed key partnerships with mobile device OS vendors so far, but will it continue to sell its products with these systems, or will it seek to switch, diversify or develop its own native OS in the coming years?
Mobile Service Providers
We show the impact that Huawei's globalisation will have on service providers in various work markets.
Professional Services Providers
We show the impact of Huawei's involvement in this industry and what effect it will have on its competitor over the 2011-2016 forecast period.
EXECUTIVE SUMMARY

E1. Huawei Has Rapidly Become a Major Global Player across Many Markets
E2. The Dawn of the LTE Boom
E3. How Much Market Share is Available to Huawei?
E4. Variation and Flexibility will be Key to Robust Growth of the Brand

CHAPTER 1: INTRODUCTION

1.1 Telecoms Landscape in 2011
1.1.1 Huawei Establishes itself as Key Infrastructure Player in the Market
1.2 Huawei Success Story
1.3 Operators Searching for New Business Models
1.4 Huawei Company History
1.4.1 Naming the Board of Directors to Aid Transparency
1.5 Key Partners
1.6 The Aim of this Report
1.7 Key Questions Answered by this Report

CHAPTER 2: HUAWEI'S PRODUCT PORTFOLIO

2.1 Huawei's Business Divisions
2.2 Network Upgrades
2.2.1 European Networks
2.2.1.1 Everything Everywhere (EE)
2.2.1.2 Huawei's UK Standing
2.2.2 Telefonica Germany
2.2.3 TeliaSonera
2.2.4 Middle East Networks
2.2.4.1 Qatar QTel FTTH Project
2.2.5 Asian Networks
2.2.5.1 M1 and Huawei to Deploy South East Asia's First Commercial LTE Network
2.2.5.2 Asia-Pacific Server Market on the Rise
2.2.5.3 Huawei's India-Specific Tablets
2.2.6 LTE to Drive Future of Telecommunications Technology in India
2.3 Managed Services
2.3.1 China Unicom Shanghai
2.4 The Competitive Consumer Electronics Market
2.4.1 Huawei Enters the Handset Market
2.4.1.1 Devices
2.4.1.2 Huawei's Partnership with Google Capitalising on the Android Boom
2.4.1.3 Huawei Smartphones Take on the Established Android Handset Vendors
2.4.1.4 Huawei in the Windows Mobile Space
2.4.2 The Rise of the Budget Priced Smartphone Market
2.4.2.1 Breaking the $100 Price Point
2.5 Service Delivery Platforms

CHAPTER 3: HUAWEI'S SUCCESS STORY

3.1 Analysis of Huawei's LTE Solution
3.1.1 Huawei SingleRAN Solution
3.1.2 Notable Achievements for Huawei
3.1.3 VoIP support
3.2 How Huawei Compares to its LTE Competitors
3.2.1 Ericsson Developing LTE Advanced
3.2.2 NEC
3.2.3 ZTE
3.2.3.1 ZTE Smartphones
3.2.3.2 Huawei/ZTE Legal Action
3.2.4 NSN
3.2.4.1 Possible Split at NSN
3.2.5 Fujitsu
3.2.5.1 Fujitsu's LTE Base Station Business
3.2.6 Competitive Assessment of Huawei against its Rivals
3.2.6.1 Telecoms Equipment Vendor Solutions Assessment
3.2.6.2 Contract Winning Assessment
3.2.6.3 LTE Patent Contribution Assessment
3.3 Huawei Making Inroads in Asia with its LTE Portfolio
3.3.1 Singapore
3.3.2 Huawei and Shanghai Maglev
3.4 Huawei offers Carriers WiMAX to LTE Migration Solution

CHAPTER 4: HUAWEI'S GLOBAL AMBITIONS

4.1 Failure to Win Any Large US Telco Contracts
4.2 Overhaul of the Corporate Security Plan to Win US Business
4.3 Huawei's Ambitions in Emerging Markets
4.4 Huawei's Target on Cisco's Server Market Dominance
4.4.1 Enterprise Capability and Growth Compared to Cisco

CHAPTER 5: HUAWEI'S INVESTMENTS, ASSETS AND PERFORMANCE

5.1 Investments
5.1.1 Asia Pacific
5.1.1.1 Chinese Infrastructure Market
5.1.2 US and Canada
5.1.2.1 AT&T Adopting LTE
5.1.2.2 Verizon's LTE Early Adopter Advantage
5.1.3 Europe
5.1.3.3 European Telecoms Infrastructure Vendors Petition
5.1.4 Middle East and Africa
5.1.4.1 Huawei and Airtel Boost Connection Speeds in Africa
5.1.5 The BRIC Countries
5.1.5.1 Huawei Investing $2bn in Indian R&D Centre
5.2 The Global Infrastructure Market
5.2.1 Infrastructure Market Analysis
5.2.2 Global Infrastructure Sales Forecast to 2016
5.2.3 CapEx Spending Drives Vendor Revenues
5.2.4 Wireless Infrastructure Segment
5.2.5 Technology Leaders in Individual Infrastructure Segment
5.2.6 Huawei's Potential in the Infrastructure Market
5.3 Company Performance and Forecasts
5.3.1 Market Positioning by Q4 2010
5.3.2 Expansion into New Business Segments
5.3.3 Networks Security Development
5.3.4 Drove Sustainable Developments
5.4 The Evolution of Radio Access Technologies for Huawei
5.5 Huawei's Position in the Professional Services Market
5.6 China Specific Business
5.7 Global Sales Forecast 2011-2016 by Revenue Stream
5.8 Operating Expenditure Forecasts Factored against Revenue
5.9 Huawei's Leveraging Partnerships Globally
5.9.1 Option Wireless
5.9.2 Focus Shift to Customer-centric Innovation

CHAPTER 6: CONCLUSION

6.1 SWOT Analysis of Huawei
6.2 Key Findings of this Report

APPENDIX A

About visiongain

APPENDIX B

Visiongain Report Evaluation Form

APPENDIX C

Report Methodology


LIST OF TABLES, CHARTS AND FIGURES IN THIS REPORT

Table 1.1 - Key Events in Huawei's Company History 1987-2011
Table 1.2 - Huawei Key Products 2011
Figure 1.3 - Huawei Company Structure
Table 2.1 - Huawei's Main Business Divisions 2011
Chart 2.2 - Asia Pac Server Market 2011 (US$, Billions)
Chart 2.3 - Asia Pacific Servers Shipments Market Share Q1 2011
Chart 2.4 - Asia Pacific Servers Shipments Market Share Q1 2016
Fig 2.5 - Huawei Ideos S7 Android Powered Tablet PC
Chart 2.6 - Global LTE Market Forecasts 2011-2016 (Subscribers, Millions)
Chart 2.7 - Huawei Handset Sales Forecast 2010-2016
Chart 2.8 - Huawei Smartphone Sales as a Percentage of Total Mobile Devices Sole 2010-2016
Chart 2.9 - Huawei Global Device Business Revenue Forecast 2010-2016
Chart 2.10 - Huawei Devices Forecast Relative to Competitor's Growth 2010-2016 ($, Millions)
Chart 2.11 - Huawei Market Share of the Android Handset Market 2011-2016
Fig 2.12 - The Huawei IDEOS X1
Chart 2.13 - Global SDP Market Revenues 2011-2016
Chart 2.14 - Global SDP Market Share Q1 2011
Table 3.1 - Key Facets of the Huawei SingleRAN Solution
Table 3.2 - Huawei's Key Achievements 2004-2011
Table 3.3 - Top Mobile Handset Vendors Shipments and Global Market Share Q1 2010 - Q1 2011
Chart 3.4 - Top Mobile Handset Vendors Global Market Share Q1 2010
Chart 3.5 - Top Mobile Handset Vendors Global Market Share Q1 2011
Table 3.6 - Glossary of Criteria used in the Assessment of Network Equipment Vendors
Table 3.7 - Telecoms Network Equipment Vendor Assessment 2011
Chart 3.8 - Telecoms Network Equipment Vendor Assessment 2011
Table 3.9 - Commercial Contracts Acquired by the Top 6 Telecoms Equipment Vendors in 2010
Table 3.10 - LTE Patent Applications by the Top Telecoms Equipment Vendors in 2010
Chart 3.11 - LTE Patent Applications by the Top Telecoms Equipment Vendors in 2010
Table 4.1 - Huawei's Key Investments and Deployments in Emerging Markets 2010-2011
Chart 4.2 - Huawei Enterprise Server Market Share Vs. Cisco 2005-2011
Chart 4.3 - Huawei Enterprise Server Market Share Vs. Cisco 2011-2016
Chart 5.1 - Chinese Telecoms Infrastructure Market 2011
Chart 5.2 - Chinese Telecoms Infrastructure Market 2016
Chart 5.3 - Huawei US Market Revenues Forecast 2010-2016 ($, Millions)
Fig 5.4 - Letter of Petition from the EWCETIV (2010)
Chart 5.5 - Huawei and Key Competitors Network Infrastructure Market Forecast 2011-2016 (US$, Billions)
Table 5.6 - Global Telecoms Infrastructure Market Forecast 2011-2016
Chart 5.7 - Global Telecoms Infrastructure Market Forecast 2011-2016
Chart 5.8 - Global Telecoms Capex Spend & Capex to Sales Ratio 2011-2016
Chart 5.9 - Global Telecoms Capex/Sales 2011-2016
Chart 5.10 - Vendor Revenues 2009-2010
Table 5.11 - Leading Vendors in Individual Infrastructure Market Segment 2011
Table 5.12 - Huawei's Predicted Revenues from the Telecoms Infrastructure Market Forecast 2011-2016 (US$, Billions)
Chart 5.13 - Huawei's Predicted Revenues from the Telecoms Infrastructure Market Forecast 2011-2016 (US$, Billions)
Table 5.14 - Huawei Financial Performance 2006-2010 (CNY, Millions)
Chart 5.15 - Huawei Revenue 2006-2010 (CHY, Billions)
Chart 5.16 - Huawei Net Profit 2006-2010 (CHY, Millions)
Chart 5.17 - Huawei Operating Profit 2006-2010 (CHY, Millions)
Chart 5.18 - Huawei Cash Flow From Operating Activities 2006-2010 (CHY, Millions)
Chart 5.19 - Huawei Total Borrowings 2006-2010 (CHY, Millions)
Table 5.20 - Huawei Financial Performance Forecast 2011-2016 (CHY, Millions)
Chart 5.21 - Huawei Financial Performance Forecast 2011-2016 (CHY, Millions)
Chart 5.22 - Huawei Financial Performance Forecast 2011-2016 (US$, Billions)
Chart 5.23 - Huawei Financial Performance Forecast Relative to Competitor's Growth 2011-2016 ($, Millions)
Chart 5.24 - Telecoms Professional Services Market Forecast Rest of Market Value and Huawei Market Share 2010-2016 (US$, Millions)
Chart 5.25 - Telecoms Professional Services Market Forecast Total Market Value 2010-2016 (US$, Millions)
Table 5.26 - Huawei Sales Revenue in China and RoW 2009-2010 (CNY, Million)
Chart 5.27 - Huawei China Domestic Business vs. Overseas Business 2009
Chart 5.28 - Huawei China Domestic Business vs. Overseas Business 2010
Table 5.29 - Huawei Sales Revenue in China and RoW 2010-2016 (CNY, Million)
Table 5.30 - Huawei Sales Revenue in China and RoW by Percentage of Total Sales Revenue 2010-2016
Chart 5.31 - Huawei Sales Revenue in China and RoW by Percentage of Total Sales Revenue 2010-2016
Chart 5.32 - Huawei China Domestic Business vs. Overseas Business 2011
Chart 5.33 - Huawei China Domestic Business vs. Overseas Business 2016
Table 5.34 - Huawei Global Sales Revenue by Revenue Stream 2009-2010 (CNY, Million)
Chart 5.35 - Huawei Global Sales Revenue Breakdown by Revenue Stream 2009
Chart 5.36 - Huawei Global Sales Revenue Breakdown by Revenue Stream 2010
Table 5.37 - Huawei Global Sales Revenue by Revenue Stream 2010-2016 (CNY, Billion)
Table 5.38 - Huawei Revenue Stream by Percentage of Total Sales Revenue 2010-2016
Table 5.39 - Huawei Global Sales Revenue by Revenue Stream 2010-2016 (US$, Billion)
Chart 5.40 - Huawei Revenue Stream by Percentage of Total Sales Revenue 2010-2016
Chart 5.41 - Huawei Global Sales Revenue Breakdown by Revenue Stream 2011
Chart 5.42 - Huawei Global Sales Revenue Breakdown by Revenue Stream 2016
Chart 5.43 - Huawei OpEx Forecast Breakdown by Category 2009-2010 (CHY, Millions)
Table 5.44 - Huawei OpEx Breakdown 2010-2016 (CHY, Billions)
Table 5.45 - Huawei OpEx Breakdown 2010-2016 (US$, Billions)
Chart 5.46 - Huawei OpEx Forecast Breakdown by Category 2011-2016 (CHY, Millions)
Chart 5.47 - Huawei OpEx Forecast Breakdown by Category 2011-2016 (CHY, Millions)
Chart 5.48 - Huawei OpEx Forecast Percentage by Category 2011
Chart 5.49 - Huawei OpEx Forecast Percentage by Category 2016
Fig 6.1 - SWOT Analysis
Table 6.2 - Key Findings of this Report

COMPANIES LISTED

Acer
Alcatel-Lucent
America Movil
Amethon
Android
Apple
AT&T
Avaya
Bharti-Airtel
Cable and Wireless
China Telecom
China Unicom
Cisco
Datang Mobile
Deutsche Telecom
Do-Co-Mo
Ericsson
Everything Everywhere
France Telecom
Fujitsu
Google
Hewlett Packard
HTC
Interdigital
LG
Microsoft
Mobixy
Motally
Motorola
NEC
Neuralitic
Nextel
Nintendo
Nokia
Nokia-Siemans Networks
O2
Open Handset Alliance
Opera
Orange
Palm
Panasonic
Pandora
Pfizer
Qualcomm
RIM Blackberry
Rovio
Samart
Samsung
Skype
Sony
Sony-Ericsson
Spotify
Swedish Post and Telecom Agency
Symbian
Tandberg
Telecom New Zealand
Telefonica
Telenor
TeliaSonera
T-Mobile
Verizon
Vodafone
Windows
Yahoo!
Yota
Zokem
ZTE
---
---
More Publications