Healthcare Market Access: Poland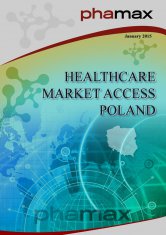 The report provides in-depth information on:
Country Landscape – This section covers information on the prevailing economic environment in the country and the reform efforts being taken. The GDP growth has improved indicating trends in the economic indicators and improvement. The demographic profile of the country indicates a negative population growth rate
Healthcare infrastructure – Insightful review of the country's healthcare system and health status with key health indicators are presented in this section. Moreover, healthcare expenditure and major healthcare providers are mentioned. The profiles of major hospitals and the number of healthcare personnel in the country are also covered.
Overview of Pharmaceutical Market – This section depicts the pharmaceutical market in terms of size, growth, product mix and key players operating in the country. A special emphasis has been laid on the key drivers and barriers impacting the pharmaceutical market of the country. Furthermore, major diseases with high burden for the country have been covered.
Market Access: This section dwells on the role and importance of various stakeholders in product commercialization process and gatekeepers holding the key to the access for pharmaceutical products. Various regulatory aspects crucial for approval and marketing of various categories of pharmaceutical products have been captured. In addition, analysis of pricing and reimbursement landscape along with the prescribing policies are covered.
1 COUNTRY LANDSCAPE

1.1 Economic environment
1.2 Demographics
1.3 Political structure and environment

2 HEALTHCARE INFRASTRUCTURE

2.1 Healthcare system
2.2 Health status
2.3 Health insurance

3 OVERVIEW OF THE PHARMACEUTICAL MARKET

3.1 Market overview
3.2 Major players

4 MARKET ACCESS

4.1 Regulatory landscape
4.1.1 Market authorization for pharmaceutical products
4.2 Pricing
4.3 Reimbursement landscape

5 APPENDIX

5.1 Glossary
5.2 Bibliography
5.3 Methodology
5.3.1 Secondary research
5.3.2 Primary research
5.3.3 Data validation
5.4 Disclaimer
5.5 Contact us
---
---
More Publications