Qatar Construction Industry - Gaining Momentum to Beat Deadlines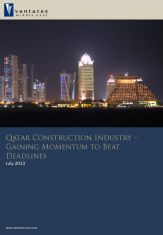 Touted to be one of the fastest grow wing economies in the world in 2011 and th he country with the largest disposable income, Qatar had been attracting worldwide attention amid the gllobal economic slowdown not only due to its position as the wworld's third largest producer and supplier r of Liquefied Natural Gas (LNG) and for being among the top 2 20 world oil producers, but also due to the e economy embarking on an ambitious programme to gear up to hhost the World Cup 2022 FIFA football event t. The hosting of the World Cup is being viewed as a stepping stoone to the long standing vision of the counttry outlined in its National Vision 2030 to put Qatar on the Wo World map as a leading destination for tourist ts and investors alike on a sustainable platform which is enviro onmentally sound and improves the standa ards of living of the Qatari citizens at large.

While US$ 125 billion have already bbeen invested across sectors as a part of the e plan to put Qatar on the World map for tourists and investo ors alike, successive budgets have invested more and more amounts toward upgrading infrastructure such h as building of the Qatar Metro, the internat ational airport building and expansion, investments across the hospitality, commercial and retail sectors also the construction of venues and stadia to host the events of the World Cup. Though quarterly GDP gro rowth inched to 0.1 percent in the last quarter of 2012, the econo omy grew by 6.6 percent annually in 2012, lolower than the double digit growth of 2011 as oil prices easedd their upward spiral, according to the QQatar Statistics Authority. Construction remained the cornerstoone to the economy's growth with Qatar's ar's construction and finance sectors accounting for one-tenth oof its GDP, growing by nearly 34 percentt during the period, and manufacturing growing by 28 percen nt during the same period. According to th he Ministry of Finance, the non-oil sector is likely to grow by arouund 9 percent in 2013.

Though Qatar has also been embarkin ing on widespread investments abroad to inc crease its visibility, sceptics have raised concerns on two fronts, one with regard to the timelines of the pro ojects which are yet to kick off and likely delays a concern in run n up to the World Cup on the one hand, an nd mounting external debt estimated at 12 percent of GDP as o of 2013, with the return of oil prices to norm rmalcy and falling levels of budget surplus to sustain these leve els of activity. As the economy edges closerr to 2022, these concerns have been quashed as the governme ent intensified the pace of activity and Qatar ar has begun increasing its focus on speeding up its infrastructu ure development to prevent delays in the rac race to the finish as well as easing congestion in its capital Doha.. Of the nearly US$ 350 billion worth of infras rastructure projects planned throughout the GCC, Qatar accounts for over US$ 45 billion as of 2013. Qatar also o plans to boost budgetary spending by 18 percent over 2012 to US$ 57.8 billion (QR 210.6 billion) according g to the Ministry of Finance and likely to be maintained at this pac ace till 2017 when spending would be eased,, in order to finance its big infrastructure build up. These are lik likely to be financed using traditional bonds or sukuks floated in local currency every quarter rather than in ncreasing further external debt. Qatar has als also actively invested its oil surpluses abroad in international asseets in anticipation of its appreciation in the loong term.

Activity across its stadia and real esttate and infrastructure upgrades including pports, a new international airport, a railway network, roads and d highways of which some are new and some me are being upgraded, new hotels and recreation complexes are also being built to house the players, tourist ts and visitors to the grand event are all likely to pick up pace be etween 2013 and 2015 edging to conclusion b by 2017, when the country plans to host trial events in a run up t to the World Cup.

As the country gears to host the Wo World Cup in 2022, projects and contracts awardarded at a moderate pace through 2011 and 2012 have begun n to catch up pace and are likely to almost ddouble in 2013. Contracts worth US$ 16,091 million were awardarded across construction sectors in 2011 and reached US$ 18,022 million in 2012, likely to reach a s staggering US$ 32, 8262 million in 2013, wwith infrastructure sector accounting for the bulk of the conttracts followed by the building constructio on sector. Projects being readied for the World Cup 2022 eve ent include 9 stadia, the prestigious metro an and other railway projects, and the roads and highways expansio ion and upgrade projects to ease congestion in the capital city of Doha, are all likely to witness contract award ards for core and associated projects likely tto stretch over a period of 2013 to 2017.

Based on its vast experience of trac racking construction markets across the GCC C and MENA region, this Ventures Middle East report the "QQatar Construction Industry-Gaining Mome mentum to Beat Deadlines" explores how the winning bid for thhe World Cup among other factors have h helped Qatar speed up its developmental plans to help fuel g growth across its construction industry. It also explores the factors shaping the growth of the industry through an analysis of the Political, Social, ial, Economic, Technological, Legal and Regulatory and Environmeental factors that govern its growth and th he key market drivers and restraints with the help of a probabilit ility-impact matrix, to its achieving its full pot tential.

The report also provides an individual al analysis of the key sectors of the Qatar con nstruction industry namely, building construction, infrastructure, , oil and gas, power and water desalination and industrial sectors are analysed individually highlighting thee main opportunities and challenges faced by each sector in its race toward growth along with vital statis istics on the market size and contracts awardeed across the industry and its core sectors along with forecasts t till 2014.

The latest ongoing projects in each s sector are also provided for an insight into tthe goings on in the Qatar construction industry and the sectors rs to watch out for. This report helps the readder understand how some of the sectors such as industrial andd infrastructure form the cornerstone of thhe growth plans of Qatar, while others such as buildings and oil and gas from its core components and keep the growth process sustainable and high.
QATAR CONSTRUCTION INDUSTRY – GAININGG MOMENTUM TO BEAT DEADLINES JULY 2013

EXECUTIVE SUMMARY

CHAPTER 1 STRATEGIC OVERVIEW OF THE Q QATAR CONSTRUCTION INDUSTRY

Qatar Economy in 2013
Qatar Construction Industry Overview w
MarketDriversand Restraints and Proobability Impact Matrix
Key Sectorsin Qatar Construction
Market Size and Construction Contrac ractor Awards 2011-2014

CHAPTER 2 QATAR OIL AND GAS SECTOR O OVERVIEW

Organization of Qatar Oil and Gas SeSector
Market Size of Qatar Oil and Gas Sect tor
Downstream Activities
ConstructionContract Awards forQat atarOil andGas Sector,2011-2014
Major Projects in Qatar Oil and Gas Se Sector

CHAPTER 3 QATAR POWER AND WATER DEESALINATION SECTOR OVERVIEW

Organization of the Power and Wa Water Desalination Sector
Market Size of Qatar Power and Wateer Desalination Sector
ConstructionContract Awards For Po ower andWater Sectorin Qatar (2011 -2014)
Major Projects in QatarPower and Wa Water DesalinationSector

CHAPTER 4QATAR BUILDINGCONSTRUCTIONN SECTOR OVERVIEW

Market Size of Qatar Building Constru uction Sector
Qatar Building Construction Contract t Awards for 2011 -2014
Major Building Construction Projects inQatar

CHAPTER 5 QATAR INFRASTRUCTURE SECTORR OVERVIEW

Market Size of Qatar Infrastructure Se Sector
Qatar Infrastructure Construction Conntract Awards for 2011-2014
Major Infrastructure Projects in Qatar ar

CHAPTER 6QATAR INDUSTRIAL CONSTRUCTIO ION SECTOROVERVIEW

Market Size of Qatar Industrial Constrruction Sector
Qatar Industrial Construction Contrac ract Awards for 2011 -2014
Major Industrial Construction Project ts in Qatar

CHAPTER 7FUTURE OUTLOOK FOR QATAR C CONSTRUCTION

Methodology
Code of Ethics
Ventures Onsite MENA Projects Datababase


LIST OF FIGURES

Figure 1: Qatar GDP by Value Added, Shares by Economic Activity (%), 2011
Figure 2: Qatar Construction Industry ry Budget Totals Split by Sector (US$ Million), JuJune 2013
Figure 3: Qatar Construction Contracttor Awards (US$ Million), 2011-2014
Figure 4: Qatar Oil and Gas Construct tion Contractor Awards (US$ Million), 2011-22014
Figure 5: Opportunities -Challenges in in Qatar Oil and Gas Sector, 2013
Figure 6: Qatar Power and Water Con nstruction Contractor Awards (US$ Million), 22011-2014
Figure 7: Opportunities-Challenges in in Qatar Power & Water Desalination Sector, 2 2013
Figure 8: Qatar Building Construction n Contractor Awards (US$ Million), 2011-20144
Figure 9: Opportunities-Challenges fo or the Qatar Building Construction Sector, 20113
Figure 10: Qatar Infrastructure Construruction Contractor Awards (US$ Million), 201 11-2014
Figure 11: Opportunities-Challenges ffor Qatar Infrastructure Sector, 2013
Figure 12: Qatar Industrial Constructioion Contractor Awards (US$ Million), 2011-20014
Figure 13: Opportunities-Challenges ffor Qatar's Industrial Sector, 2013


Qatar Economy in 2013

Largely supported by its vast hydrocarbon reserves, holding the world's largest reserves of natural gas andas also being its third largest supplier and among the top ten in world oil production and supply as well,Qatar had earned the accolade of the fastest growing economy in the world in 2011 with double digitgrowth rates and the highest per capita income in the world. As nearly 50 percent of the country's GDP, 85percent of its export earnings and 70 percent of its government revenues stem from oil and gas, theeconomy, the consistently high hydrocarbon prices since 2010, enabled the economy to reap vast surpluseswhich it prudently invested across an ambitious diversification programme to reduce dependence onhydrocarbons for mapping its future growth trajectory.

As a part of the National Vision 2030, that aims to upgrade the standard of living of Qatar and its massesand place it on the world map, it has leveraged the expected lure of a tourism boom from hosting theprestigious World Cup 2022 event to make vast investments across the various sectors of its economyranging from infrastructure, buildings, ports, hospitality and sports in preparation for the event.Consequently, even while the rest of the world suffered from the after effects of the global economicdownturn, Qatar continued to grow at 16-18 percent in 2010 and 2011 and attracted large foreigninvestments and participation from international companies. The country also sports one of the lowestunemployment rates in the world. Focused policies and stable economic climate have made it an idealdestination for foreign investors had given the required spurt to its construction industry.

However, as oil prices resumed normalcy and oil surpluses dwindled, Qatar continues its consistentinvestment in upgrading its infrastructure and building up the economy and its core sectors in preparationfor the World Cup and achieving its long term developmental goals, partly raising finance through externalborrowings and partly from its still existent surplus. The Qatar government had also taken a reality checkin 2012, slov/ing down the pace of contracts awarded and the pace at which projects were beingcompleted, though 2013 the momentum has been resumed and investments with efforts have beendoubled to quell any doubts on the projects achieving the deadlines in the race to the finish to host theWorld Cup in 2022.

Market Drivers and Restraints and Probabi lity Impact Matrix

Qatar Construction market has made a stupendous recovery from 2009, when it was hit by the aftermathof the global economic slowdown similar to other GCC nations. However, the strong economicfundamentals and planned strategies under its Vision 2030, combined with vast hydrocarbon backedreserves, led it to climb on the back of events of world importance such as the hosting of the World Cup2022 to carve a market for itself in the global construction marketplace, at least for the next few years.These are a function of its political, social, economic, technological, legal and regulatory and environmentalfactors that combine to influence its growth path presented in the PESTLE below.
---
---
More Publications