Algerian Textile Industry In Pursuit of Cooperation
06 Dec 2010 • by Natalie Aster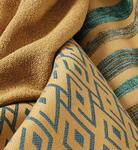 LONDON - Algerian textile industry has a big potential. Its geographical and cultural proximity to the European market, and the low labour cost are great advantages. A number of new projects on textile industry market in Algeria will add to its prosperity. One of them is a textile factory in TIZI-OUZOU which is now seeking cooperation with foreign investors.
There was a considerable increase in the activity in the sector of textile during the second quarter of 2010. The orders for raw materials at textile factories were fulfilled exceeding the demand. The recovery was observed from January 2010. It was a great relief for the textile industry market in Algeria after the economic crisis that severely affected the textile and clothing sector. However, there was at least 10-day work stoppage at textile factories caused by stock-outs in 34% of them.
Domestic market for textile products is estimated at approximately 120 billion DA (MDA). Only 8-9% is covered by Algerian products. The rest is filled by imports. Algerian domestic market is supplied by the thrift stores and the "suitcase trade." Chinese imports flood Algerian market. China is the main importer of cotton fabrics (45.8%), wool fabrics (59%), synthetic fibres (16%). China supplied 66% of fabrics of synthetic or artificial fibres. Other countries importers are Greece, Syria, India, Italy, Spain and others.
Chinese products are certainly less expensive, but lack quality, so Algerian consumers in quest for quality tend to acquire domestic goods. This change in consumer behavior is in many respects, beneficial to domestic textile market in Algeria, although there is still a plenty of need for development.
To make textile industry market attractive for investment and partnership, the government tries to put order in this sector or as other solution suggests a premium, a financial restructuring, and tax and related investment in human resources. The government also sees the need to control and regulate the market in order to help the improvement.
More information on the textile industry market in Algeria may be found in the report Textile Industry in Algeria. Business Report 2010 recently published by The Market Publishers, Ltd.
Contacts
The Market Publishers, Ltd.
Mrs. Alla Martin
Tel: +44 208 123 2220
Fax: +44 207 900 3970