Turkey Shows Low Export Value of Honey and Bee Products
27 Sep 2010 • by Natalie Aster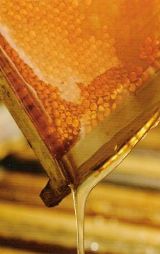 Turkey is a leading honey and bee products manufacturer, but not an exporter. The honey and beeswax export value is made up of a small domestic output share which is 0.5-1% and 0.1% respectively. Despite having a huge potential for honey industry development Turkey has some difficulties in honey export sales, advertising and marketing mostly due to the existing inefficient marketing system.
Honey production activity is not considered as a commercial activity in Turkey. Thus, honey producers do not operate according to economic conventions as well as do not have enough information on that matter. In Turkey 200 000 agricultural organizations are engaged into beekeeping, but only 20 000 of them consider Turkish apiculture as a main income source while other apiaries are semi-specialized.
The world total production of natural honey was 1.498 million tons in 2008. Turkey was ranked second behind China among the leading world natural honey producers. Regarding beeswax production the fourth place went to Turkey after India, Argentina and Ethiopia. Honey production in Turkey demonstrated rapid growth in 1936-2005 and reached 83,842 tons in 2005. In 2009 honey output at 82,003 tons showed a 0.8 percent rise against 2008, according to the Honey and Bee Products Market in Turkey: Business Report 2010.
In Turkey honey production rises in line with the increase in a new hive type quantity. In 2009 the number of hives in apiculture rose by 9.2% making up to 5,339,224 hives, the number of professional beekeepers increased up to 38,000 among which there were around 17,000 of beekeepers registered at the Turkish Beekeepers Association. However, the honey quality falls behind the international standards, the apiculture sector in Turkey faces important marketing and export issues also with regard to a high level of chemicals used in beehive management.
The report provides statistical data that shows 35% of Turkish beekeepers sold honey to dealers (wholesalers) in 2008, 27.5% of all beekeepers took it to local markets at retail sales, while 27.5% sold honey to local beekeeping unions, and 10% - to the industry firms. Moreover, beekeepers usually package honey into glass jars (1–1.5 kg) or tins (27-28 kg) without any approved or descriptive labels on them.
More information on the honey and bee products market may be found in the report Honey and Bee Products Market in Turkey: Business Report 2010 recently published by TD The Market Publishers, Ltd.

Contacts
MarketPublishers, Ltd.
Mrs. Alla Martin
Tel: +44 208 144 6009
Fax: +44 207 900 3970