Egypt Vegetables Export Volumes to EU to Grow by 50%
03 Sep 2010 • by Natalie Aster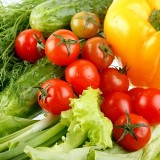 Starting with 2004 Cairo aggressively pursued economic reforms to attract foreign investment and facilitate GDP growth, but had to postpone further economic reforms because of global economic turmoil that slowed Egypt's GDP growth to 4.5% in 2009, predominately affecting export-oriented sectors. In 2009 the government implemented a $2.7 billion stimulus package favoring infrastructure projects and export subsidies, and is allocating now about $3.3 billion in additional stimulus spending to mitigate the slowdown in economic growth. However despite high levels of economic growth over the past few years, living conditions for the average Egyptian remain poor.
Egyptian food market ranks first among the countries of the Arab world by its volume. That may be attributed to the boosting population. Food consumption in the country was estimated to have reached US$ 34.383.4 million in 2007. The level of consumption is experiencing a large-scale growth and is projected to rise by about 29% up to US$ 42.42 million by 2011. Nevertheless the industry is facing a number of problems, most of which are connected with the complicated regulatory system and outdated laws and regulations. Another point is the prevalence of unlawful enterprises within the industry. To settle down the challenges the Egyptian National Food Authority (ENFA) was established – a body to modernise and standardise all regulations and procedures.
Egypt is a large producer of fresh vegetables for export and for the domestic market. Although less than 5% of the Egypt's surface area is arable, agriculture employs over a third of the nation's workforce. The country's climate is very advantageous for the agricultural industry and production of fresh vegetables in particular. Between 2004 and 2008 the market share of fresh fruit and vegetables increased by more than 2,2 percent.
The major types of vegetables exported are tomatoes, potatoes, watermelons and other melons, dry onion, etc. Among the Southern Mediterranean Countries (Algeria, Israel, Jordan, Lebanon, Libya, Morocco, the Palestinian Authority, Syria and Tunisia), Egypt is the main producer of fresh vegetables, with 18.0 million tons produced on average each year, followed by Morocco, Algeria and Syria with 5.8, 4.7 and 3.0 million tons, respectively.
Egypt has a key geographical position to export to the European Union and to the Middle East. A pivotal point in the trade connections between Egypt and the EU was concluding of the cooperative agreement. Consequently the country expects a significant increase of vegetables exports. According to professional estimation Egypt export volumes of fruit and vegetables to the EU may double in the foreseeable future. Thus there are considerable possibilities for growth of Egyptian products share on the EU markets.
More information on Egypt fresh vegetables market may be found in the report Fresh Vegetables Market in Egypt: Business Report 2010 recently published by TD The Market Publishers, Ltd.
Source: MarketPublishers, Ltd.