Agrochemicals and Pesticides: Crop Protection Remains an Important Issue in Iran
07 Jul 2010 • by Natalie Aster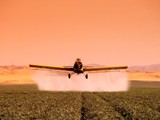 The worldwide pesticides market achieved $52 billion in 2008 despite global economic instability and pressure from the media and the eco-friendly Green Revolution. Market experts forecast an overall 10% growth in 2010 with high single digit percentage increases thereafter. As late as 2013, the growth is expected to again accelerate into the double-digits at 16%.
Annually, 32% of agricultural crops are attacked by pests and diseases in Islamic Republic of Iran. Therefore, crop protection remains an important issue for Iranian economy.
Roughly one-third of Iran's total surface area is suited for farmland, but because of poor soil and lack of adequate water distribution in many areas, most of it is not under cultivation. Only 14% of the total land area is under cultivation (arable land, orchards and vineyards) but less than one-third of the cultivated area is irrigated; the rest is devoted to dry farming. About 26,000 tones of pesticides including more than 140 different active ingredients are distributed to farmers in Iran every year. About 60% of the total pesticides applied in Iran are used in three provinces around the Caspian Sea and 40% of the totals are used in Mazandaran province.
Considering the consumption levels on the Iranian Agrochemicals and Pesticides Market, it should to be noted that 48.47 million dollars was spent on importing pesticides into the country in 2008. In fact imported pesticides accounted for approximately 60%. Apart from pesticides, Iran imported raw substances to produce agrochemicals. Main suppliers of insecticides, rodenticides, fungicides, herbicides to Iran are China and India (60%). Iran also imports from European countries. The matter is that agrochemicals forbidden for using in EU and USA are sold to developing countries, including Iran. Harmful agrochemicals are selling by various trademarks on the Agrochemicals and Pesticides Market in Iran that makes it difficult to recognize them.
Since 1994, the Iranian Government has started a number of programmes to reduce pesticide use. However, most of these initiatives did not fully incorporate bottom-up participatory approaches and the relevant stakeholders failed to establish sustainable plant management systems at the farm level.
The Farmer Field School (FFS) is now part of the national IPM programme. FFS approach was first adopted in Iran in 1999 as part of a pistachio integrated pest management (IPM) project in Semnan Province. FFS was able to decrease production costs, bringing huge benefits for farmers within a single season.
More information on the Iranian Agrochemicals and Pesticides market may be found in the report Agrochemicals and Pesticides Market in Iran: Business Report 2010 recently published by TD The Market Publishers, Ltd.
Source: MarketPublishers, Ltd.