Demand for Polycarbonate Will Start Recovering in 2011
18 Jun 2010 • by Natalie Aster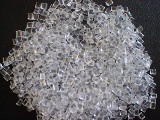 Commercial production of Polycarbonate (PC) was launched in the 60s of the 20th century. Today it is the second most widely used polymer in the world.
Polycarbonate is specific because of the combination of high level of thermal resistance, impact strength and transparency. Construction (32%), optical data media (18%), communication systems and electrical technologies (22%), automotive industry (9%) are the key fields of its use.
The major Polycarbonate manufacturers are represented by the following companies: Bayer (plants in Europe, Asia, North America), Sabic Innovative Plastics (plants in Europe, Asia, North America), Teijin (plants in Asia). They account for two thirds of the global market of Polycarbonate.
Asia is the major Polycarbonate producer (50%) and consumer (60%, according to the estimations). The European region ranks second by production volumes.
Lately Polycarbonate market has experienced supply surplus. The capacity activity factor is steeping.
The demand growth rate has declined as a result of the economic crisis that affected automotive and construction markets at a large extent. In 1996-2000 Polycarbonate consumption for CD/DVD production grew by 35% annually. During the following 5 years the demand growth in this sector steeped up to 10% per year. Further decline of Polycarbonate demand growth in this field has been due to the wide use of MP3/MP4 players and USB-sticks, and broad-band Internet development.
The dropping volumes of Polycarbonate used in food packaging was the result of Bisphenol A questionable use. However, it was proved that the volumes of Bisphenol A used for these purposes are exceptionally small and do not cause any threat.
Demand decrease caused indefinite period suspension or freezing of a number of Polycarbonate projects. Nevertheless, a large deal of new capacities will be launched in Asia and the Middle East. It is projected that the production capacity will still overgrow the demand, but demand for Polycarbonate will start recovering in 2011.
Gradual recovery of the demand is forecast for automotive and electrical technology industry, mobile phones, TV sets, office appliances manufacturing and for the sector of solid boards production for construction needs.
More information on Polycarbonate market may be found in the report Polycarbonate (PC): 2010 World Market Outlook And Forecast recently published by TD The Market Publishers, Ltd.
Source: MarketPublishers, Ltd.