Food Industry: 10 Prominent Trends to Track in 2023 & Beyond
05 Sep 2023 • by Natalie Aster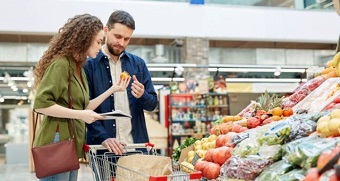 In the contemporary world with the swiftly evolving gastronomy sector, consumers find themselves choosing from an array of food options. The food industry is undergoing a rapid and transformative evolution, encouraged by a confluence of factors that are reshaping the way we produce, distribute, and consume food. This dynamic shift is not only influencing consumer preferences but also presenting exciting opportunities and challenges for businesses operating in the food industry. Here are some of the most influential factors that define the landscape of the food industry in 2023:
Health and Wellness Boom
One of the most noticeable trends in the food market is the growing emphasis on health and wellness. Consumers are increasingly seeking out foods that are not only delicious but also nutritious. This has led to a surge in demand for organic, natural, and functional foods. People are becoming more conscious of the ingredients in their food and are looking for options that support their well-being. As a result, businesses are innovating to offer healthier food choices, such as plant-based alternatives, low-sugar options, and products fortified with vitamins and minerals.
A Slowdown in Plant-Based Food Sales
From dairy-free ice creams to meatless munchies, plant-based food options have found their way into almost every food category. Yet, their exponential growth seems to have slowed the pace in recent years. Why? Consumers have recognized that many plant-based alternatives are more processed than they initially thought. Furthermore, consumers are often left unsatisfied with the flavor and consistency of these products. Other factors restraining the growth of the plant-based alternatives sector include inflation-driven price hikes, intensified competition, and supply chain disruptions, among others.
Rising Popularity of Personalized Nutrition
Advances in nutritional science and data analytics have paved the way for personalized nutrition plans. Consumers are increasingly interested in diets tailored to their individual health goals and dietary restrictions. This has led to the development of personalized meal kits and nutrition apps that provide customized meal plans and recipes.
Mindful Indulgence Trend Is on the Rise
The post-pandemic era saw an upswing in the demand for healthier food options, but without compromising on indulgence. Food innovators have thus embraced the "mindful indulgence" philosophy, rolling out products that balance health and pleasure.
Sustainability in the Limelight
Sustainability has become a paramount concern in the food industry. Consumers are showing a heightened awareness of environmental issues and are looking for eco-friendly food products. This has led to a rise in sustainable farming practices, reduced food waste initiatives, and a push for packaging that is recyclable or biodegradable. Businesses that prioritize sustainability not only contribute to a healthier planet but also appeal to a growing segment of environmentally conscious consumers.
Lab-Grown Food Alternatives Make their Way to the Market
While they might not yet be found on supermarket shelves, lab-grown meat will likely soon become an everyday reality. Cellular agriculture (the production of meat in a controlled laboratory environment using the living cells of animals) has the potential to make waves in the meat industry. The market also observes burgeoning efforts in developing fermented analogs, leveraging the potential of mycelium (root structure of mushrooms). Besides, strides in animal-free dairy technologies are picking up steam as well.
Private Label Brands Catch On
Economic strains coupled with inflation have driven a notable upturn in the sales of private label store brands. While this phenomenon sweeps across different sectors, the food and beverages domain, in particular, is witnessing a robust rise in private label offerings, propelled mainly by the growing consumer interest.
Home-Cooked Restaurant-Quality Meals Gains Traction
The echoes of the pandemic have left a lasting imprint on culinary habits, with many still preferring to whip up meals within the confines of their kitchens. Although the interest in preparing restaurant-level dishes at home remains rather high among people, they are also seeking ways to fight food prep fatigue. To respond to this need, market players offer so-called "chef-inspired" food products, such as pre-marinated meats and gourmet seasonings.
Technology-Driven Innovation
Technology is revolutionizing every aspect of the food market. From precision agriculture and AI-powered supply chain management to online food delivery platforms and meal kit subscriptions, technology is reshaping how food is produced, distributed, and consumed. Automation in food production and delivery has increased efficiency and reduced costs, making it easier for businesses to cater to consumer demands.
Controlled-Environment Agriculture (CEA) Struggles
Though controlled-environment agriculture (CEA) has seen a notable rise in recent years, primarily due to its promise of sustainable, safe, fresh, and locally sourced produce along with increasing interest from investors, it's not all smooth sailing. The steep costs of R&D, coupled with the high costs of indoor facilities construction, have resulted in considerable losses, debts, and even shutdowns for several market players. The question remains: Is this a temporary setback or an omen of the challenges that indoor farming might face?
Final Thoughts
The food market is in a state of rapid and profound transformation. Businesses that adapt to evolving trends and prioritize innovation, sustainability, transparency, and consumer well-being are well-positioned to thrive in the dynamic landscape. As consumers continue to seek new culinary experiences and healthier food choices, the food market evolution shows no signs of slowing down.
A full collection of Market Publishers' topical research reports covering the Food Industry can be found in the Food Market Research Reports Catalogue.
CONTACTS
The Market Publishers, Ltd.
Natalie Aster
Tel: +44 208 144 6009
Fax: +44 207 900 3970
[email protected]
MarketPublishers.com