3 Most In-Demand Latest Reports on Disinfectants Market
04 Mar 2022 • by Natalie Aster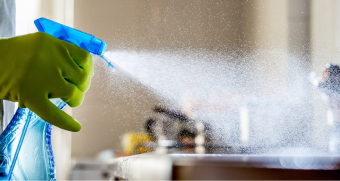 LONDON – Market Publishers is pleased to inform that a great number of insightful research studies featuring the disinfectants market have been recently added at MarketPublishers.com. These cutting-edge topical studies provide access to up-to-date information on the examined markets' scenarios, dynamics, growth influencing factors, trends, prospects, competitive landscape, etc., and also uncover historical and current statistics and give future forecasts. Our experts have selected the 3 most popular latest reports covering the disinfectants market available at MarketPublishers.com:
Medical Disinfectant Wipes Market
The global market for medical disinfectant wipes is slated to reach USD 6.9 billion in value terms by the year 2028, expanding at a CAGR of 5.8% in the coming years. The increasing awareness about sanitation and personal hygiene and rising cross-contamination problems are poised to drive the demand for medical disinfectant wipes during the forecast period. The surface disinfectant wipes commanded the largest share of the overall market in 2020 and are expected to maintain the dominant share through 2028…
Sales of disinfectant sprays have risen considerably over the past few years, backed by the growing consumer awareness about the benefits of disinfection and sanitization as well as the outbreak of COVID-19. The global disinfectant sprays market is predicted to increase at a CAGR of 8.2% during 2022-2030, driven majorly by the soaring demand for advanced products to prevent the spread of various infections including COVID-19 along with the rising awareness of a healthy and hygienic lifestyle. North America grabbed the biggest revenue share of the overall disinfectant sprays market in 2021 and is set to stay in the lead through 2030…
The world's market for animal disinfectants is projected to grow at a CAGR of 7.4% during 2022-2027, supported by the enhancing awareness about hygiene and sanitation (backed majorly by the COVID-19 pandemic) along with the soaring demand for meat and other animal products. In value terms, the global animal disinfectants market is anticipated to increase from USD 3.2 billion in 2022 to come to USD 4.6 billion in the year 2027. The dairy cleaning segment is poised to be the fastest-growing application segment of the overall animal disinfectants market during the forecast period. Geographically, the APAC animal disinfectants market is poised to demonstrate the highest growth rates in the next 6 years…
To find many other in-demand topical studies, please, use our search form.