Top 5 Latest Reports on Robotics Market
04 Mar 2021 • by Natalie Aster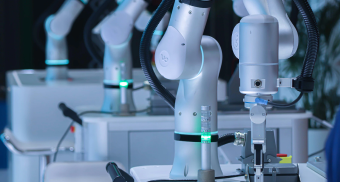 LONDON – Market Publishers offers a great collection of in-demand research reports featuring the robotics market, which is replenished on a monthly basis. Our research studies are reliable sources of cutting-edge information on the market scenario, trends, drivers, challenges, and prospects, etc. Here is a selection of the 5 most popular reports covering the robotics market recently added at MarketPublishers.com:
Autonomous Mobile Robots Market
Autonomous mobile robots are already functional in different fields including household cleaning, maintenance, delivery of goods and services, space flight, healthcare, and wastewater treatment, among others. Additionally, robots are widely adopted for personal uses, like companionship and entertainment. Backed by the soaring demand, the world's autonomous mobile robots market is projected to exhibit remarkable growth at a 24.6% CAGR in the next 6 years and is set to amount to the value of USD 145.5 billion by the year 2026…
By the end of 2021, the world's market for educational robots is expected to come to the value of USD 1.3 billion. During 2021-2026, this market is predicted to exhibit robust growth at a 16.1% CAGR, propelled by the steady adoption of robots in different manufacturing industries as well as the increasing demand for collaborative robots from the education segment. By the year 2026, the global educational robots market is set to reach USD 2.6 billion. The service robots sector is expected to maintain the highest CAGR in the next 6 years…
Originally designed for military purposes, exoskeletons are nowadays applied majorly in the healthcare sector and, to a lesser extent, in certain industrial and commercial settings. Additionally, these wearable robotic devices have growth prospects in the medical sector – exoskeletons may be adopted to provide mobility assistance to elderly people to aid in walking or even climbing stairs. The global market for ExoskeletonRobots is anticipated to demonstrate modest healthy growth during 2021-2025…
The world's construction robotics market is anticipated to cross the value of USD 7.88 billion by the year 2027, registering robust growth at a 23.3% CAGR in the next 7 years. The major growth drivers of the construction robotics market include such its advantages as safety of the workers, enhanced productivity, and work quality achieved; rapid adoption of 3D printing; increasing adoption of automation in the construction industry; and introduction of new robotic technologies…
Robotic Drilling Equipment Market
The world's robotic drilling equipment market was valued at USD 804 million in 2019 and is expected to go beyond USD 1.01 billion by the year 2027, registering a CAGR of 8.4% between 2020 and 2027. The key growth engine of the robotic drilling equipment market is the continuous automatisation of the oil and gas industry. Robotic drilling offers a better solution for the oil and gas industry due to less drilling times, better data collection, multi-sensor measurements, safer operations, and mass production. Also, minimum human intervention leads to a minimum probability of human errors. Therefore, it increases the efficiency of operations carried out onshore and offshore through robotic drilling machines…
Many more in-demand research reports covering various sectors of the robotics market can be found in this Market Publishers' catalogue.
© MarketPublishers.com, 2021