5 Leading Tire Manufacturers in the World
23 Jan 2019 • by Natalie Aster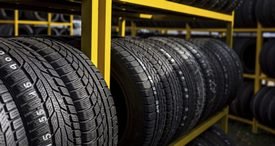 LONDON – Tires are some of the most essential elements in an automobile: they not only let a vehicle move but also considerably affect fuel efficiency, acceleration and breaking, vehicle load and performance, and shock absorption. Various types of tires are used depending on vehicles and end-uses – broadly they are divided into such categories as passenger cars, specialty, bus, light truck, and competition tires, etc.
Over recent years, the world's tire market has exhibited a moderate healthy growth, encouraged majorly by the soaring sales of passenger as well as commercial vehicles, especially across the developing countries (like China, Indonesia, and India), along with rapidly increasing global population, robust urbanisation, changing lifestyles, and rising living standards and purchasing power of consumers, among other favourable factors. Besides, a remarkable increase in R&D investments by tire manufacturers as well as ongoing technological progress together with the introduction of advanced, innovative products (e.g., eco-tires, nitrogen-based and flat-run tires, etc.) also act as important market growth drivers. Furthermore, the emerging trend towards individualisation and diversification of tire sizes (depending on the vehicle model) adds to the tire market growth as well. Meanwhile, the rising popularity of more cost-effective retread tires as an alternative to complete replacement tires restrains the market growth to some extent. Other major concerns of the tire industry include fluctuating prices of raw materials, high accident rate associated with tire bursting, and high cost of tubeless tires if compared with tube tires.
During 2010-2017, the global market for tires demonstrated an increase at a CAGR of appr. 4.4% and reached the volume of slightly over 3 billion units in the year 2017. Looking forward, the global tire market is slated to come to a volume of around 4 billion units by the end of 2023.
As for the value, the world's tire market is projected to rise at a brisk pace in the years ahead, backed by the upturn in vehicle sales worldwide along with increasing global fleet size. By the year 2023, the market value is poised to come to USD 304 billion.
Read on to check the five leading tire manufacturers based on revenues:
5 leading tire manufacturers on the basis of revenues, 2017 (in billion USD)

1. Bridgestone Corp.
A Japan-based automotive components maker, Bridgestone Corp., is the number one tire manufacturer on the global arena. As of 2017, this company had revenues worth some USD 27.22 billion from the tire segment – approximately 82% of the company's total revenues. Founded by Shojiro Ishibani in 1931, today Bridgestone manufacturers various types of automotive tires for almost all types of vehicles (including specialty, commercial, and motorcycle tires) as well as specialises in the production of some other auto and truck parts; and the company's products are sold in over 150 countries. Besides, Bridgestone regularly sponsors a range of sporting events and activities, for instance, sports car, formula, and motorcycle racing, amid others.
2. Michelin

Michelin is a famous French tire producing company, which over time has gained a reputation for exceptional quality of its products. It ranks the second largest tire manufacturer around the globe and the biggest one in Europe. In 2017, the company's revenue generated in the tire segment totaled about USD 25.40 billion. This company was founded in the year 1889 by the Michelin brothers. To date, it is engaged in the manufacturing of tires for autos, motorcycles, heavy-duty trucks, airplanes, bicycles, etc. Two famous racing organisations – MotoGP and Le Mans are using tires of Michelin brand.
3. Goodyear Tire & Rubber Co.
Headquartered in the USA, Goodyear Tire & Rubber Co. is the dominant tire manufacturing company in the Americas and the third largest tire producer globally. In 2017, the company's revenues in the tire segment were estimated at around USD 15.37 billion. The company was established by Frank Seiberling in the year 1898. Today, Goodyear manufacturers a broad range of products from replacement tires for an array of applications (for motorcycles, automobiles, heavy machinery, farm equipment, trucks, airplanes, etc.) to trucks, race cars, SUVs, and many others. Goodyear is the sole supplier of tires for the NASCAR racing series, and the company also used to supply tires for Formula One. Besides, Goodyear owns 100% of Kelly-Springfield Tire Co. and 75% of Dunlop Tires.
4. Continental AG
A German company, Continental AG., is the second leading manufacturer of tires in Europe and the fourth largest in the world. The company's revenue in the tire segment reached USD 13.11 billion in 2017, which was equivalent for nearly 25.3% of its total revenue. Founded in 1871, today Continental specialises in the manufacturing of a full line of original and replacement tires for trucks, vans, cars, buses, motorcycles, and bicycles. Continental's tires are widely-recognised for three characteristics – fuel economy, safety, and eco-friendliness. Besides, it is engaged in the production of interior electronics, powertrain, brake systems, chassis elements, and other vehicle components.
5. Sumitomo Rubber Industries, Ltd.
Sumitomo Rubber Industries, Ltd., a Japanese tire manufacturer, rounds up the top five tire manufacturers in the world. In 2017, this company had revenues worth USD 6.81 billion from the tire segment, which was equivalent to almost 86% of the total revenues generated by the company. Founded in 1909, presently Sumitomo manufacturers a range of automobile tires along with some other rubber products. Besides, the company owns shares in such tire brands as Dunlop, Ohtsu Tire, and Falken Tire.
© MarketPublishers.com, 2019