Global Bioplastics Market Continues to Pick Up Steam
25 Jun 2018 • by Natalie Aster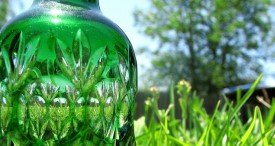 LONDON – In the wake of the enhancing eco-consciousness and stricter environmental regulations, the modern world is shifting towards bio-based, environmentally-friendly products, and the plastics industry is not an exception. Bioplastic has emerged as an efficient solution to tackle the problem that can't be ignored any more – an enormous piling up of plastic waste that is suffocating our planet. Today, a great choice of materials classified as 'bioplastics' is available in the market.
The improving awareness of consumers about sustainable products, stronger policy support for bio-based products, and ongoing move to a low-carbon, circular economy are boosting the expansion of the bioplastics market on a global scale.
Non-Biodegradable Bioplastics Grabs Bulk Market Share
Bioplastics come in 2 distinct varieties – biodegradable and non-biodegradable/durable (bio-based). Presently, non-biodegradable bioplastics (including such types as bio-based polyethylene terephthalate (PET), bio-based polyethylene (PE), bio-based polyamides (PA), etc.) captures a chunk of around 56% of the overall production capacity.
World's bioplastics production capacity during 2017-2022, by type (in million metric tons)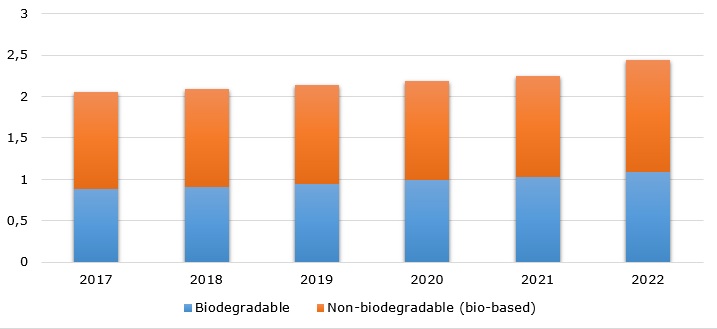 The production of bio-based alternatives of various types of plastics is forecast to be on the rise through 2022 driven by new capacity additions, rising demand from the major end-use sectors, fluctuating prices along with decreasing availability of crude oil, and steady transition to eco-friendly products. Although biodegradable bioplastics are expected to expand its market share in the coming years, non-biodegradable variety will stay in the lead.
Polyurethane (PUR) Is the Most Popular Bioplastic Material
As for materials, bio-based Polyurethane (PUR) takes lead in the overall bioplastics production capacity. In 2016, the segment's share was slightly over 41%. The bio-PUR sector is projected to maintain its dominance through 2021, however, its share is set to decrease to 39.3%.
World's bioplastics production capacity by type, in 2016 and 2021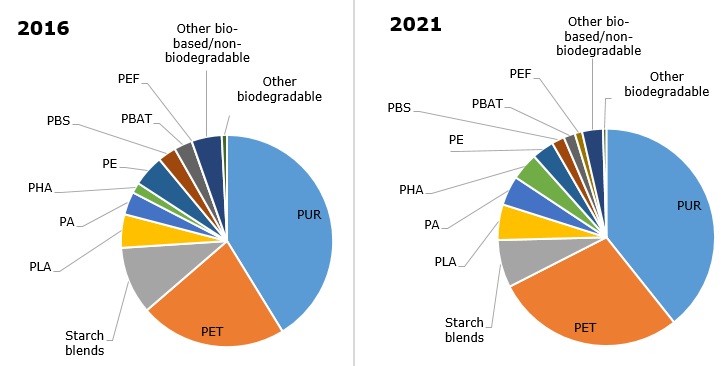 Bio-PET is the 2nd most popular bioplastic material in the market. It is forecast to expand its market share from 22.4% in 2016 to 28.2% in 2021. Such bioplastic materials as starch blends and PLA also hold large proportions of the world's bioplastics market.
Volatile prices together with the limited crude oil reserves are projected to force the manufacturers of polymers to develop bio-based, eco-friendly substitutes to its chemical counterparts, which is supposed to give the impetus for further strong growth in all segments of the bioplastics market.
Packaging to Remain Largest Bioplastics Application
The rising focus of governmental and regulatory bodies on environment conservation activities has pushed the key end-use sectors to give preference to organic and eco-friendly alternatives instead of petroleum-based products. Besides, depleting petroleum reserves coupled with increasing petrochemicals costs are expected to further encourage manufacturers to shift to eco-friendly products.
The packaging industry is the foremost consumer of bioplastics; its share of the overall consumption was almost 60% (appr. 1.2 million tons) in 2017. Such properties as barrier effect, gloss, printability, and antistatic behavior make bioplastics suitable for packaging application. Rigid packaging captures the biggest chunk of the total volume of bioplastics consumed in this application.
Major Applications of Bioplastics, 2017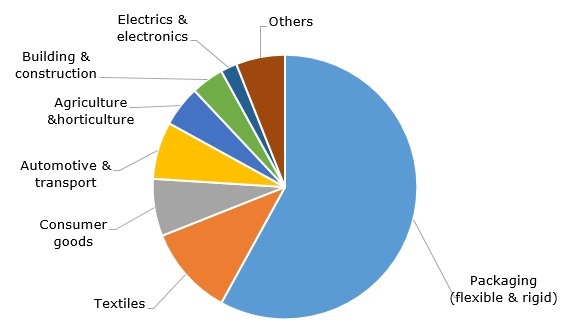 Packaging is poised to remain the biggest end-use field for bioplastics in the years ahead owing to the escalating demand for packaging that can be disposed of efficiently across a broad spectrum of industries including Food & Beverage, Healthcare, Pharmaceuticals, etc.
Textiles, Consumer Goods, and Automotive & Transport industries are other attractive applications of bioplastics that are predicted to boost the bioplastics consumption in the short run.
Asia-Pacific Boasts the Highest Bioplastics Production Capacity
As for the regional breakdown of bioplastics capacity, Asia is the unrivalled leader – in 2016 it accounted for around 43% of the world's market. Robust growth in the Asian bioplastics market is attributed to the rising investments made by the leading market players and a large base of renewable (plant and animal) feedstock available in this region. The rapidly-evolving packaging sector grabs the biggest slice (around 80%) of the regional bioplastics consumption. The highest demand for bioplastics in this region is registered in China, India, South Korea, and Japan.
Asia is poised to remain the leading bioplastics production hub in the years ahead, demonstrating the highest CAGR if compared to other geographies. The region's chunk of the world's bioplastics production capacity is slated to expand to almost 47% by the year 2021.
World's bioplastics production capacity by region in 2016 and 2021 (in %)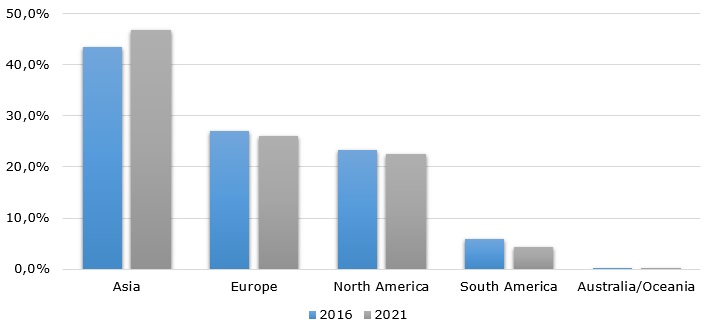 Europe is another important bioplastics producing region, it accounted for above 27% of the global production capacity. This region has limited crude oil reserves and petroleum feedstock, therefore, it gives preference to alternative options as bioplastics instead of conventional plastics. Such countries as Italy, Germany, and the UK take lead in the European bioplastics market. Europe's share is anticipated to see a slight decline and reach 26% in 2021.
Share of Land for Growing Renewable Feedstock to Remain Negligible
Last year, the renewable feedstock for the bioplastics production was grown on appr. 820,000 hectares worldwide – it is just 0.02% of the world's total agricultural land. Despite high growth rates predicted for the bioplastics market, the share of land used globally for growing the renewable feedstock for the bioplastics industry will remain at roughly the same level in the next several years.
Conclusion
With continuing innovations in manufacturing processes and rising government support, bioplastics will likely encourage a paradigm shift towards eco-friendly alternatives and displace harmful plastics in an array of applications. With the market value expected to amount to USD 30 billion by 2020, the bioplastics market is poised to explode in the short run. Active environmental movements in many parts of the globe, escalating concerns regarding waste management, and enhancing apprehension of changes in the global climate will likely create more attractive growth opportunities for the bioplastics market.
© MarketPublishers.com, 2018