Renewable Energy Market: 7 Major Trends Set to Define 2018
20 Jun 2018 • by Natalie Aster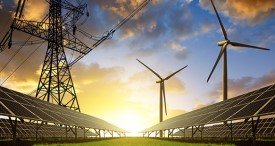 LONDON – Today, the "Go Green" hymn is echoing from pole to pole. The soaring "eco-friendly" trend is putting the screws on all industrial sectors to modernise their activities and switch to more environmentally-friendly concepts. The energy industry was amid the early adopters of environmentally-safe practices. Moreover, the depleting fossil fuels reserves alongside the raising awareness of unsustainability of such energy sources, and the intensifying regulatory measures were weighty reasons for the energy sector to implement clean energy measures.
When renewable energy first made headway in the world's scenario, there were numerous concerns regarding its stability and scalability. Besides, unstable policies for boosting future growth were sharpened by technological immaturity and funding shortfalls. Nevertheless, the number of clean energy installations continued to go up, albeit at a sluggish pace, until a remarkable leap forward several years ago. Nowadays, the renewable energy market is on the upswing with novel, modern approaches coming to the fore and new startups popping up.
Worldwide, the consumption of clean energy has been steadily rising over the years, propelled majorly by the mounting concerns over sharply increasing carbon emissions worldwide.
World's renewable energy consumption during 2000-2017 (in million metric tons of oil equivalent)

In 2018, the ever-changing renewable energy market is poised to see further amazing progress with high potential to fight climate changes and boost economic upturn. Here are top renewable energy trends worth to keep an eye on this year:
1. Investments in Clean Energy to Pick Up Pace
Investments present one of the key success factors for robust growth of the clean energy market. 2017 marked as the 8th consecutive year when overall investments in the renewables sector exceeded USD 200 billion. Since 2004, on the whole around USD 2.9 trillion were invested in the development of green energy sources. The highest investments were made in 2015 – more than USD 323 billion. Last year, the world's total investment volume reached almost USD 280 billion.
New investments in renewables worldwide during 2004-2017 (in billion USD)

With the surging popularity of Blockchain, this modern technology is slated to pay its way in the renewable energy sector by improving the financing side. Blockchain could emerge as an efficient way to raise investments for new renewables projects and help to improve investors' confidence in such startups.
2. Renewables' Share in Overall Power Generation to Expand
Today, the energy industry stands on the cusp of adopting clean sources at a scale that could hardly have been imagined two decades ago. In 2017, a little over 12% of the world's power came from green sources – a 1.1% increase from 2016.
Share of renewable energy in world's total power generation during 2007-2017

Furthermore, renewable energy sources play a crucial role in the upsurge of the power generation: last year, they accounted for nearly 50% of new power capacity additions worldwide. Despite a brisk growth pace, renewables still capture a small chunk of the world's energy consumption. However, the share of green energy sources in the overall power generation mix is anticipated to keep on expanding during this year and beyond.
3. Renewable Energy Costs to See Continuing Plunge
Last few years have witnessed a remarkable, steady drop in clean energy production costs. It looks like the trend of falling prices is poised to continue in 2018 and in the decade ahead.
Renewables are becoming the cheapest energy source for more and more countries. For instance, solar PV prices have declined by appr. 62% since 2009. Meantime, offshore wind farm costs have diminished by about 50% in the recent past.
With the rising affordability, the range of applications and end-uses of green energy has considerably broadened. Besides, more subsidy-free wind and solar farms are planned in the current year.
4. China to Keep Dominance in Clean Energy Market
Despite being the world's biggest polluter, China dominates the solar power generation on a world-wide scale. At the moment, the country has already outstripped its solar PV targets set for 2020. The solar fever is forecast to continue to rage in China this year with more new "distribution-grid-connected" solar projects expected to be initiated.
Last year, China was at the forefront of the renewable energy market by far outpacing other countries in terms of investments and installed capacity. The cumulative volume of the country's investments in green energy demonstrated a 31% YoY increase in 2017 and reached a record height – USD 126.6 billion. Meantime, China's installed renewable energy capacity was estimated at appr. 618.8 gigawatts.
Top 10 countries regarding installed renewable energy capacity in 2017 (in gigawatts)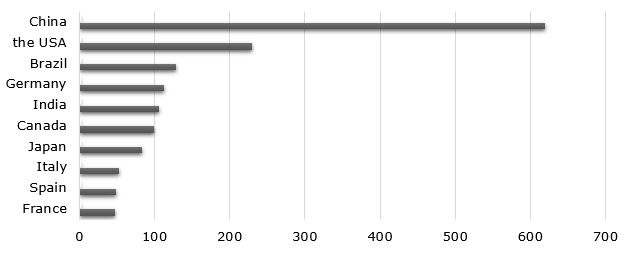 On December 19, 2017, China launched a national emissions trading scheme (the largest globally), that is supposed to effectively put a national price on carbon emissions in the domestic power generation sector. Initially, this scheme will cover around 1,700 natural gas and coal-based power plant responsible for nearly 3 billion tonnes of CO2 emissions annually. Later, the scheme will be further expanded to cover other industrial sectors, including chemicals, petrochemicals, iron, steel, and building materials.
Besides, 8 large-scale carbon capture and storage projects are currently underway in China. The country also hopes to become a world's leader in EV production and adoption.
5. Waste-to-Energy Solutions to Gather Momentum
At present, waste management is amidst the world's biggest challenges. In many countries, governments are initiating the construction of waste-to-energy facilities to cope with landfill expansion.
World's total investments in waste energy and biomass technologies during 2004-2017 (in billion USD)

New Dehli, for instance, will likely face a serious landfill challenge in the next 5 years, as the waste generated by the city will require an area equal to 7% of its total land. To address this problem, India's government intends to start up a waste-to-energy plant with the capacity able to process about 30% of the city's waste.
China has also made waste-to-energy a higher priority and is slated to launch more new projects in the offing. This year, the Chinese company – Everbright International – secured its 18th waste-to-energy plant in Shandong Province alone.
Despite all the efforts taken in this regard across the globe, there is still much work to be done to take waste-to-energy technologies to the next level. The development of this clean energy sector will require the construction of special infrastructure. Thus, 2018 is expected to see a number of novel waste-to-energy projects announcements.
6. Renewable Energy Industry to Generate More New Jobs
The renewables sector is more labor-intensive if compared with the fossil fuels industry owing to the very nature and size of clean energy plants. Presently, the renewable energy sector employs around 9.8 million people the world over.
Number of jobs in renewable energy sector worldwide in 2017, by technology (in thousands)
In the US, for instance, solar PV installers and wind turbine technicians are among the most rapidly growing occupations.
The constantly rising investment in the green energy is driving the demand for skilled works in this sphere. In 2018, more new jobs will likely appear in the renewable energy industry around the globe.
However, whilst the demand for workers is monting in the renewables sector, there is also a great shortage of skilled professionals. This could considerably hamper the speed of the transition to clean energy sources.
7. Solar Installations to Set New Records
Sun is the most popular source of green energy out of the renewables' family, this is majorly due to its maturity, low cost, and ease of implementation.
In 2017, solar energy sector shot up and reached a record height – globally around 98 gigawatts of new solar energy capacity were added. It is far more than net additions of any other energy source. Moreover, this sector attracted the largest amount of investments – almost USD 161 billion (an 18% YoY gain).
Global solar PV new installed capacity and investments during 2000-2017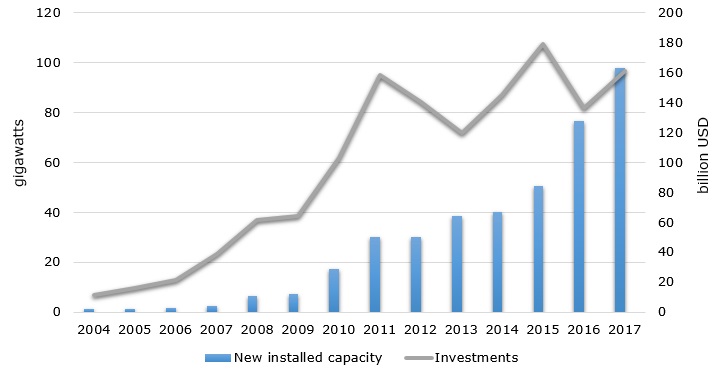 In 2017, the solar energy sector exhibited the biggest boost, providing around half of all new capacity additions, followed by the wind energy sector that accounted for nearly a third, and hydropower with an 18% share of all capacity additions.
Last year was the 1st one in history when solar power capacity outpaced all the other electricity-producing technologies. However, 2018 is expected to put the immense growth of the solar PV installations of the past year to shame.
Bottom Line
All in all, the world's clean energy market is on the rise, and its growth is projected to keep on accelerating in the coming years. 2018 is set to be another amazing year for the renewable energy sector with the declining costs, rising affordability, increasing investments, expanding capacity, new funding ways, and other prominent trends.
© MarketPublishers.com, 2018