Internet-of-Things (IoT) Market: Major Issues for 2018
23 May 2018 • by Natalie Aster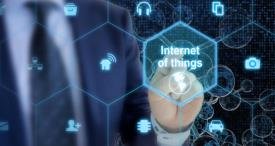 LONDON – The year 2017 saw an exciting upturn in the digital technologies space. The Internet of Things (IoT) is among prominent technologies that made waves last year. It has witnessed a continued development during the last several years and is supposed to come to the mainstream in 2018.
Today, the IoT is a globally-recognized trend that is gathering momentum at an incredibly fast pace. It has already brought incredible transformations to a range of industries (e.g., finance, healthcare, automotive, etc.) and took them to a whole new level. It's not a surprise that there is such a hype about the IoT, as it continues to open immense opportunities for development and growth in almost every sphere of people's lives.
Structure of the IoT market by sector, in 2017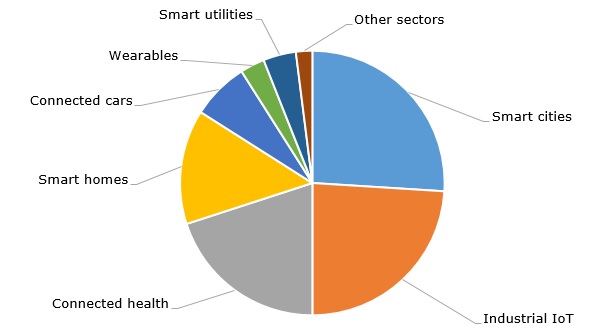 The world's IoT market is exhibiting robust growth at a high double-digit CAGR. Fueled by the ongoing development of advanced wireless network technologies, increasing penetration of Wi-Fi connectivity, mounting demand for smart wearables, rising adoption of different cloud-based solutions and expanding applications of the IoT, the IoT market is anticipated to continue demonstrating fast growth pace.
Global IoT market value during 2016-2020 (in billion USD)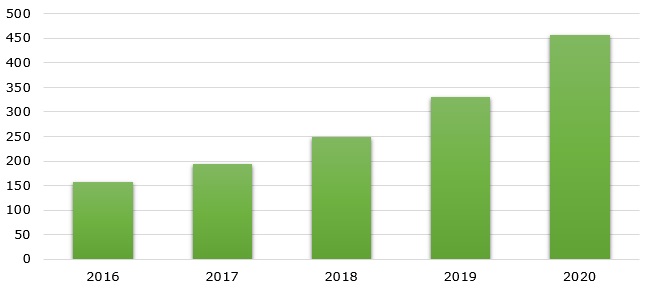 The IoT has an enormous potential, and 2018 is set to be another successful year for this technology. The IoT will likely be one of the key engines of the digital transformation this year and beyond. Here are top 5 IoT market trends to keep an eye on in 2018:
1. Number of Connected Devices to Continue Increasing
The IoT sector is on the rise, with more and more gadgets and devices coming online every day. 2018 will not be an exception and will see a steady increase in the number of interconnected devices. Besides, it doesn't only mean new connected smartphones and laptops, but there will be more "smart" devices that people use in their day-to-day life like smart locks, smart doors, etc.
The total number of IoT connected devices is poised to cross 23 billion in 2018. Whilst by 2025, the global installed base of IoT connected devices is projected to surpass 75.4 billion.
Number of IoT connected devices globally during 2015-2025 (in billions)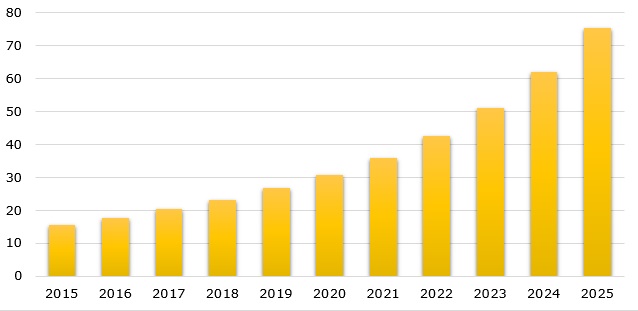 The industrial and commercial sectors are predicted to account for about 50% of all new IoT connections during 2018-2025. Moreover, IoT technologies will likely become more available and affordable.
2. "Smart City" Projects to Gain Momentum
The rising number of IoT connected smart devices leads to an upturn of the "smart cities" concept. Although "cities where most processes are dictated by the IoT" sounds a bit fantastic, some countries have already initiated projects of smart cities development. Thus, smart cities will soon move out of the science fiction realm and become an everyday reality.
Shares of smart cities projects by type globally, 2017
2018 as a whole is on track to become the year of smart cities, as world's populations are steadily moving to tech-heavy urban centers that are implementing IoT solutions to satisfy the demands and needs of their citizens.
The world's smart cities market value is predicted to amount to USD 2.57 trillion by 2025, registering an impressive growth at an 18.4% CAGR in the years ahead.

3. Increased IoT Adoption in Healthcare
The IoT has already disrupted a host of industries and is predicted to make further leaps forward across numerous fields. In 2018, the healthcare industry will be at the forefront of IoT deployments: various devices like medical sensors, wearables, health monitors, medical equipment, smart implants, virtual assistants, and an array of other smart IoT connected devices are anticipated to reshape the healthcare world. IoT technologies allow to enhance service processes and also improve their quality in the healthcare ecosystem. Besides, the IoT is widely used in medical research.
The world's IoT healthcare market is projected to pick up at a 20.2% CAGR through 2024 to amount to the value of USD 205 billion. Increasing disposable incomes, expanding accessibility to the high-speed Internet, strong demand for medical wearables, enhancing need for remote patient-monitoring, and mounting demand for fitness and wellness trackers are some of the main growth triggers of the IoT healthcare market.
4. Greater Priority to Be Placed on IoT Security
With the escalating number of IoT deployments, security is of paramount importance as more vital data stored in the cloud is at risk. Today, the cyber-attacks are rather frequent, and the situation will likely become even worse. Therefore, the need for high-quality security solutions, that are continuously evolving to deal with unforeseen eventualities, will be one of the prominent trends in 2018.
Global IoT security spending during 2016-2021 (in billion USD)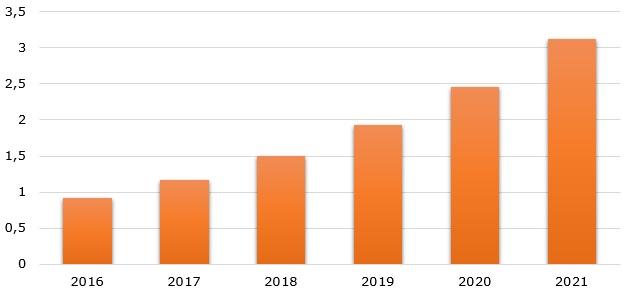 At present, many IoT devices are still not equipped with certain security features. However, in 2018 and beyond it will definitely change: biometric logins are likely to become the norm, the penetration of machine-to-machine authentication will rise, and Big Data, AI, and machine learning techniques will be implemented to identify and prevent data breaches.
The year 2018 will see impressive breakthroughs in the field of IoT security, few sectors stand to be as revolutionized as the IoT security does.
5. AI to See Exponential Growth
With billions of devices being connected with the IoT and transmitting large amounts of data, the need to process as well as analyze this data is extremely high. The idea is not just to collect data but to get actionable insights from it, and that requires artificial intelligence (AI) techniques. AI presents enormous opportunities for the IoT: demand response, self-optimization, and ability to predict when devices need to be repaired are only some examples of popular applications.
AI acts as one of the pivotal drivers of the IoT's success, and numerous companies (regardless of their size) start to realize the potential AI has to revolutionize their businesses. 2018 is projected to be another great year for AI. Synergy of the IoT and AI will encourage the introduction of a range of next-gen applications and remarkable advancements.
Conclusion
The IoT presents a whole new level of automation: if implemented properly, it can bring incredible changes in almost every sphere and improve many aspects of people's lives. 2018 will see further growth of the world's IoT market with a plenty of lucrative opportunities emerging in various fields. This year will become one more step towards the key goal of the IoT – complete interconnection.
© MarketPublishers.com, 2018