Pharmaceuticals Market: Major Trends to Watch This Year
18 May 2018 • by Natalie Aster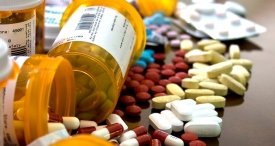 LONDON – The worldwide pharmaceuticals market is growing persistently at a healthy CAGR. In the year 2014, the market value crossed the USD 1 trillion mark. Furthermore, in 2016 the value of the world's pharmaceuticals market exceeded USD 1.1 trillion and in 2017 climbed over USD 1.11 trillion. This figure may come to USD 1.43 trillion in 2020 and, further, to USD 1.5 trillion by late 2021.


Global pharmaceutical market revenues during 2005-2016 (in billion USD)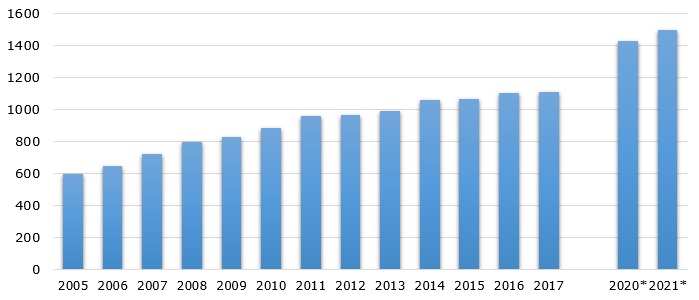 The list of the key factors influencing the pharmaceuticals market dynamics includes but isn't limited to regulative policies, diseases prevalence, medications affordability, consumer attitudes, and certain supply-side factors. Other important market growth triggers comprise rapidly aging population, robust urbanization, ongoing industrialization, improved access to medications in the emerging countries, among others.
This year, the world's pharmaceuticals market is predicted to go up at a low-single-digit CAGR, majorly owing to patent expirations along with an ongoing negative pricing environment for generic as well as some specialty products.
Asia-Pacific Picks Up Traction at the Highest Pace
Presently, the North American region contributes the biggest portion of the world's total revenues generated by the pharmaceuticals market. This is majorly attributed to the leading role of the US pharma industry. Last year, North America commanded a 37% share of the world's pharmaceuticals market.
However, as in numerous other industries, Asia-Pacific demonstrates the highest growth rates. During the recent years, Asia-Pacific has outpaced Western Europe as the 2nd largest regional market for pharmaceuticals; in 2017, Asia-Pacific and Western Europe held shares of nearly 22% and 20% of the global pharmaceuticals market, respectively. Increasing affordability of drugs encouraged by the launch of low-priced generics is the major growth engine of the Asia-Pacific pharmaceuticals market growth. Other favourable growth factors include the rising GDP, supportive government policies, rapid urbanization, and increasing population. The sales of pharmaceuticals in the Asia-Pacific region are predicted to pick up at an 8.4% CAGR through 2021. The Chinese pharma market and Indian pharma market boast the highest growth pace in the region – double the pace of the top country-wide market (the US).
Oncology Grabs Bulk Share of World's Total Pharmaceutical Sales
Oncology drugs rank the top therapeutic category regarding global pharmaceutical sales, it generated revenues of more than USD 81 billion last year. It is followed by pain drugs and antidiabetics with revenues of USD 76.1 billion and USD 72.5 billion, respectively, in 2017.
Top 10 therapeutic categories by estimated global pharmaceutical sales in 2017 (in billion USD)

Other therapeutic categories lag behind with quite a big gap. For instance, the 4th largest category, autoimmune diseases drugs, generated USD 47.5 billion in revenues in the past year – that's USD 25 billion less than the 3rd largest category.
Humira Tops List of Best-Selling Pharmaceuticals
Last year, Humira (an anti-inflammatory drug) was far ahead of other pharmaceutical products in terms of sales. It generated more than USD 18.4 billion of revenue in 2017. Humira is anticipated to stay in the lead through 2022.
Global top 10 pharmaceutical products on the basis of sales, in 2017 (in billion USD)

The revenues generated by the second best-selling pharmaceutical product, Rituxan, in 2017 was approximately half that of Humira – around USD 9.23 billion.
Pfizer Is Still Unrivalled Leader in Pharmaceuticals Market
Last year, top 10 pharmaceutical companies generated over USD 437.2 billion of revenues, thus, together capturing a share of about 40% of the world's total pharmaceuticals market.
Pfizer, a multinational pharma giant headquartered in Connecticut, the US, is the dominant pharmaceutical provider. Pfizer's revenues generated from the pharmaceuticals segment exceeded USD 52.5 billion in 2017. The leading pharmaceuticals company has a diversified portfolio that spans an array of therapeutic areas (e.g., oncology, immunology, rare diseases, neurosciences, etc.). 2017 was a very successful year for Pfizer, despite modest revenue growth. This company received 10 FDA approvals, and many of its best-selling products still have many years of patent protection remaining. Last year, some of Pfizer's key products registered an amazing growth, for example, Ibrance exhibited a 60% gain.
World top 10 companies on the basis of revenues generated from the pharmaceuticals segment in 2017 (in billion USD)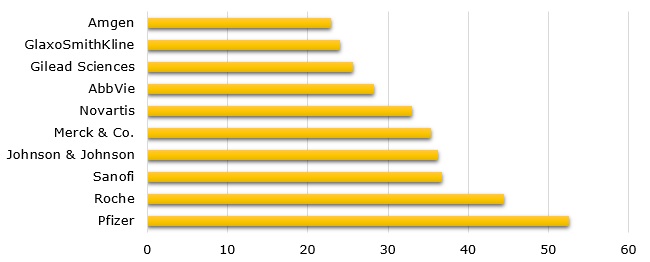 With revenues of USD 44.36 billion generated in the pharmaceuticals segment in 2017, Roche, a Swiss pharma company, ranks second largest pharmaceutical company. Roche's revenues from the pharmaceuticals segment witnessed a 12.34% YoY increase in 2017. At present, this company employs over 93.7 thousand people across the globe. Roche develops innovative drugs and devices in a range of key indications including immunology, oncology, neuroscience, and infectious diseases.
Other top-performing pharmaceuticals companies include Sanofi, Johnson & Johnson, Merck & Co., Novartis, AbbVie, etc.
Investments in R&D to Remain Vital Driver of Pharmaceuticals Market
Far greater than any other sector, the pharmaceuticals industry is highly dependent on its R&D segment. High-quality R&D is crucial for the long-term success of the pharma industry. Top pharmaceutical companies invest approximately 20% or even more of their overall revenues in R&D activities.
World's total spending on pharmaceutical R&D over 2010-2022 (in billion USD)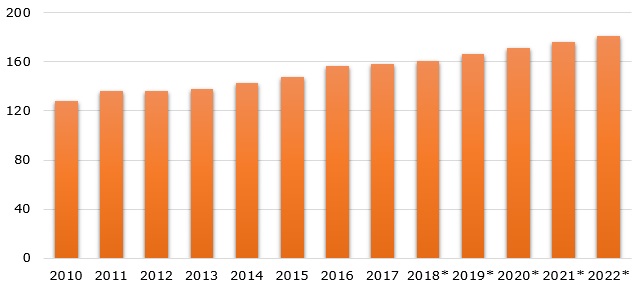 In the wake of a steady loss of patent protection, the discovery and launch of new drugs are of paramount importance for the global pharmaceuticals industry. Revenue losses resulting from patent expiry are usually very sizeable.
Traditionally, the US is a stronghold of innovation in the pharmaceuticals industry. The majority of novel substances introduced to the pharma market has originated in the US.
The pharmaceuticals R&D sector already successfully implements various modern technologies like artificial intelligence (AI), machine learning, and the Internet of Things (IoT), amid others, and is predicted to continue testing the benefits of innovative digital solutions in the coming years.
Incidents of Counterfeit Pharmaceuticals Continue to Increase
One of the most complex and challenging problems of the healthcare industry is to secure the integrity and safety of the pharmaceuticals supply chain. Increasing sales of counterfeit pharmaceutical products threaten global public health. Today, the scope of illegal international pharmaceuticals trade is very broad spanning a great number of therapeutic categories and lifesaving treatments; it encompasses numerous actors and affects world's populations from the poorest to wealthiest.
During 2010-2016, the number of counterfeit incidents in the world's pharmaceuticals market increased by more than 1,000. In 2016, it surpassed 3.14 thousand cases. The highest increases of counterfeit incidents concerning pharmaceutical products during the last decade were registered in 2015 and 2016.
World's total number of counterfeit incidents in pharmaceuticals market during 2005-2016 (in thousands)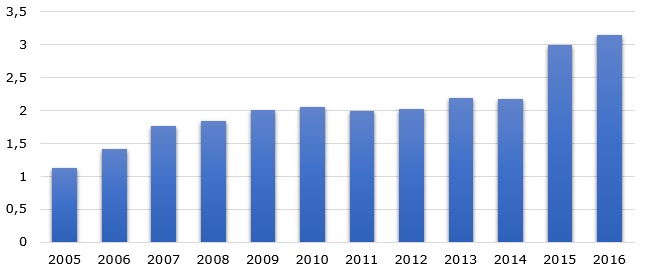 The most popular therapeutic category for illegal pharmaceuticals sales was anti-infectives (around 21% of all counterfeit incidents).
As for geographies, Asia and Latin America along with middle-income markets reported the highest number of counterfeit pharmaceuticals sales.
Improvements in surveillance, comprising detection of security breaches coupled with the collection, analysis, and dissemination of data, are urgently required to address the existing health needs to combat the international counterfeit pharmaceuticals trade.
Conclusion
It's inarguable that pharmaceuticals are of immense importance. The pharmaceuticals industry has already managed to tackle some of the key causes of disease and also life-threatening illnesses. However, there is still much work to do to combat a great number of devastating diseases. In the foreseeable future, the world's pharmaceuticals market is poised to continue following an upward trend due to increasing wealth globally and mounting demand to maintain high levels of innovation to address unmet medical needs.
© MarketPublishers.com, 2018