Pet Care Market: Top 3 Trends for 2018
25 Apr 2018 • by Natalie Aster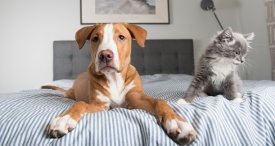 LONDON – Today, pets are becoming more mainstream than ever before, and pet owners worldwide are spending much money on various pet-related services and goods. The way people view their pets has changed drastically during the last 2 decades: pets have become an integral part of our families, and are treated and cared for as such.
The world's pet care industry has exhibited stable, amazing growth during the past 20 years. 2018 is likely to become a crucial year for the pet care industry with many changes and innovations expected to disrupt the industry landscape. Some of the key factors driving changes in the global pet care market comprise the increasing pet population worldwide, surging pet humanization trend, changing demographics of pet owners, industry consolidation, technological progress and deepening penetration of digital solutions, amidst others.
During 2012-2017, the overall sales of pet care products and services across the globe registered a 14% gain, adding appr. USD 13 billion in value terms. As of 2017, the value of the global pet care products and services sales climbed above USD 109 billion.
Pet care products and services sales value by regions in 2017 (in billion USD)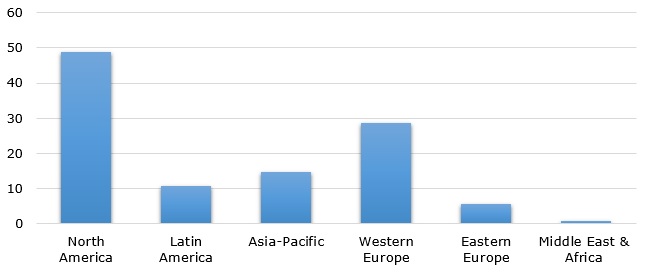 Presently, North America captures the bulk share of the world's pet care market. Western Europe and Asia-Pacific rank second and third, respectively.
Let's have a look at the most prominent trends fueling an uprise in the pet care market in 2018:
1. Online Retailing to Gain Steam
Traditional brick-and-mortar stores are on the defensive as online sales are gathering momentum. Shoppers are shifting to the online channel at a brisk pace, and companies engaged in the pet industry are jumping on the bandwagon of this rapidly-evolving sector.
With a rich choice of pet care products available online, low shipment costs coupled with the convenience of home delivery, and also favourable auto-replenishment programs, it's no wonder that pet owners are increasingly turning to Internet stores.
Online retail sales of various pet care products globally in 2016, by region (in billion USD)

Now, the e-commerce is outpacing other distribution channels, and it is poised to continue gaining traction in the pet care space in the current year. Brands that still don't use online channels, should better rethink their strategy in 2018.
2. Penetration of Smart Devices to Increase
Pet owners are becoming more and more tech-savvy. Digital technologies have not only changed the way people buy pet products but are also changing the type of pet products offered on the market. In fact, the surging penetration of IoT and smart devices is encouraging further changes in the pet care sector.
Nowadays, pet owners have a possibility to track their pets' physical activity, health parameters, and location with the use of pet wearables. They can engage with their pets via internet-connected cameras as well as dispense food while away from home via connected treat dispensers. Besides, the veterinary services sector is likely to witness the increasing adoption of digital technologies owing to their undeniable benefits.
The world's pet wearables market crossed the value of USD 1.4 billion in the past year and is anticipated to exhibit growth at an 11.02% CAGR through 2023 to surpass USD 2.7 billion.
As for applications, the pet wearables market is led by the identification and tracking segment, which is predicted to maintain its leadership in the short run.
Shares of key pet wearables applications, in 2017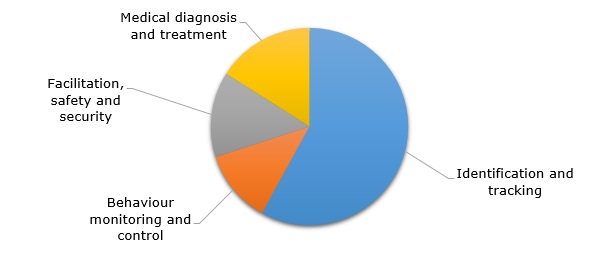 Meantime, the medical diagnosis and treatment application segment is supposed to demonstrate the highest growth rate (16.7% CAGR) in the next few years, encouraged by the rising awareness of pet health along with escalating concerns regarding pets' obesity.
3. Demand for Organic Pet Food to Remain Strong
Pet food is undoubtedly the biggest segment contributing over 65% to the overall pet care market value. The pet food segment has experienced an upswing during the past few years, and it continues to boom.
Global pet food sales during 2010-2016 (in billion USD)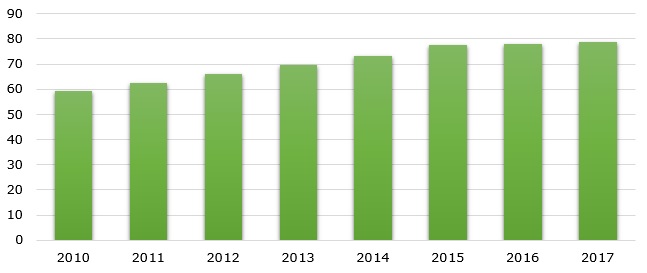 As consumers are shifting to natural products in human food, they increasingly look for healthy alternatives for their furry friends too. It is widely believed that organic pet food is safer and provides better nutritional value, therefore an increasing number of pet owners are seeking out pet food products labeled as 'organic' or 'natural'. Additionally, organic pet foods usually include such additional ingredients as proteins, vitamins, minerals, fatty acids, amino acids, etc., that are good for digestive and immune pets' health.
The world's organic pet food market is slated to exhibit remarkable growth at a CAGR of nearly 9% in the short-term, driven by accelerating concerns regarding pets' health coupled with the increasing premiumization trend. The dry organic food sector is in the forefront of the pet food market and is projected to stay in the lead in 2018. Regionally, the dominant share is held by the North American region, and this trend is set to continue in the near future.
Conclusion
It's no secret, that the pet care industry is booming and will continue to pick up in 2018. As the industry is evolving at a robust pace, companies engaged need to keep pace with changes in order to cater to more conscious consumer demands. Today, pets are considered as family members, and pet owners want to buy only the best products for their beloved furry friends. Besides, it is obvious that many trends from the human industries (e.g. digitization, premiumization, etc.) are rapidly transferring to the pet industry – this trend is likely to be prominent this year.
© MarketPublishers.com, 2018