Digital Payments Market: Key Trends Likely to Take Centre Stage in 2018
16 Apr 2018 • by Natalie Aster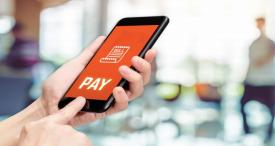 LONDON – Payments present the most rapidly-evolving area of the overall financial services industry. In 2017, the payments sector witnessed an amazing growth along with significant transformations, vital innovations and the introduction of new digital payment alternatives. 2018 is set to be another prominent year in the digital payments revolution, which will be encouraged by changing consumer demands, robust progress of digital technologies, and intensifying competition.
In the wake of the rapid technological advancement and increasing adoption of cashless solutions worldwide, we can't help but wonder what trends will shape the digital payments market landscape this year. Undoubtedly, nobody can exactly say what the future will bring. However, there are some prominent trends in the digital payments market that we will definitely keep an eye on in 2018:
1. Digital Payments Volume and Value to Continue Surging
The volume of digital payments transactions demonstrated a considerable upturn in 2017 and is set to continue gaining steam this year, registering a CAGR of almost 11%. Consumer payments volume is now beginning to outreach business payments.
As for the value of digital transactions, it is likely to exhibit a 13.5% CAGR during 2018-2022. In 2018, the total transaction value of digital payments across the globe is poised to go beyond USD 3.26 trillion. And by 2022, it is predicted to surpass the USD 5.4 trillion mark.
2. E-Commerce to be Major Contributor to Digital Payments
E-commerce grabs the largest chunk of the overall transaction value of digital payments. In 2017, the world's e-commerce sector generated around USD 2.3 trillion in revenues. In 2018, this figure is forecast to surpass USD 2.8 trillion, and the e-commerce sector is slated to retain the position of the leading revenue-generator in the digital payments market.
Global revenues of e-commerce sector over 2014-2021 (in trillion USD)

In the wake of bullish growth of the e-commerce industry, more online shoppers are willing to use novel payment options and shift to cashless digital transactions via their mobile devices. Today, nearly 42% of online buyers prefer to make payments via their credit cards. Electronic payment platforms present another highly popular online payment method – appr. 39% of online shoppers use it. PayPal is the leading e-payment platform; in Q4 2017, it reported 227 million active registered accounts.
Online buyers' preferred payment methods, March 2017



3. China to Emerge as Market Leader in Digital Payments
This year, developing countries will see an average 19.6% gain in terms of digital payments transactions volume, with emerging Asia poised to exhibit the highest growth rate worldwide – up by 30.9%. Emerging countries will likely become the powerhouses of the world's non-cash payments market by 2020.
China is the frontrunner in the Asian digital payments market. It is set for a 36% upturn during the next 5 years. This year, China is projected to outpace the US as the leading national digital payments market, with a total digital transaction value exceeding USD 1.04 trillion.
China's online payments market is led by two major players, Alipay and WeChat pay.
4. Millennials to Boost Digital Wallets Adoption
Convenience has always been viewed as one of the major aspects for consumers. With impressive technological advancements, shopping becomes more and more convenient. Today, we can order goods and pay for them online. In 2018, this modern shopping culture is likely to bring digital wallets to the fore of the digital payments market. Digital wallets help merchants to cater the needs of a generation that seeks ease and immediacy while paying for purchases. Digital payments present an integral part of millennials' shopping habits and are likely to become even more crucial this year, as more services are shifting to digital platforms. Around 85% of millennials (18-34 year olds) are expected to use digital wallets over the next 2 years.
5. Mobile Payments to Continue Booming
Fueled by the expanding penetration of mobile devices, a stable upturn in the e-commerce sector and the rising penetration of Internet worldwide, mobile payments adoption demonstrated a considerable increase last year. The upward trend in the mobile payments sector shows all the sings to remain strong this year. Mobile payments are forecast to drive revenues of appr. USD 930 billion in 2018, compared to USD 780 billion in the past year.
Global mobile payments revenue during 2015-2019 (in billion USD)



6. Apple Pay to Stay in the Forefront of Mobile Payments Sector
Nowadays, the high penetration of smartphones globally pushes mobile wallets to become a norm. With around 87 million users globally in 2017, Apple Pay is taking lead in the mobile payments sector. In a highly competitive landscape, Apple continues to provide its users with an easy, safe and quick way to make payments at multiple locations.
Number of contactless payment users of major mobile wallets over 2015-2017 (in million)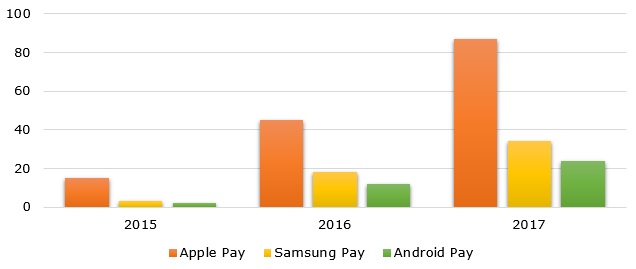 7. PSD2 May Put an End to Banking Monopoly in EU
2018 is anticipated to be a game-changing year for the EU banking sector. The major change in the digital payments market came into force in January 2018 with the implementation of Europe's 2nd Payment Services Directive (PSD2). Now, banks are no longer exclusive owners of customers' account info and transaction data. Under new regulations, banks are implied to open their API for authorized 3rd-party providers (including non-banking firms), thus driving the development of more advanced payment options without the need to support a heavy bank infrastructure.
In 2018, open APIs are likely to lower the entry barriers for new entrants, enhance consumers' payment experience and also unify the EU payments market. These changes will disrupt the payments market by creating a new payment services ecosystem, bringing in new rivals and heating up the competition. Undoubtedly, FinTech and e-commerce giants will jump on this lucrative opportunity.
Share of 5 largest banks in the banking's industry total assets across selected EU countries in 2016

Although 'opening up' banks sounds good for consumers as well as competition, the majority of consumers still have no idea what PSD2 is. These changes may also become troublesome, as under the new Directive banks are obliged to give access to customer data to 3rd parties, which raises a range of privacy and data security concerns together with consumer uncertainty. Besides, we are yet to see how major market players will react to new regulations.
8. Biometrics to Take Digital Payments Security to New Level
It is of paramount importance to recognize the factors that keep consumers using digital payments and help to build trust between customers and merchants throughout the payment process. Security is one of such factors. In the light of rising cyber threats, fraud and data breaches, companies tend to invest in complex, advanced user authentication technologies to improve the security of digital transactions. In 2018, the world's digital payments market is projected to witness a spectacular increase in biometrics adoption.
Biometrics adoption in retail sector by technology, in 2017-2018
This year, bio-verification will emerge as one of the essential components of the payments process and customer experience, as security becomes even more crucial in the digital payments ecosystem.
Final Thoughts
In the wake of robust transformation coupled with customers' increasing appetite for faster and more convenient payment options, digital technologies are expected to continue disrupting the payments market landscape. Today, companies worldwide are struggling to keep up with the rapidly-evolving environment of the digital payments market and not to be left behind other competitors. The emergence of novel technologies, substantial shifts in consumer behavior, and changes in regulatory framework are likely to push the payments ecosystem to an unprecedented revolution in 2018.
However, there is a long road ahead towards a "cashless society", as cash still remains the mainstream payment option. Key attributes of cash supporting its use comprise speed, anonymity, universal acceptance, absence of fees, etc. Moreover, whilst many developing countries lack a modern payment infrastructure, others haven't developed trust in the modern payments system.
© MarketPublishers.com, 2018