What 2018 Has in Store for eSports Industry?
06 Apr 2018 • by Natalie Aster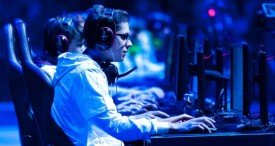 LONDON – The concept of 'professional video gaming' has always been viewed as a controversial topic. However, there is no doubt that video gaming has stopped being just an entertainment long ago. Now, in the form of eSports, this pastime can bring sizeable profits. eSports encompass organized multiplayer events between professional gamers, consisting of a range of tournaments culminating in regional and global championships.
The first recorded video gaming competition was held in 1972. Since that time, eSports has gained popularity at such a robust pace that anyone could have possibly imagined. Besides, it seems that the exponential upswing of the eSports industry will not slow down anytime soon. Today, video gaming tournaments continue to attract millions of online viewers and passionate fans worldwide, thus driving the eSports to become a flourishing, multibillion-dollar industry.
Video gaming has become a profession for numerous players globally. League of Legends, Call of Duty and Hearthstone top the list of the most popular games. Last year, the number of players registered in League of Legends crossed 100 million.
Number of players of selected eSports games in August 2017 (in million)
Numerous gamers from pole to pole are enticed to participate in eSports tournaments by the promise of an appealing money price. With incredible heights of eSports popularity, more brands are willing to put their money into this lucrative field. The combined prize pool increased from USD 11.07 million in 2012 to more than USD 121 million in the past year. During 2014-2017, the combined prize pool of eSports games nearly quadrupled.
Combined eSports prize pool globally during 2012-2017 (in million USD)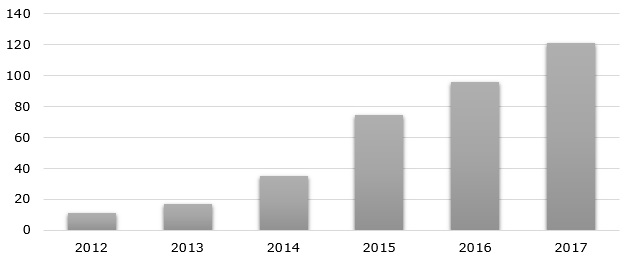 DOTA 2 held the top spot in 2017 with a cumulative tournament prize pool of over USD 38 million. Counter Strike: Global Offensive and League of Legends ranked second and third with prize pools of USD 19.19 million and USD 12.02 million, respectively.
Among the eSports tournaments, "The International 2017" took the lead last year with a total prize pool of USD 25 million. It was held in the USA and featured DOTA 2.
eSports Audience to Reach 380 Million in 2018
The awareness of eSports is increasing every year. In 2015, approximately 809 million people across the world knew about this term and its connotations. As of 2017, the number of people informed about eSports crossed 1.28 billion. This year, it is supposed to climb to 380 million. By 2019, this figure will likely exceed 1.57 billion.
The number of eSports enthusiasts (frequent viewers) reached 143 million in 2017 and is supposed to go beyond 250 million in 2021. Meantime, the occasional viewers number is forecast to rise from 192 million in 2017 to amount to 307 million in 2021.
Regionally, APAC accounts for around half of the world's total eSports fans number.
Number of eSports viewers globally during 2014-2021, by type of viewers (in millions)
World's eSports Market Revenue to Amount to 906 Billion in 2018
In 2017, the world's eSports industry generated revenue of appr. USD 655 billion. This year, it will likely generate about USD 906 billion in revenue, registering a 38% YoY growth. By 2019, the billion-dollar threshold is anticipated to be crossed. Between 2018-2021, the eSports market is poised to exhibit amazing growth with nearly 40% YoY gains. In 2021, the revenue is anticipated to go beyond USD 1.65 billion.
World's eSports industry revenue during 2014-2021 (in million USD)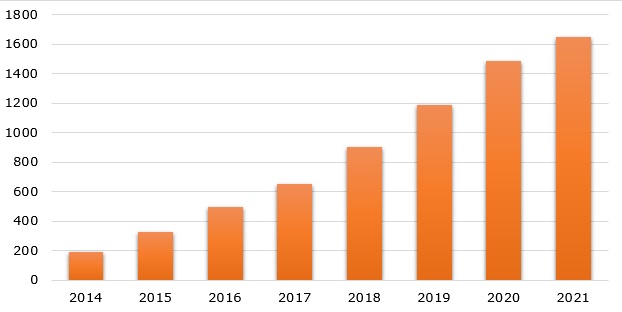 Sponsorship to Remain Major Revenue Stream
Almost 80% of the eSports industry revenues are generated from sponsorships and advertising. In 2017, this revenue source brought around USD 517 million. This year, appr. USD 694 million will be invested in the eSports business. Around 50% of this sum will go for sponsorship, and the remaining part will be shared between advertising, content licenses, and media rights. In the year 2020, brands are predicted to spend around USD 1.2 billion on sponsorship and advertising.
Whilst sponsorship will remain the major revenue stream of the eSports business, media rights are set to witness the biggest YoY gains in 2018 – up by 72%.
Revenue streams of global eSports industry in 2018 (including YoY gains)
North America Ranks Top Revenue Generator
The North American region generates the lion's share of the overall eSports market revenues. The region is slated to stay in the lead in the current year, with its revenues expected to amount to USD 345 million. The major chunk of the region's eSports revenues comes from sponsorship, which is predicted to rise from USD 100 million in the past year to reach USD 162 million in the current year. The North American eSports market is set to demonstrate exponential upturn in the upcoming years and will likely reach the revenues of appr. USD 656 million by 2021.
The second revenue-generating region is Western Europe. This regional eSports market is anticipated to have revenues of nearly USD 169 million in the current year. The Western European market is characterized by the high prevalence of localized eSports ecosystems operating next to regional tournaments.
China also boasts a booming eSports sector with revenues poised to reach USD 164 million this year. China's eSports market is notable for the high popularity of mobile games.
Final Words
In a nutshell, the eSports industry has a very promising future, as the awareness of eSports is rising at a tremendous pace along with a rapidly increasing number of gamers, developers, companies, and viewers taking interest in it. It is for certain that the eSports industry will continue gathering momentum in the foreseeable future.
© MarketPublishers.com, 2018
Reports on eSports Market Available at MarketPublishers.com: