E-Commerce Market: Trends to Consider This Year
26 Mar 2018 • by Natalie Aster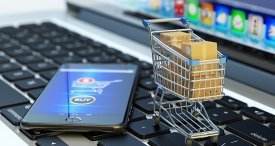 LONDON – The last year was a great one for the e-commerce industry, many innovations and impressive advancements were introduced to online shopping. 2018 will be another phenomenal year for the online retailing business with technology advancements proceeding to even greater levels. Few industries can boast such a promising future.
The share of e-commerce sector in the overall retail sales structure has demonstrated a sustainable upturn during the past few years. In 2015, it was equal to 7.4%; whilst, in 2017, it climbed to 10,2%. By the year 2021, the e-commerce sector's share in the overall retail sales is projected to touch 17.5%.
E-Commerce Share of Overall Retail Sales, 2015-2021 (in %)



Today, shopping is one of the most popular online activities from pole to pole. Clothing & footwear; books, movies, music & video games; and consumer electronics & computers are the top-performing categories of the e-commerce industry.
Online vs. in-store shopping by categories, 2017 (in %)


The world's e-commerce market is evolving at an exponential rate. It generated revenue of appr. USD 2.3 trillion in the last year and is slated to continue gaining traction at a CAGR of nearly 23% to surpass USD 4.5 trillion in 2021.
World's e-commerce market revenue, 2014-2021 (in trillion USD)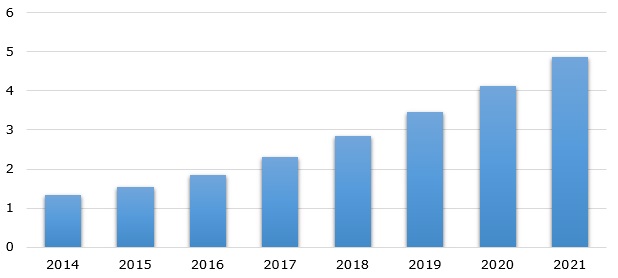 Top Trends to Influence E-Commerce Market in 2018:
1) Digital Buyer Penetration to See Steady Increase
The number of digital shoppers from pole to pole was around 1.5 billion in 2016 and reached appr. 1.66 billion in 2017. By 2020, the world's total number of digital shoppers is anticipated to go beyond 2 billion.
Number of digital buyers globally, 2014-2021 (in billions)



As of 2016, slightly over 53% of the total Internet users number made online purchases; in 2017, the figure exceeded 60.2%. The online buyer penetration rate is forecast to continue keeping to an upward trend and to scale up to 63% in 2019.
Digital Buyer Penetration globally, 2016-2021 (in %)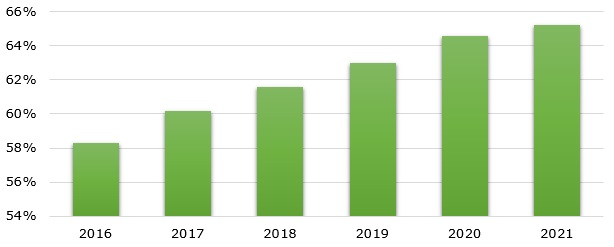 2) Social Shopping to Become Immensely Popular
At present, appr. 39% of all online shoppers get inspiration for purchases from social networks. Social shopping is anticipated to have a massive effect this year, and it will become more common to make purchases through social media platforms that are rising at a tremendous rate. Social media platforms will emerge as a perfect landscape, where retailers can create a comfortable buying scenario by demonstrating their products on mobile apps that are highly popular among customers. Instagram and Pinterest are some of the most promising social media visual platforms for the e-commerce industry.
3) Mobile Shoppers to Make Great Contribution
The majority of online shopping orders are still placed via desktop PCs. However, mobile shopping (especially via smartphones) is catching up and is expected to gain a stronger foothold in the short-run. Online retailers will make a greater emphasis on creating an exciting mobile shopping experience, whilst desktop will be a secondary focus. By late 2018, the mobile sales are predicted to grab a share of about 50% of the overall e-commerce revenue and are poised to generate around USD 669 billion, registering a 20% YoY increase.
World's mobile e-commerce sales revenue, 2014-2018 (in billion USD)



Presently, nearly 11% of all online buyers make online purchases via their smartphones every week, and nearly 35% expect a smartphone to become their key purchasing tool. By late 2018, the mobile sector can expand its share in the total e-commerce traffic to almost 70%.
4) Supply Chain Management to Reach New Heights
Supply chain management also passes through remarkable changes and improvements and becomes more cognitive. Basically, there are 3 main factors that complement progress in the supply chain management. First of all, automation is of utmost importance, as it allows to propagate a clear and unhindered product transition as well as information flow. Furthermore, with ongoing advancements in data sharing, now the data (e.g., shipping info, stock details, customer details, etc.) are easily available at all stages of the supply chain. Finally, customer-centricity is critical: it is important to gain a clear understanding of customers' preferences, aims and tendencies to improve the operational efficiency.
5) Chatbots to Be of Paramount Importance
Presently, online shoppers expect an immediate response to their questions and concerns. Chatbots used on e-commerce retailers' websites allow addressing various customer needs 24/7. In the modern world, chatbots emerge to play a pivotal role in the e-commerce sector, as online buyers usually appreciate live action engagement, especially if their query is resolved, whilst retailers thus derive benefits from an enhanced reputation.
Customer service chatbots' effectiveness at resolving customers' issues, 2017



6) Voice Search to Gain More Prominence
During the past several years, there was an incremental upturn in the adoption of voice-activated devices (e.g., Google Home and Amazon Echo), and this trend is set to maintain in the offing. Over 40% of millennials already use voice search before making online purchases. Around 20% of Google searches on mobiles are made with voice.
Voice search is about to take off during the current year as voice assistants (e.g., Alexa and Google Assistant) become more common. Besides, the anticipated upswing in mobile commerce will boost an optimization of online stores for voice search.
7) China to Drive Boom in World's E-Commerce Sales
Today, China tops the world's e-commerce market and boasts the highest online shopping penetration rate across the globe. In 2017, the Chinese e-commerce market was valued at appr. USD 672 billion. This national market is predicted to keep on expanding at a CAGR of over 17% in the years ahead.
Countries with the highest online shopping penetration, Q2 2017



8) Personalization Must Be on Point
The focus of online retailers will shift from just 'closing a deal' towards a deeper understanding of customers' decisions that finally influence their purchases and loyalty. Creating a unique customer experience is an extremely significant part of the online retailing industry. Product suggestions that are based on previous purchases, personal info, and geographic location will play an essential role in creating a personalized shopping experience. Therefore, personalization is supposed to become another sweeping trend in the e-commerce market.
9) Payment Options to Diversify
In the wake of the rapidly-evolving e-commerce industry, more and more online shoppers are ready to use new payment options, especially cashless via their mobile wallets. Today, appr. 42% of all online buyers prefer to pay for their purchases via a credit card. Another highly-preferred online payment method is the electronic payment – around 39% of online shoppers chose it. PayPal, for instance, had over 227 million active registered accounts in Q4 2017.
Payment methods preferred by online buyers, March 2017



Besides, the blockchain technology has a huge potential to change the e-commerce realm, as it will become more prevalent in 2018. Transparency is one of the prominent benefits of this technology: buyers and retailers become able to keep track of their money and are responsible for payments in a way never seen in online retailing before. Cryptocurrencies such as bitcoin and ethereum are encouraging this shift. During Jan-Dec 2017, daily bitcoin transactions grew by around 100 times. Bitcoin is already accepted by many major companies.
Bottom Line:
Global e-commerce business has registered remarkable growth during the past decade, and it doesn't seem like there will be a slowdown on the horizon. With online shopping enjoying tremendous popularity and becoming more accessible across a great variety of platforms and demographics, novel creative ways to engage a greater number of shoppers are expected to emerge along with new frontiers in the e-commerce industry.
© MarketPublishers.com, 2018