Popularity of Dairy Alternatives to Gather Momentum in 2018
21 Mar 2018 • by Natalie Aster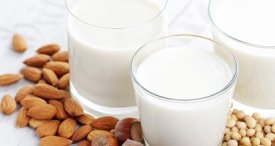 LONDON – In the wake of enhancing health consciousness and expanding inclination towards plant-based diet from pole to pole, dairy alternatives (aka plant-based milk) have tremendously piqued consumers' interest during the recent past.
Nowadays, about two-thirds of the global adult population are lactose-intolerant. In Asian and African regions, the figure touches 90%. Therefore, a rising number of consumers give their preference to dairy-free milk and lactose-free products.
Growing awareness of benefits provided by dairy alternatives and rising vegan population also act as market growth engines. Besides, steady expansion in the dairy alternatives market is supported by increasing disposable incomes, and a substantial shift towards chemical-free products.
However, players engaged in the world's dairy alternatives production are considerably challenged by higher prices if compared with dairy products, and by the remarkable prominence of low-fat and low-cholesterol conventional dairy products, amid other factors.
Dairy Alternatives Sales Demonstrate Steady Upturn
In 2016, the world's total dairy alternatives sales stood at nearly USD 7.37 billion. They are forecast to pick up at a high rate and will likely surpass the USD 14.3 billion mark by late 2022.

Global Dairy Alternatives Sales, in 2016 and 2022 (in billion USD)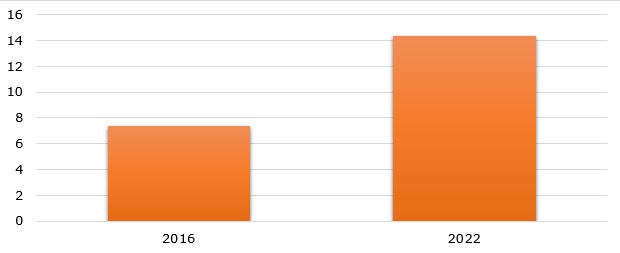 APAC Takes Lead in Dairy Alternatives Market
APAC is in the forefront of the world's dairy alternatives markets. As of 2017, it captured a market share of slightly over 45%. Meantime, the value of the APAC dairy alternatives market climbed to around USD 4.48 billion in the previous year. This regional market is anticipated to upsurge at a remarkable 14.8% CAGR (the highest rate globally) through 2022 and retain the top position in the future. A sustainable upturn in the APAC dairy alternatives market is majorly encouraged by robust urbanization, the rising lactose-intolerant population, a notable growth of the regional food and beverage industry, and enhancing inclination of the local population to plant-based food. Countries with highest growth potential in this region include Japan, China, Taiwan, South Korea, Indonesia, Singapore, and Malaysia.
The second position in the dairy alternatives market belongs to North America (with a share of appr. 30%). Between 2018 and 2022, the North American dairy alternatives market is set to see an impressive growth at a 14.63% CAGR, propelled by enhancing health consciousness, rising consumption of dairy-free products, increasing disposable income, and considerable changes in lifestyle as well as dietary patterns.
Dairy alternatives sales by region, in 2015 and 2020 (in billion USD)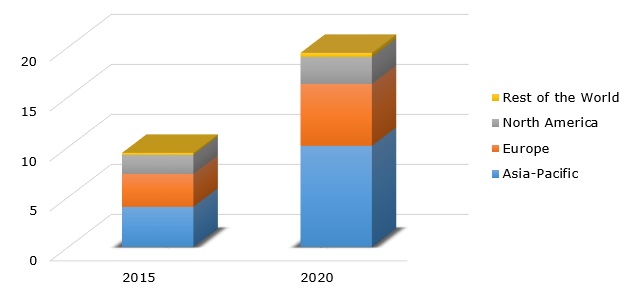 Almond Milk Grabs Over Half of Overall Dairy Alternatives Sales Value
Historically, soy milk was the first option available to substitute traditional dairy milk. It has accounted for the bulk of the combined dairy alternatives consumption volume. High popularity of soy milk is attributed to an extensive array of existing varieties and steadily rising awareness of nutritional benefits of soy-based products.
However, almond milk has remarkably expanded its share in the dairy alternatives market in the last several years. The value of almond milk sales has considerably picked up during 2013-2017. Furthermore, this trend will continue in the offing. Presently, almond milk grabs a share of above 50% of the overall dairy alternatives sales.
Global dairy milk alternatives market value by category, during 2013-2024 (in billion USD)
Soy milk is predicted to remain one of the top-performing categories in the dairy alternatives market. It is projected to gain traction at a CAGR of around 14.76% through 2022.
Meantime, the almond milk sector is slated to increase at the CAGR of almost 16% between 2018 and 2022.
Coconut milk is poised for a notable increase as well. The rising number of new applications (ranging from snacks and confectionary to yogurt and frozen desserts) is one of the main growth drivers. Moreover, the introduction of new forms like coconut milk powder further boosts the sector's expansion.
CAGR of dairy alternatives categories for 2018-2022 (in %)

Unsweetened Formulation to Grow at the Highest Pace
As for formulations, the biggest share (above 60%) of the dairy alternatives market is held by the flavored and sweetened sector. This is majorly due to higher palatability of flavored food products. Today, a broad spectrum of flavored and sweetened dairy alternative products (e.g., milk, yogurt, frozen dessert, etc.) is available. Chocolate and vanilla are the most popular flavors of plant-based products. They are followed by such flavors as strawberry, peach, mango, and blueberry.
However, in the wake of accelerating consumers' health consciousness, changing eating habits, and the rising diabetic population, the plain unsweetened formulation will rise at the fastest pace in the years ahead.
Dairy Alternative Beverages to Enjoy Higher Demand
Presently, beverages hold the lion's share of the dairy alternatives market. Meantime, dairy alternative foods are forecast to exhibit a remarkable upturn, spurred by increasing use in various in-demand food products, for instance, cheeses, spreads, and desserts. However, despite a robust growth pace of the foods application, it will not outpace the dairy alternative beverages.
Online Sales to Surge in Years Ahead
As for distribution channels, large retail chains capture the major chunk of the dairy alternatives sales. The second position in sales belongs to specialty stores. However, the online channel is projected to skyrocket in the next years and register the highest CAGR.
Conclusion
With a shift in demand towards healthy dairy options, an increasing consumers' focus on a healthy diet, a rising incidence of lactose allergy, and an accelerating "health and wellness" trend, the popularity of dairy alternatives is predicted to continue gathering steam in the short to medium term.
© MarketPublishers.com, 2018