Key Tech Trends Shaping Automotive Industry
27 Feb 2018 • by Natalie Aster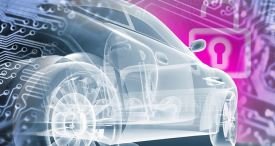 LONDON – The automotive industry is amidst the top contributing verticals of the world's economy, generating trillions of dollars in worldwide revenue. It is an important trigger of macroeconomic growth and stability, and a vital driver of the technological advancement in both developed and emerging nations. The automotive industry brings high tax revenues, generates foreign exchange earnings through exports, impacts foreign direct investments, contributes to GDP, etc. Besides, this industry creates numerous jobs.
The core automotive industry has a considerable influence on a slew of industrial verticals (upstream and downstream) alongside a range of adjacent sectors. This explains a multiplier effect on the overall industrial growth and economic development. Besides, advancements in R&D and technological innovations in the automotive industry bring benefits to other industrial sectors (for instance, insurance industry's use of innovative ideas like automotive telematics).
Examples of industries correlating with the automotive industry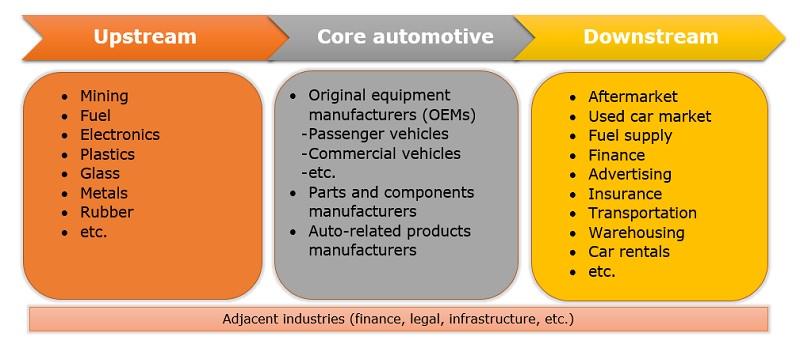 Worldwide, the light vehicle production volume grew by appr. 3.6% in 2016 and climbed to 92.2 million units. Although the automotive industry has its origin in central Europe, Asia has emerged as the most-rapidly evolving producer of autos. In the offing, the global light vehicles production is predicted to go beyond the 100 million mark.
Globally, the light vehicle sales picked up by 4.8% YoY in 2016 – it was a record-setting year for the automotive business. As for 2017, the global sales of light vehicles went up by 3.3% YoY. In 2018, a 3.6% YoY increase is anticipated.
Global light vehicle sales, 2007-2017 (in million units)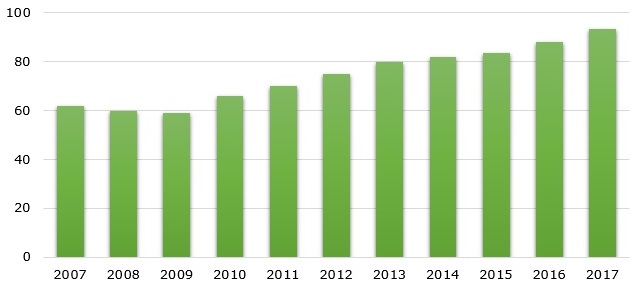 Developing countries are likely to make the largest input to the global automotive market growth in 2018. In the past year, they accounted for over 85% of the global sales increase. Meantime, auto sales across the majority of developed markets will demonstrate poor growth or even stagnation.
Amid emerging markets, China remains the major contributor to the global auto sales gains. The country's share of the global auto sales growth was around 40% in 2017. However, it will likely descend below 30% in 2018 in the wake of remarkable uptake across other developing markets.
Emerging markets in the Asian region (excluding China) are anticipated to play a crucial role in the global auto sales uptake encouraged by stronger economic growth, increased export momentum and higher disposable incomes. The overall sales volume in Asia is set to jump 10% YoY in 2018. Moreover, several countries in this region, including the Philippines and Thailand, registered double-digit sales increase in the past year and are predicted to maintain the strong performance in 2018.
Global light vehicles sales volume by regions, 2016-2024 (in million units)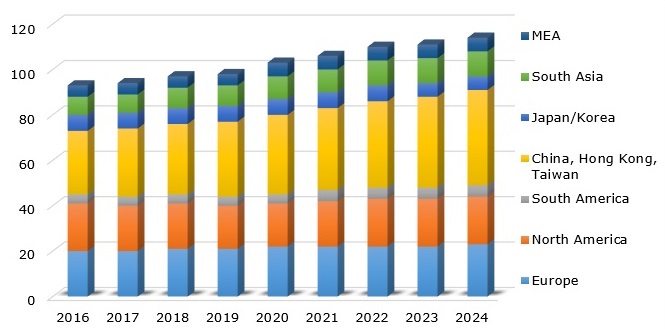 In 2017, the global ranking of the leading automakers based on sales was topped by the Toyota brand, which is owned by the Japanese company, Toyota Motors Corp. The 2nd position was held by the German company, Volkswagen AG, which under its Volkswagen brand sold appr. 6.8 million light vehicles last year. The Ford brand was ranked third.

Top brands' shares in the world's automotive market in 2017 (in %)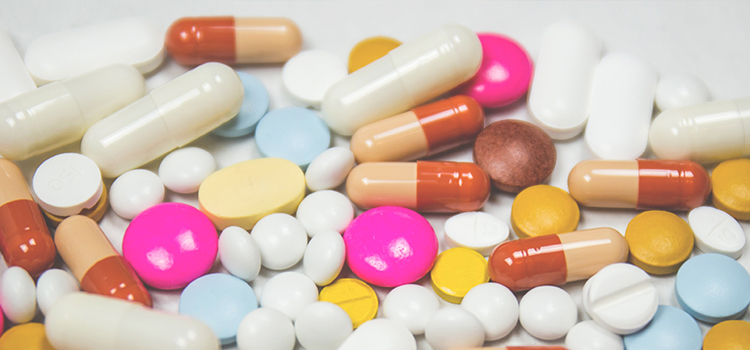 Meantime, in terms of brand value, the market was dominated by Toyota, BMW, and Mercedes-Benz in 2017. In that year, the Toyota brand value stood at over USD 28 billion. Toyota Motor Company is amid the strongest players in the automotive industry that tops many global rankings. This company is active in different sectors, including sport utility vehicles (SUVs), trucks, crossovers, etc. Besides, it makes huge investments in R&D of electric vehicles (hybrid, plug-in, and full-electric).
Most valuable brands in the world's automotive market in 2017, by brand value (in bn USD)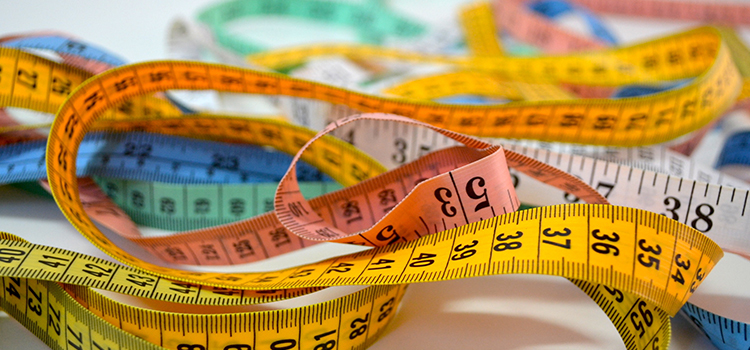 Digital transformation has already impacted almost every industry, and the automotive sector is not an exception. New technologies penetrate the automotive industry at a swift pace, and will likely revolutionize its landscape in the future.
Through 2020, rapidly expanding digitalization trend and breakthrough technological advancements are predicted to boost the investments in the automotive industry to exceed USD 82 billion. The automotive industry players have grasped quickly that they must adopt new digital technologies to meet the rapidly changing consumer demands for a digitally enhanced experience while looking for, buying and operating a car.
TOP TECHNOLOGICAL TRENDS SHAPING THE AUTOMOTIVE INDUSTRY:

1. Automotive industry is heading towards a driverless future
Today, automakers worldwide are aggressively focusing on autonomous vehicles (AVs) (a.k.a driverless vehicles). Looking ahead, cars driving themselves are likely to come to fruition due to a collaboration of various advanced technologies: GPS, cameras, sensors, artificial intelligence, connectivity, etc. Eventually, AVs may even replace the traditional vehicles in the foreseeable future.
Globally, the adoption of assisted driving (or semi-autonomous) vehicles is already mounting up and is projected to continue gaining traction at a brisk pace in the near term.
Fueled by escalating investments, rapidly changing customer needs, rising demand for environmentally-friendly features in AVs, and elevating concerns regarding road safety and ease of driving experience, the world's AVs market revenue is forecast to surge at a CAGR of over 39% through 2027 to cross the USD 126.8 billion mark.
2. Online car sales pick up momentum
Digital channels have already become the key source of information for people looking for a car to buy. Presently, the aftermarket is demonstrating the highest penetration in the online distribution channel.
Besides, new showrooms fitted with virtual reality (VR) equipment (allowing potential buyers to open doors, get a 360-degree look both out and inside, and even listen to authentic sound effects of a selected model) appear in the market. A fine example is the virtual showrooms of Audi in London that display only several actual cars.
On the back of the rising consumer preference towards researching and buying cars online, many companies engaged in the automotive industry are intending to enter the e-commerce market in the short run and begin to sell cars and auto parts directly via their respective websites.

3. Electric Vehicles are all the rage
Propelled by zooming up fuel prices, surging demand for electric vehicles, enhancing concerns regarding CO2 and greenhouse gases emissions, favourable government initiatives, and considerable uptake of the emerging markets, the global electric vehicles (EVs) sector is slated to soar at an 18.96% CAGR up till 2023 to amount to the value of USD 356.5 billion.
In 2016, the major market share (around 53.2%) was held by the APAC region. The APAC EVs market is predicted to pick up at a 20.35% CAGR (the highest growth rate amid all regional markets) through 2023. China is the top contributor to the regional market growth.
4. Big Data to open a slew of growth opportunities
Big Data is picking up steam at a robust pace across different industry verticals. The automotive industry is also keeping with this trend: Big Data has found multiple applications in the automotive industry: from product design and manufacturing stages to autonomous driving and predicted maintenance.
Big Data is poised to create a slew of lucrative growth opportunities for automotive OEMs, insurers, tier-w suppliers, dealers and other automotive industry participants in the years ahead. Globally, the investments in Big Data adoption in the automotive industry exceeded USD 2.8 billion in the past year and are projected to continue gathering momentum at a CAGR of nearly 12% up to 2021.
5. Mobility-as-a-service is on the upswing
With enhancing popularity of public and private ride-sharing, the automotive sector is experiencing a continued move away from privately owned cars to the service-oriented forms of transit. Providing customers with a notable financial relief by putting out such expenses as huge initial cost of a vehicle, mobility-as-a-service (MaaS) offers lucrative saving opportunities for customers, as they need to spend only on licensing, registration and maintenance.
Prominent players in the MaaS market include Lyft, Uber, Yandex, Gett, BlaBlaCar, Mytaxi, Didi Chuxing, amidst others.

6. Predictive maintenance
Due to the introduction of innovative self-diagnostic systems that alert about any problems occurring with a vehicle or required maintenance and replacement services, now there is no need to worry about the condition of a car. This technology allows car owners to proactively service their vehicles as well as considerably decrease the number of mechanical failures and recalls.
Using predictive analysis techniques and telematics, predictive maintenance services offer over-the-road monitoring of various components of a vehicle. Data is gathered and collected digitally in a special monitoring system, that can provide a user with a real-time performance analysis and wear-and-tear data for specific auto parts at any time. With the ongoing integration of predictive maintenance technologies, gauges and knobs in autos will likely be substituted by a digital interface allowing wireless updates.
7. 3D Printing to challenge conventional automotive manufacturing
Numerous automakers have already adopted the 3D printing technology in their manufacturing processes due to its remarkable benefits such as cost-effectiveness, time-saving, safety, sustainability, easier design verification, to name a few. The penetration of 3D printing is forecast to continue gaining momentum in the automotive industry, thus, challenging the automotive conventional manufacturing.
In 2016, the world's automotive 3D printing market reached the value of appr. USD 785.26 million. Through 2023, this market is supposed to go up at an exponential 20.8% CAGR to surpass USD 2.95 billion.

8. Blockchain brings transparency and improves pricing strategies
The automotive industry is searching for ways to put an end to the counterfeit parts trade. The blockchain technology is viewed as the best possible solution to cope with this problem. By simplifying the ways to point out and get rid of the counterfeit parts, blockchain makes the system transparent and also improves the pricing strategies. Blockchain is considered to have an ability to eventually enable fair pricing in the automotive market.
Besides, the blockchain technology is expected to open further growth opportunities for the automotive industry, create new monetization avenues, facilitate digital transformation and offer such benefits as cost reduction, elimination of 3rd parties, cryptographic security, immutability, and micro-payments, amid others.
CONCLUSION
New digital technologies will provoke considerable changes in the automotive industry that inherently pose certain challenges. Meanwhile, the digital transformation will create new opportunities for automakers, service centers, dealers and other market players to transform and upgrade outdated traditional business models into new innovative offerings. Therefore, the digital revolution in the automotive industry and numerous benefits provided by technological advancements far outweigh any associated challenges.
© MarketPublishers.com, 2018