Join Food Experts at AIDF Food Security Summit: Asia 2013 on 26-27 November in Bangkok
22 Oct 2013 • by Natalie Aster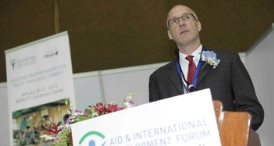 LONDON - Market Publishers Ltd is happy to call for participation in the AIDF Food Security Summit: Asia 2013, which will take place in Bangkok, Thailand, on the 26-27 November 2013.
The global community faces a number of daunting challenges with regards to food security. The world's population is expected to top nine billion by 2050, an increase of almost three billion. A mass migration of people into urban areas, combined with rising consumption and consumerism is further increasing the strain on food supplies.
Despite the fact that the economies of Asia and the Pacific are out-growing the average global economic expansion by far, over 700 million people in Asia and the Pacific still live in poverty (defined as living on less than $1.25 each day). Reasons for food insecurity are extremely wide ranging and include rising populations and increased consumerism. According to the FAO (Food and Agriculture Organization of the United Nations), the global demand for food is expected to increase by 60% by 2050.
Ensuring food security and sufficient nutrition in developing countries has become a serious challenge, which cannot be tackled without important investments in the agricultural and nutrition sectors (50% more than the current level according to the FAO) combined with relevant efforts across cross-cutting sectors such as health, water and education.
Leading experts believe that traditional resources are unlikely to be sufficient to face the problem, especially in the current situation. In fact, as most actors in the sector are private parties, agricultural development urgently requires strong support from private investment, which at the moment lays way behind its potential. Collaboration between public and private sectors is absolutely essential to foster innovation within the nutrition and agriculture sectors.
To discuss food security issues and best practices for successful and long-lasting public private partnerships, the UNESCAP (United Nation's Economic and Social Commission for Asia and the Pacific) is hosting the AIDF Food Security Summit: Asia 2013. Over 300 delegates from NGOs, businesses, government and UN organisations meet in Bangkok on the 26th and 27th of November to discuss food security and malnutrition in Asia and the Pacific. The two day summit aims to provoke robust debate and information sharing and provides a platform for the formation of strategic partnerships to tackle the problems surrounding food security in Asia and the Pacific.
Commenting on the upcoming summit, Dr. Andrew Jackson said, "the AIDF summit is a welcome step in addressing this very major problem; food insecurity is one of the biggest, if not the biggest, threats to the successful escape from poverty for millions of people in the Asia Pacific regions", he added, "there is great hope that the summit will really push for change and force key practitioners to readdress the issue and come up with effective solutions".
Hiroyuki Honuma, Assistant Director General of FAO's Regional Office for Asia and Pacific added, "This forum is very important to us as it is an arena for both UN Staff and Citizens to discuss our common issues and find solutions".
Alongside world experts in the field, high profile speakers include the Deputy Executive Secretary of UN ESCAP, Mr. Shun-ichi Murata, who shares his extensive knowledge gained from directing UNDP's Tokyo Office and working for UNDP all over the world, and Katinka Weinberger, a leading Agricultural Economist who currently serves as head of ESCAP's Centre for Alleviation of Poverty through Sustainable Agriculture.
High profile speakers include:
Mr. Shun-ichi Murata, Deputy Executive Secretary of UN ESCAP
Katinka Weinberger, Head, ESCAP Centre for Alleviation of Poverty through Sustainable Agriculture
Dr. Deepika Nayar Chaudhery, Deputy Regional Director, Asia, The Micronutrient Initiative
Dr. Bas Bouman, Director of the Global Rice Science Partnership (GRiSP), International Rice Research institute (IRRI)
The two day summit provides a platform for public-private partnerships to be forged and aims to push for change and targeted solutions.
To register for the event please click here.
To register at MarketPublishers.com please visit our Registration Page.
CONTACTS
The Market Publishers, Ltd.
Tanya Levdikova
Tel: +44 208 144 6009
Fax: +44 207 900 3970
[email protected]
MarketPublishers.com