Ammonium Sulfide Solution (CAS 12135-76-1) is Used in 'Stink Bombs', Photographic Developing & Textile Manufacturing
22 May 2012 • by Natalie Aster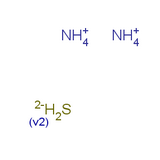 Ammonium sulfide (also called diammonium sulfide, ammonium monosulfide, true ammonium sulfide) is a yellow crystalline solid, usually in a water solution, with the molecular formula H8N2S. It has a very strong rotten egg and ammonia odor. Ammonium sulphide is produced from the reaction of hydrogen sulfide with excess amounts of ammonia.
Ammonium sulfide is used in photographic developing, to apply patina to bronze, in textile manufacturing, and in trace metal analysis. Also, owing to its offensive smell, it is the active ingredient in a variety of foul pranks including the common stink bomb.
Additional applications of this compound include cell culture, organic chemical synthesis, and immunohistochemistry.
Aqueous ammonium sulfide is used for the thiolysis of activated amides to their corresponding thioamides, as an alternative to hydrogen sulfide. Also it is used to produce various flavor compounds from the reaction of ammonium sulfide with 3-hydroxy-2-butanone.
Ammonium sulfide can be utilized in a double staining technique for visualization of astrocytes and microglia from brain sections and astroglial cell cultures.
No component of this product that is present at levels greater than or equal to 0.1% is identified as probable, possible or confirmed human carcinogen by IARC.
Ammonium sulfide solution market is covered in the study Ammonium sulfide solution (CAS 12135-76-1) Market Research Report 2012. The report encompasses proper description of the product, unveils application areas, and briefly summarizes patents in the sphere. It overlooks ammonium sulfide solution market situation, names manufacturers, suppliers as well as users. The report also provides current ammonium sulfide solution prices in the market.
More information on the ammonium sulfide solution market can be found in the report "Ammonium sulfide solution (CAS 12135-76-1) Market Research Report 2012".
Contacts
MarketPublishers, Ltd.
Tanya Rezler
Tel: +44 208 144 6009
Fax: +44 207 900 3970
[email protected]
MarketPublishers.com