Nitromethane (CAS 75-52-5) Can Possibly be Carcinogenic to Humans
18 May 2012 • by Natalie Aster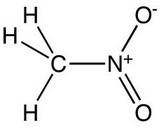 Nitromethane (also known as nitrocarbol, nitrometan, NMT, and NM) is the simplest organic nitro compound with the chemical formula CH3NO2. It is a slightly viscous, highly polar liquid, soluble in water, alcohol, ether, acetone, and dimethylformamide; melting at -29 °C and boiling at 101.2 °C. When heated, nitromethane is unstable. It also forms an explosive sodium salt that bursts into flame on contact with water.
Nitromethane was first prepared in 1872 by Kolbe, and is produced commercially by high temperature vapour-phase nitration of propane. The process, which uses nitric acid as the nitrating agent, is based on a free-radical reaction in which the active species is the NO2 radical.
Nitromethane is used as a synthesis intermediate for nitromethane derivatives, agricultural fumigants, biocides, and other products; as a solvent; and, in mixtures with ammonium nitrate, as an explosive in mining, oil-well drilling, and seismic exploration. It is also used as a fuel or fuel additive to increase the power output of rockets, racing cars, boats, and model engines.
Nitromethane is structurally related to other nitro compounds, 2-nitropropane and tetranitromethane, that have been evaluated by IARC and considered to be possibly carcinogenic to humans. The mechanism of carcinogenicity for nitromethane and these other nitro compounds is not known; however, it has been hypothesized that reactive radicals may play a key role in their carcinogenicity.
Nitromethane market is covered in the study Nitromethane (CAS 75-52-5) Market Research Report 2012. The report encompasses proper description of the product, unveils application areas, and briefly summarizes patents in the sphere. It overlooks nitromethane market situation, names manufacturers, suppliers as well as users. The report also provides current nitromethane prices in the market.
More information on the nitromethane market can be found in the report "Nitromethane (CAS 75-52-5) Market Research Report 2012".
CONTACTS
The Market Publishers, Ltd.
Tanya Rezler
Tel: +44 208 144 6009
Fax: +44 207 900 3970