Lanthanum Chloride (CAS 10099-58-8) is Key Raw Material for FCC Catalyst & Water Treatment
11 May 2012 • by Natalie Aster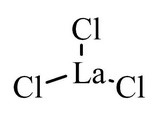 Lanthanum chloride (lanthanum(3+) trichloride) is a binary inorganic compound belonging to the group of chemicals known as halides, with the formula LaCl3. Its chemical structure is similar to that for uranium trichloride. Lanthanum chloride is a kind of colorless lump-like crystal that is highly soluble in water, ethanol and pyridine; but insoluble in diethyl ether and benzene.
More commonly, lanthanum chloride is obtained by heating a mixture of lanthanum oxide and ammonium chloride at 200-250 °C. It can also be produced by the action of chlorine or hydrochloric acid on the residue obtained by evaporating the oxide with hydrochloric acid. It forms a deliquescent crystalline mass. By evaporation of a solution of lanthanum oxide in hydrochloric acid to the consistency of a syrup, and allowing the solution to stand, large colourless crystals of a hydrated chloride of the composition 2LaC1 3.15H 2 O are obtained.
Enjoying not many applications, this common salt is usually used in the manufacture of lanthanum metal. The compound has also been identified as a catalyst for the high pressure oxidative chlorination of methane to chloromethane with hydrochloric acid and oxygen.
Lanthanum chloride is used in biochemical research to block the activity of divalent cation channels, mainly calcium channels. Doped with cerium, it is used as a scintillator material.
It is also used as a mild Lewis acid to perform chemical reactions requiring acidic conditions, like converting aldehydes to acetals, under nearly neutral conditions.
Lanthanum chloride market is covered in the study Lanthanum Chloride (CAS 10099-58-8) Market Research Report 2012. The report encompasses proper description of the product, unveils application areas, and briefly summarizes patents in the sphere. It overlooks lanthanum chloride market situation, names manufacturers, suppliers as well as users. The report also provides current lanthanum chloride prices in the market.
More information on the lanthanum chloride market can be found in the report "Lanthanum Chloride (CAS 10099-58-8) Market Research Report 2012".
Contacts
MarketPublishers, Ltd.
Tanya Rezler
Tel: +44 208 144 6009
Fax: +44 207 900 3970
[email protected]
MarketPublishers.com