Red Clover (CAS 85085-25-2) is Natural Source of Isoflavones
09 May 2012 • by Natalie Aster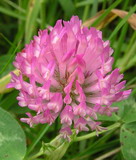 Red clover (Trifolium pretense) is an herbaceous, short-lived perennial plant belonging to the legume family that is used for grazing cattle and other livestock. It can grow up to 80 cm in height and has small trifoliate leaves. Red clover is a source of many nutrients including calcium, chromium, magnesium, niacin, phosphorus, potassium, thiamine, and vitamin C.
Besides being grown as a fodder crop, red clover has been used medicinally to treat a wide array of conditions – cancer, mastitis, joint disorders, jaundice, bronchitis, spasmodic coughing, asthma, and skin inflammations like psoriasis and eczema. Red clover is thought to "purify" the blood by promoting urine and mucous production, improving circulation, and stimulating the secretion of bile.
Recently, specific chemicals in red clover, known as isoflavones (estrogen-like compounds), have been isolated and tested for their effectiveness in treating a variety of conditions such as cardiovascular disease and the symptoms of menopause such as low HDL, hot flashes and the bone loss associated with osteoporosis.
It has also been proposed that red clover may help prevent some forms of cancer, such as prostate and endometrial cancer. But because of the herb's estrogen like effects, it might also contribute to the growth of some cancers, just as estrogen does.
However, the evidence that red clover helps relieve menopausal symptoms is mixed. There is also not enough scientific evidence to determine whether red clover is effective for any other health conditions.
It should be noted that red clover is not advisable for women with breast cancer to ingest red clover, as well as women who are on any kind of hormone medications, including women who take birth control pills. Due to its coumarin derivatives, it should be used in caution in individuals with coagulation disorders or currently undergoing anticoagulation therapy.
Red clover is available in a variety of preparations, including teas, tinctures, tablets, capsules, liquid extract, and extracts standardized to specific isoflavone contents. It can also be prepared as an ointment for topical (skin) application.
Red clover market is covered in the study Red Clover (CAS 85085-25-2) Market Research Report 2012. The report encompasses proper description of the product, unveils application areas, and briefly summarizes patents in the sphere. It overlooks red clover market situation, names manufacturers, suppliers as well as users. The report also provides current red clover prices in the market.
More information on the red clover market can be found in the report "Red Clover (CAS 85085-25-2) Market Research Report 2012".
Contacts
MarketPublishers, Ltd.
Tanya Rezler
Tel: +44 208 144 6009
Fax: +44 207 900 3970
[email protected]
MarketPublishers.com