Fenbutatin Oxide (CAS 13356-08-6) is Organotin Miticide Used in Agriculture
07 May 2012 • by Natalie Aster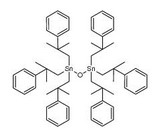 Fenbutatin oxide (bis[tris(2-methyl-2-phenylpropyl)tin oxide) is a kind of temperature-sensitive nonsystemic organotin acaricide with the molecular formula C60H78OSn2. This white crystalline solid with a mild odor is insoluble in water and slightly soluble in aromatic solvents (e.g. 14% w/v in benzene). It is marketed under the trade name Vendex.
Fenbutatin oxide was originally registered in the U.S. in 1974 for use as a miticide (acaricide) by Shell Chemical Company. The first end-use product was registered in August 1975. The registration was transferred to E.I. DuPont de Nemours and Company in October 1986. Currently, 10 pesticide products containing this active ingredient are registered.
Fenbutatin oxide is used to control all motile stages of a wide range of phytophagous mites (Aculus, Tetranychus) on pome fruit, stone fruit, citrus fruit, soft fruit, vines, bananas, cucurbits, ornamentals, and glasshouse crops. It is applied only to agricultural sites, as residential use is not permitted. There are three application methods for fenbutatin oxide including airblast, groundboom or aerially.
Fenbutatin oxide generally is of low acute toxicity but is a severe eye irritant. It poses no significant chronic health risks and is classified as a Group E carcinogen, indicating that it poses no known cancer risk for humans. A reference dose (RfD), or amount believed not to cause adverse effects if consumed daily over a 70-year lifetime, has been established for fenbutatin oxide at 0.05 milligrams per kilogram per day (mg/kg/day).
Although fenbutatin oxide is persistent in the environment, residues do not tend to accumulate in crops planted in previously treated soil.
Being practically non toxic to birds, honey bees and mammals, fenbutatin oxide, however, is highly toxic to fish and accumulates in tissues, and it is also highly toxic to aquatic invertebrates.
Fenbutatin oxide market is covered in the study Fenbutatin Oxide (CAS 13356-08-6) Market Research Report 2012. The report encompasses proper description of the product, unveils application areas, and briefly summarizes patents in the sphere. It overlooks fenbutatin oxide market situation, names manufacturers, suppliers as well as users. The report also provides current fenbutatin oxide prices in the market.
More information on the fenbutatin oxide market can be found in the report "Fenbutatin Oxide (CAS 13356-08-6) Market Research Report 2012".
Contacts
MarketPublishers, Ltd.
Tanya Rezler
Tel: +44 208 144 6009
Fax: +44 207 900 3970
[email protected]
MarketPublishers.com