Consumption of Sodium Sulfite (CAS 91829-63-9) Will Increase in the Next Few Years
18 Apr 2012 • by Natalie Aster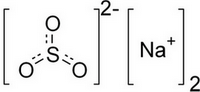 Sodium sulfite is an essential chemical in the pulp and paper industry. For example, just over half of all the sodium sulfite made in the United States is used by the pulp and paper industry. Because of pulping applications for sodium sulfite consume more than half of the chemical's demand, paper and pulp industry is the most likely section for future growth. But it's important to understand that sulfite pulping activity depends of economic growth.
In 2005, consumption of sodium sulfite fell by 5% compared with the previous year. Con-sumption of the sodium sulfite reduced all over the world over the past few years. But re-garding to the new technology, known as chemi-thermomechanical pulping (CTMP), con-sumption of sodium sulfite will grow, especially when technology moves from Europe, where it is already commercial, to North America.
It was revealed that sodium sulfite, the aqueous ion of sulfur dioxide, contain pro-inflammatory properties in vitro and induce potent chemotactic factor IL-8 production. Mech-anistic studies consider that this material could possibly act through signal transduction pathways NF-κ B, ERK, and p-38-dependent pathways.
Another important property of sodium sulfite is the fact that compound can inhibit Candida albicans growth in RPMI1640 medium. Some new experiments indicate that it can induce cel-lular activation, resulting in degranulation in mast cells through a non-IgE-depent pathway. These properties of sodium sulfite demonstrate new features of the substance and prospect for further growth its consumption in the world.
China is the largest producer and exporter of sodium sulfite. Also compound is produced in other Asian countries, Eastern and Western Europe, North and Latin America.
Sodium sulfite market is covered in the study Sodium Sulfite (CAS 91829-63-9) Market Re-search Report 2012. The report encompasses proper description of the product, unveils appli-cation areas, and briefly summarizes patents in the sphere. It overlooks sodium sulfite market situation, names manufacturers, suppliers as well as users. The report also provides current sodium sulfite prices in the market.
More information on the sodium sulfite market can be found in the report Sodium Sulfite (CAS 91829-63-9) Market Research Report 2012
Contacts
MarketPublishers, Ltd.
Tanya Rezler
Tel: +44 208 144 6009
Fax: +44 207 900 3970
[email protected]
MarketPublishers.com