Revived Interest in CIGS Creating Real Opportunities in Photovoltaics
22 Sep 2011 • by Natalie Aster

In the laboratory, copper indium gallium (di)selenide (CIGS) has achieved the highest champion cell efficiencies (over 20%) of all thin-film photovoltaic (TFPV) technologies. CIGS has not, however, lived up to predictions about is ability to compete with crystalline silicon (c-Si). A combination of manufacturing issues and the global economic downturn significantly impacted the sector. Recent capacity expansions, a dramatic increase in the number of market players and growing investment activity are signaling renewed interest, though. NanoMarkets, a leading provider of market research and analysis of the opportunities in advanced materials and emerging energy and electronics markets, expects revenues from CIGS consumed in PV applications to grow from $613.4 million in 2011 to $5.41 billion in 2018.
The report "CIGS Photovoltaics Market Opportunities 2011" by NanoMarkets analyzes the money-making opportunities for CIGS PV. These are examined from the perspectives of CIGS PV's strengths—high performance and flexibility—and its weaknesses, sensitivity to moisture and difficult manufacturing processes. It takes an honest look at the processes and strategies of the various firms making CIGS and at the markets in which CIGS has unique advantages. The report also includes NanoMarkets' eight-year forecasts of the market for CIGS PV.
CIGS Revenues 2011-2018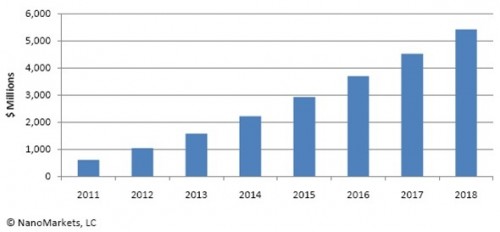 Report Details:
CIGS Photovoltaics Market Opportunities 2011
Published: February 2011
Price: US$ 2,695.00
Report Sample Abstract
The CIGS Advantage
NanoMarkets believes that CIGS has a huge market advantage over other thin-film photovoltaic (TFPV) technologies. Not only can it be used to create lightweight, flexible, thinner modules than other TFPV options, commercial CIGS modules are over 13% efficient, with some firms reporting best cells with 14-16% efficiency. In fact, NanoMarkets expects that CIGS will be the only TFPV technology that might be able to compete with conventional c-Si PV technology where C-Si is already established.
Along with its high-performance capability, the flexibility of CIGS modules continues to be a critical advantage. With this technology, flexible substrates for flexible devices with twice the efficiency of existing flexible products can be created. Less expensive processes, cheaper substrates and the need to use much less material for CIGS PV compared to c-Si leads NanoMarkets to predict that CIGS will someday achieve price parity with c-Si PV, which will open up new markets that other types of TPFV have not had access to.
Three Key Markets
NanoMarkets has identified three markets that will provide opportunities for growth in the CIGS PV sector: the conventional panel market, the building integrated photovoltaics (BIPV) market and the mobile power market for portable electronics.
The conventional panel market: The first target for CIGS will be the conventional panel market, which is becoming commoditized and thus very competitive from a price/performance perspective. NanoMarkets expects that costs will fall below $1/watt by 2014. The manufacturing concerns about CIGS (see below) do raise some question as to whether or not this technology can compete effectively. If CIGS efficiencies reach 15% by 2014 as expected, however, CIGS could potentially be sold at a price point closer to that of c-Si PV than other TFPV technologies.
And for applications where glass encapsulation is not possible, if CIGS suppliers can prove that CIGS encapsulation technologies provide competitive lifetimes, they should be able to compete on efficiency and cost in the c-Si PV panel market.
Finally, while CIGS PV can be used in residential installations and utility-scale projects, NanoMarkets believes that CIGS PV panel manufacturers should target conventional panel opportunities where weight is an important concern, such as rooftop installations.
Rigid and flexible BIPV: CIGS PV is well suited for the BIPV market. The flexibility of CIGS panels is a real advantage that cannot be matched by cSi, and therefore the largest percentage of CIGS PV sales will be to the flexible BIPV market. However, NanoMarkets believes that CIGS is also suitable for rigid tiles and BIPV glass due to its lighter weight, capability for direct deposition onto glass or metal, and higher power than thin-film silicon. And while CIGS' sensitivity to moisture is a concern and current encapsulation solutions are typically high cost, BIPVs are generally higher cost materials and thus can often absorb the additional expenses.
Rigid BIPV is a natural fit for CIGS for several reasons:
The uniform appearance of CIGS gives better aesthetics,
CIGS provides continuous production of power under indirect or steep angled illuminations with less of a power drop than c-Si, and
CIGS offers high efficiency.
NanoMarkets believes that the lighter weight and greater efficiency of CIGS combined with its potentially lower cost and aesthetic advantages could give it a real edge. CIGS panels also come in a wide range of sizes, can be uniformly black, grey or other colors or have visible pattered dark or silver lines, and can be custom designed to fit the tile products they go with, making them ideally suited to BIPV.
BIPV glass applications will also benefit from the aesthetic advantages of CIGS PV. And because CIGS PV is usually built on glass anyway, producing BIPV CIGS products requires only switching to architectural glass. In fact, NanoMarkets believes that the natural fit of CIGS PV in this market results in improved aesthetics, greater integration of PV into the final BIPV product, and a greater ability to hide the PV costs in the overall cost of the building materials, all of which add up to better opportunities for increased margins.
Flexible BIPV panels are laid onto a roof or attached to roofing materials prior to installation. NanoMarkets believes they are an important opportunity for flexible CIGS PV manufactures. Laminates or overlays can also be installed onto any surface to which they can be glued – walls, doors, fences, etc., and direct marketing to end-users of these types of installations is another opportunity for CIGS PV suppliers.
More advanced BIPV products, where the PV cells are well integrated into the building materials so that the cost of the PV cannot be separated from the cost of the building materials, offer a more lucrative market. In this case, it is easier for the building owner to recoup the cost of installing BIPV through lower utility bills.
One example of such a product is Dow Chemical's POWERHOUSE shingle using CIGS PV cells manufactured by Global Solar and targeted for launch in 2011. NanoMarkets expects this product to be highly profitable. This strategy provides an opportunity for CIGS suppliers to become directly involved in fully-integrated products with mass market appeal. And because the cost of PV appears to be lower, it is more attractive for the end-user. With its higher efficiency, CIGS PV is ideal for this application.
Portable electronics: Most portable electronics that contain portable PV devices rely on dye-sensitized cell (DSC) or organic PV (OPV) technologies, but CIGS is suitable for this market and can provide the highest power PV systems. Most uses are in solar battery chargers. The market is much smaller than the BIPV and conventional solar panel sectors, but the margins are likely to be quite large. CIGS suppliers could develop their own line of stylish products to encourage adoption or partner with high-end consumer products companies, a strategy adopted by leading producer Global Solar.
Other possible applications for CIGS PV include PV-active clothing, umbrellas, tents, bags, etc.
Changing Demand
Currently the conventional panel market accounts for 98% of sales, but that will drop to 66% in 2018, with BIPV picking up the majority of the difference. BIPV currently represents a very small market for CIGS PV, but will have the largest revenues by 2018, growing nearly 175%. This growth will be largely driven by flexible BIPV products, but there will also be significant increases in demand for CIGS in rigid BIPVand BIPV glass. Revenues from sales of CIGS PV into other flexible product applications will also increase dramatically (~46 times) from a very small base.
More information can be found in the report "CIGS Photovoltaics Market Opportunities 2011" by NanoMarkets.
To order the report or ask for sample pages contact ps@marketpublishers.com
Contacts
MarketPublishers, Ltd.
Tanya Rezler
Tel: +44 208 144 6009
Fax: +44 207 900 3970