Silver Flake and Powder Market to Grow Despite High Silver Prices
16 Sep 2011 • by Natalie Aster

Although the market for silver powder and flake products had been buffeted by rising silver prices, opportunities do exist for suppliers able to offer customized high quality powders and flakes, value-added nanosilvers, and lower-cost yet high-performance silver-coated hybrid materials. In a newly released report, NanoMarkets, a leading provider of market research and analysis of the opportunities in advanced materials and emerging energy and electronics markets, estimates the value of the silver powder and flake market to be $8.7 billion in 2011 and expects it will increase to $16.35 billion by 2018.
The report "Silver, Powders and Flakes: 2011" by NanoMarkets analyzes the markets available for silver powders, flakes and nanomaterials over the next eight-years and provides detailed guidance on where the new revenue generating capabilities will emerge. It includes a granular forecast of new business potential in this area for the next eight years, as well as an analysis of the strategies being employed by the leading firms in this space. The report covers both emerging and conventional uses of silver flakes and powders and is a companion volume to the highly successful series of reports that NanoMarkets has produced on silver inks and pastes for the past five years.
Summary: Value of Silver Materials by Application 2011-2018 ($ Millions)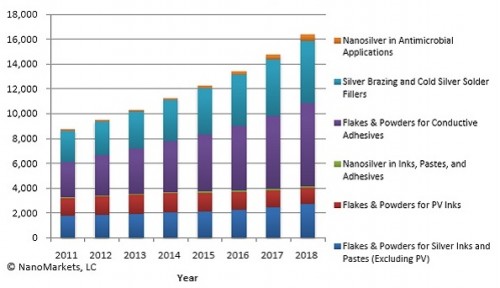 NanoMarkets says that silver powders and flakes mainly find use in conductive pastes and adhesives for electronics applications, photovoltaics (PV), brazing and soldering for HVAC/R, industrial tooling, and automotive applications, and antibacterial/biocidal applications. While electronics and photovoltaics account for the largest consumption of silver powders and flakes, the highest growth rates will be seen for hybrid silver-coated materials and silver nanopowders for antibacterial uses.
Report Details:
Silver, Powders and Flakes: 2011
Published: June 2011
Price: US$ 2,995.00
Report Sample Abstract
Impact of High Silver Prices
Even though silver consumption declined in 2009 as a result of the global recession, silver prices still increased climbed due to precious metal speculation, global currency debasement and a loss of faith in sovereign currencies. Lingering concerns over the monetary health of the U.S. and European economies continues to lead to persistent investment offtake of precious metals. Unfortunately for industrial users of silver, this trend is expected to continue, with average prices predicted by NanoMarkets to rise by 6% annually from $35 per Troy ounce in 2011.
The continued high and moderately growing silver prices will drive further efforts to minimize its use through more efficient per-unit use, better scrap recycling, etc. As a result, NanoMarkets expects the market for hybrid silver-coated materials to nearly triple in size, and the market for nanosilver to increase by about seven-fold.
Silver powder and flake suppliers are also looking to at least partially mitigate rising silver costs and thus increase profit margins through product differentiation on a quality basis. NanoMarkets believes that many firms will not only remain competitive but create growth opportunities by developing downstream products that offer added value to their customers. In the brazing industry, this means offering not only powders and pastes, but also preforms and specialty brazing services. In the traditional powders and flakes market, value-added constitutes offering specialty products that are designed with particular end uses in mind.
Opportunities in Electronics
Silver powders and flakes are converted to conductive pastes and adhesives for use in traditional electronics or new/novel printable electronics end-uses.
Most traditional thick-film screen-printed silver applications are mature, such as membrane switches, keyboards, capacitors and the like, and employ large quantities of silver powders and flakes. In many of these applications, like membrane switches, large features are involved, so replacement of standard inks and pastes seems improbable.
There are, however, the beginnings of a very gradual shift toward use of other types of inks and printing methods (high-speed flexo and gravure) as a way to reduce costs in some applications. Sophisticated geometries and finer flakes and powders will be required for inks used in high-speed printing compared to screen-printing, presenting opportunities for silver powder and flake suppliers.
The high conductivity of silver in ink form, which is important for maximizing performance, combined with the lower level of cost sensitivity of the sensor market, makes this end-use another attractive sector for silver flakes and powders. Silver may also prove to be a key enabling technology for OLED lighting, and while this market currently is very small.
Furthermore, increasing global demand for consumer electronics will lead to healthy growth rates in the silver ink and paste market. Although the trend toward miniaturization of many consumer electronic products is reducing the average per-unit amount of silver consumption in conductive adhesives applications, there is substantial overall growth in volume demand driven by the continued industrialization and urbanization of the developing world.
Photovoltaics: Slowing but Still Attractive
The photovoltaics (PV) sector has been rapidly growing for several years, both overall and in its consumption of silver. It is now about one-third the size of the traditional thick-film silver inks/pastes market, and high oil prices continue to drive interest in PV panels as "greener" energy alternatives.
The global recession, however, has reduced the political will to convert from traditional energy sources to PV and it is unlikely that most of the subsidies for solar will survive major cuts in the U.S. federal budget. Furthermore, long-term growth in the PV sector will be based on building-integrated PV (BIPV), which consumes less silver.
Despite these apparent negatives, NanoMarkets believes that important opportunities remain for silver in the PV space.
Conventional crystalline silicon (c-Si) PV, the largest sector of the PV industry and the largest consumer of silver both in total and per watt or per unit of cell area, will experience continued growth and is unlikely to ever be fully replaced by newer alternatives such as inorganic thin-film PV (TFPV), dye sensitized cells (DSC) or organic PV (OPV). Growth of newer PV technologies like OPV, cadmium telluride (CdTe), and copper-indium-gallium-selenide (CIGS) PV, as well as technologies that use less silver, will also occur. Furthermore, the PV industry tends to be risk-averse and thus resistant to changing processes.
More information can be found in the report "Silver, Powders and Flakes: 2011" by NanoMarkets.
To order the report or ask for sample pages contact ps@marketpublishers.com
Contacts
MarketPublishers, Ltd.
Tanya Rezler
Tel: +44 208 144 6009
Fax: +44 207 900 3970