Israel - Telecoms, Mobile and Broadband - Statistics and Analyses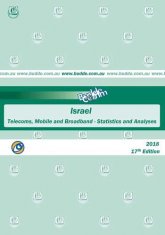 The Israel - Telecoms, Mobile and Broadband - Statistics and Analyses report includes all BuddeComm research data and analysis on this country. Covering trends and developments in telecommunications, mobile, internet, broadband, infrastructure and regulation.
EXECUTIVE SUMMARY
Israel's high-tech sector is supported by a robust telecoms infrastructure
Israel boasts a highly developed economy and one of its major sectors revolves around high technology products, primarily used in the medical, biotechnology, agricultural, materials and military industries. Israel also attracts investment in its cyber-security industry and has established itself as a hub for thousands of start-up companies.
To underpin these advanced developments; Israel is developing a robust telecoms sector. It has a high household internet penetration rate, almost all of which are broadband connections and fibre-network deployment is well underway, led by the Israel Broadband Company (IBC).
Coverage of 4G in Israel is significant and the regulator is forging ahead with a planned auction of 5G spectrum. The regulator has offered financial incentives to encourage operators to participate. The operators have also seen a flurry of merger and acquisition activity over the last 6 or so months, with the outcome seeing Golan Telecom acquire Cellcom (to be finalised by the end of 2020).
BuddeComm notes that the outbreak of the Coronavirus in 2020 is having a significant impact on production and supply chains globally. During the coming year the telecoms sector to various degrees is likely to experience a downturn in mobile device production, while it may also be difficult for network operators to manage workflows when maintaining and upgrading existing infrastructure. Overall progress towards 5G may be postponed or slowed down in some countries.
On the consumer side, spending on telecoms services and devices is under pressure from the financial effect of large-scale job losses and the consequent restriction on disposable incomes. However, the crucial nature of telecom services, both for general communication as well as a tool for home-working, will offset such pressures. In many markets the net effect should be a steady though reduced increased in subscriber growth.
Although it is challenging to predict and interpret the long-term impacts of the crisis as it develops, these have been acknowledged in the industry forecasts contained in this report. The report also covers the responses of the telecom operators.
Key developments:
Israel is considered a leader in new technology.
The mobile operators experienced a decline in revenues in 2020 due to COVID-19.
To facilitate contact tracing during COVID-19; an emergency law was enacted which would allow them to use mobile phone data from citizens for tracking and tracing purposes.
Bezeq and HOT are both subject to broadband universal service obligations which has resulted in fixed broadband being available to 99% of all households.
This report includes assessment of the global impact of COVID-19 on the telecoms sector.
Companies mentioned in this report include:
Bezeq, Bezeq International, Pelephone, HOT Telecom, HOT Mobile, Cellcom, 013 NetVision, Partner (Formerly Orange), 012 Smile, Xfone, Golan Telecom (Electra Communications), Israel Broadband Company (IBC); Remi Levy, Mobile 019.
1 KEY STATISTICS

2 COUNTRY OVERVIEW

3 COVID-19 AND ITS IMPACT ON THE TELECOM SECTOR

3.1 Economic considerations and responses
3.2 Mobile devices
3.3 Subscribers
3.4 Infrastructure
3.5 Impact on Israel

4 TELECOMMUNICATIONS MARKET

4.1 Overview
4.2 Market analysis

5 REGIONAL MIDDLE EAST MARKET COMPARISON

5.1 Introduction
5.2 Mobile and mobile broadband penetration
5.3 Fixed and mobile broadband penetration

6 REGULATORY ENVIRONMENT

6.1 Historic overview
6.2 Regulatory authority
6.3 Fixed-line developments
6.4 Mobile network developments

7 MOBILE MARKET

7.1 Market analysis
7.2 Mobile statistics
7.3 Mobile infrastructure
7.4 Major mobile operators
7.5 MVNOs
7.6 Mobile handsets

8 FIXED BROADBAND MARKET

8.1 Market analysis
8.2 Broadband statistics
8.3 Digital Subscriber Line (DSL) networks
8.4 Fibre networks

9 TELECOMMUNICATIONS INFRASTRUCTURE

9.1 National telecom network

10 FIXED NETWORK OPERATORS

10.1 Introduction
10.2 Bezeq
10.3 HOT Telecom
10.4 013 NetVision (Cellcom)
10.5 012 Smile Telecom (Partner)
10.6 Xfone 018/Marathon Telecommunications

11 INTERNATIONAL INFRASTRUCTURE

11.1 Submarine cable networks
11.2 Satellite networks

12 SMART INFRASTRUCTURE

12.1 M2M/IoT
12.2 Smart grids
12.3 Start-ups

13 DIGITAL ECONOMY

13.1 e-Banking

14 APPENDIX HISTORIC DATA

15 GLOSSARY OF ABBREVIATIONS

16 RELATED REPORTS


LIST OF TABLES

Table 1 Top Level Country Statistics and Telco Authorities - Israel 2020
Table 2 Israel Real GDP growth and inflation 2020 - 2021
Table 3 Israel - evolution of GDP and inflation in Israel 2014 2019
Table 4 Israel - major mobile operators' monthly mobile ARPU 2013 2020
Table 5 Israel - mobile subscribers and penetration rate 2009 2024
Table 6 Israel - major mobile operators' market share by subscribers 2010 2017
Table 7 Israel - active mobile broadband subscriptions 2009 2024
Table 8 4G LTE adoption- 2016; 1H 2018
Table 9 Cellcom consolidated revenue 2009 Q1 2020
Table 10 Cellcom mobile subscribers and ARPU 2009 2019
Table 11 Partner revenue and operating profit 2009 2019
Table 12 Partner mobile subscribers, churn and monthly ARPU 2009 2019
Table 13 Pelephone revenue 2010 Q1 2020
Table 14 Pelephone mobile subscribers and monthly ARPU 2008 2020
Table 15 HOT Mobile revenue and EBITDA 2017 Q2 2019
Table 16 HOT Mobile mobile subscribers 2010 2018
Table 17 Israel - Internet penetration 2009 2019
Table 18 Israel - fixed broadband subscribers 2009 2024
Table 19 Bezeq - fixed broadband lines and retail broadband ARPU 2009 Q1 2020
Table 20 Average bundled broadband speed per retail Bezeq customer 2009 Q1 2020
Table 21 Israel - fixed broadband subscribers Cable, DSL and FttH/B - 2011 2017
Table 22 Israel - fixed lines in service and teledensity 2009 2024
Table 23 Bezeq revenue and EBITDA 2009 2019
Table 24 Historic Israel - fixed lines in service and teledensity 1995 2008
Table 25 Historic Israel - Internet users and penetration 1995 2008
Table 26 Historic - Israel - fixed broadband subscribers 2001 2008
Table 27 Historic - Israel - PC penetration 2002 2008
Table 28 Historic Israel - mobile subscribers and penetration rate - 1995 2008
Table 29 Historic - Cellcom consolidated revenue 2005 2008
Table 30 Historic - Cellcom mobile subscribers and ARPU 2005 2008
Table 31 Historic - Bezeq fixed access lines and monthly ARPL 2003 2008
Table 32 Historic - Pelephone revenue and operating profit 2003 2007
Chart 1 Middle East mobile subscriber and mobile broadband penetration - 2018
Chart 2 Middle East fixed and mobile broadband subscriber penetration - 2018
Chart 3 Major mobile operators monthly mobile ARPU decline 2013 - 2018
Chart 4 Israel mobile subscriber growth and penetration 2009 2024
Chart 5 Israel mobile broadband growth 2009 2024
Chart 6 Israel fixed broadband growth 2009 - 2024
Chart 7 Israel fixed-line subscriptions in decline 2009 2024
Israel possesses a well-developed telecommunications market characterised by high penetration and a significant number of service providers. Telecoms incumbent Bezeq continues to dominate the fixed-line market despite the government's attempts to promote competition through various regulatory mechanisms. Competitors such as cable TV operator HOT have enjoyed some success due to the reach of its own fixed line networks.
Broadband services are widely available through ADSL, fibre, HFC and mobile platforms. ISPs have focused on improving network performance by pushing fibre deeper into access networks, resulting in increasing average download speeds. Additional submarine cables have come online, with total international Internet bandwidth increasing over eightfold since 2010.
The majority of the Israeli population subscribe to cable or satellite TV, mostly digital, provided by HOT and YES TV respectively. Digital Terrestrial TV (DTTV) services are also available through the IDAN+ network. The government has noted it prefers stronger competition in the TV market and has focused on IPTV as the mechanism through which competing TV service providers can enter the market.
Israel possesses an extremely competitive market served by five mobile network operators, Partner, Cellcom, Pelephone, MIRS and Hot Mobile, as well as number of Mobile Virtual Network Operators (MVNO)s. Strong competition is evident due to the range of competing mobile products that offer unlimited voice and text, full mobile number portability and regulatory barriers that prevent operators from linking sales of handsets to services or offering discounts to customers that commit to longer periods. Strong competition has led to operators focusing on mobile data and content opportunities as well as on costs, resulting in a number of infrastructure sharing agreements.
---
---
More Publications