The Cloud-Based Virtual Desktop Infrastructure (VDI) Market 2012-2017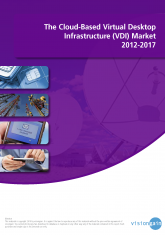 For enterprises, traditional desktop computing is nearly extinct. Most workers now carry laptop computers to and from their desks, and the 21st century trend towards a mobilised workforce means many workers no longer have desks at all. Traditional desktop computing consumes excessive time and resources.
Virtualised servers and desktops hold the key to more efficient IT management. Although virtual desktop infrastructure (VDI) has historically been deemed too expensive, the recent surge of cloud computing offers a cost-effective, managed platform for VDI that stands to revolutionise the structure of enterprise IT. Visiongain has determined that the value of the global cloud-based VDI market will reach $11.2 billion in 2012.
What makes this report unique?
An array of primary and secondary sources has informed the findings of our report. These findings have been placed in a global and regional context, highlighting market trends and strategic opportunities. The report identifies and examines key players in a market poised for substantial growth. Our forecasts are informed by the performance of parallel markets and leading vendors, including an exclusive interview with the market-leading desktop virtualisation and networking company. All these findings are presented in a thorough, straightforward manner.
Why you should buy The Cloud-Based Virtual Desktop Infrastructure (VDI) Market 2012-2017
127 pages
An exclusive visiongain interview with:


Kevin Strohmeyer - Director of Product Marketing at Citrix

95 tables, charts, and figures
Global cloud-based VDI market forecasts between 2012-2017
Forecasts from 2012-2017 of three submarkets related to cloud-based VDI delivery


Software-as-a-service (SaaS)
Infrastructure-as-a-service (IaaS)
Private cloud hosting

5 cloud-based VDI regional market forecasts from 2012-2017


North America
Latin America
Asia-Pacific
Europe
The Middle East and North Africa

A SWOT analysis of the cloud-based VDI market 2012-2017
14 leading companies identified and their leading products profiled -


Citrix
Hewlett-Packard
Cisco
VMWare
IBM
Microsoft
Oracle
Dell
Kaviza
NComputing
V3 Systems
MokaFive
Wyse
Red Hat

Analysis and forecasts of the parallel cloud computing market 2012-2017
In-depth analysis of drivers and restraints for cloud computing and cloud-based VDI over the forecast period.
Discussion of potential future applications for the technology in both enterprise and consumer arenas.
Identification of key points of overlap with the mobile telecommunications industry and connected homes paradigm.
You can order this report today
Gain an understanding of how to tap into the potential of this market by ordering The Cloud-Based Virtual Desktop Infrastructure (VDI) Market 2012-2017.
Visiongain is a trading partner with the US Federal Government
EXECUTIVE SUMMARY

E1. The Expansion of Personal Computing
E2. The Expansion of Cloud Computing
E3. The Promise of Virtual Desktops
E4. Cloud-Based VDI Markets and Major Players
E5. Key Findings of this Report

1. INTRODUCTION TO CLOUD-BASED VDI

1.1 Changes and Challenges in Enterprise
1.2 The Problem of Hardware Updates
1.3 The Problem of Software Updates
1.4 What is Cloud Computing and How is it Defined?
1.4.1 Essential Characteristics of the Cloud Model
1.4.2 Service Delivery Models for Cloud Computing
1.4.3 Differentiating Between Public and Private Clouds
1.4.3.1 Public Cloud
1.4.3.2 Private Cloud
1.5 What is Cloud-Based Virtualisation and How Does it Work?
1.6 The Benefits of Virtualisation
1.6.1 Grid Computing
1.7 Aim of this Report
1.8 Scope of this Report
1.9 Questions Answered by this Report
1.10 Market Definition
1.11 Methodology

2. GLOBAL CLOUD-BASED VDI MARKET FORECAST 2012-2017

2.1 Global Cloud-based VDI Revenue Forecast 2012-2017
2.2 Global VDI User Forecast 2012-2017
2.3 Average Cost Per User for Cloud-Based VDI 2012-2017
2.3.1 Correlation Between Cost and User Base
2.4 Global Saas, IaaS, and Private Cloud VDI Submarket Forecasts 2012-2017
2.4.1 Global VDI-SaaS Submarket Forecast 2012-2017
2.4.2 Global VDI-IaaS Submarket Forecast 2012-2017
2.4.3 Private Cloud VDI Submarket Forecast 2012-2017

3. REGIONAL CLOUD-BASED VDI MARKET FORECASTS 2012-2017

3.1 The North American Cloud-Based VDI Market Forecast 2012-2017
3.2 Asia-Pacific's Cloud-Based VDI Market Forecast 2012-2017
3.3 The European Cloud-Based VDI Market Forecast 2012-2017
3.4 The Latin American Cloud-Based VDI Market Forecast 2012-2017
3.5 The Middle-East and African Cloud-Based VDI Market Forecast 2012-2017

4. LEADING VDI VENDORS

4.1 Citrix
4.1.1 Citrix Products
4.1.2 Future Direction and the 'Nirvana Smartphone'
4.1.2.1 Features
4.1.2.2 Capabilities
4.1.3 Drivers for the Nirvana Smartphone
4.1.3.1 The Proliferation of Virtual and Remote Desktops
4.1.3.2 The Proliferation of Virtualised and Web-Based Apps
4.1.3.3 Free-Seat Office Models
4.1.3.4 Business-Ready Hoteling
4.1.3.5 Expansion of the LCD Market
4.1.3.6 Prevalence of Digital Projectors
4.1.4 Restraints for the Nirvana Smartphone
4.1.4.1 Device Size
4.1.4.2 Performance
4.1.4.3 Cost
4.2 Hewlett-Packard
4.3 IBM
4.3.1 Second-Generation VDI
4.3.2 Additional Capabilities
4.4 VMWare
4.4.1 VMWare Workstation 8
4.4.2 VMWare View
4.4.2.1 View 5 Features
4.4.2.1 View Desktop Types
4.5 Oracle
4.5.1 Oracle VDI
4.5.1.1 Specifications
4.5.1.2 Key Features
4.7 Microsoft
4.8 Wyse
4.8.1 Partnership with Citrix
4.8.2 PocketCloud
4.9 MokaFive
4.9.1 Products
4.9.1.1 MokaFive Suite
4.9.1.2 MokaFive Service
4.10 NComputing
4.10.1 Basic Functions and Product Line
4.10.1.1 L-Series
4.10.1.2 M-Series
4.10.2.3 N-Series
4.10.2.4 X-Series
4.11 Kaviza
4.11.1 Acquisition
4.12 V3 Systems
4.12.1 V3 Products
4.13 Red Hat
4.13.1 Red Hat Enterprise Virtualisation (RHEV) for Servers
4.14 Cisco Systems
4.14.1 Featured Products
4.15 Dell
4.16 Other Vendors

5. DRIVERS AND RESTRAINTS FOR THE CLOUD-BASED VDI MARKET

5.1 Drivers
5.1.1 High Demand for Cloud Computing Services
5.1.1.1 Implications for Virtualisation
5.1.2 The Rise of Open Source Cloud Computing and VDI Solutions
5.1.3 Salience of Dynamic IT Infrastructure
5.1.4 Popularity of IT Outsourcing and Managed Services
5.1.5 Windows 7 and 8 Migration
5.1.6 Creating Possibilities for Application-Testing
5.1.7 Workforce Mobility
5.1.8 Expanding Collaboration
5.1.9 Mobile Computing
5.1.10 HTML5
5.1.11 Lowering Costs
5.1.12 Shifting from a CAPEX to an OPEX Model
5.1.13 Cloud Drivers and Enablers for SMBs
5.2 Market Restraints
5.2.1 Security
5.2.2 Data Transit Vulnerabilities
5.2.3 Unwieldy Structures in Enterprise
5.2.4 Vulnerability to Massive Outages
5.2.5 Historic Image of Complexity and High Cost
5.2.6 Determination to Maximise Utility of Existing Systems
5.2.7 Cloud Commoditisation
5.2.8 Capacity Issues
5.2.9 Interoperability Issues
5.2.10 A Diverse Value Chain
5.2.11 Data Corruption
5.2.12 SLA and Quality of Service
5.2.13 Legal Compliance
5.2.14 Encryption Limitation
5.2.15 Customer Identification
5.2.16 Physical Security
5.2.17 Low and Slow Documentation of VDI Successes

6. FUTURE TRENDS IN VIRTUALISATION AND POSSIBLE APPLICATIONS FOR THE TECHNOLOGY

6.1 VDI for Mobile Devices
6.2 Security, Defense, and Military Applications for Virtualisation
6.2.1 Defense Applications
6.2.2 IP Surveillance
6.3 Connected Homes and Devices

7. EXPERT OPINION

7.1 Kevin Strohmeyer, Director of Product Marketing for Citrix Enterprise Desktop and Applications
7.1.1 Low Adoption Despite High Salience
7.1.2 Changes to Traditional IT Management
7.1.3 Private Cloud, Hybrid Models and new IT Responsibilties
7.1.4 Are Market Drivers Sufficiently Outweighing Cost ?
7.1.5 The Evolution of VDI alongside Enterprise Mobile Devices
7.1.6 Partnership with Microsoft and Windows 8 Launch
7.1.7 Designing Across Operating Systems
7.1.8 Kaviza Acquisition - Reaching out to New Segments
7.1.9 VDI's Relative Strength and Trends Across Regional Markets
7.1.10 How Are VDI restraints and Preconceptions Being Overcome ?

8. SWOT ANALYSIS OF THE CLOUD-BASED VDI MARKET 2012-2017

9. CONCLUSIONS

9.1 Global Cloud-Based VDI Market 2012-2017
9.1.1 Global Cloud-Based VDI Revenue 2012-2017
9.1.2 Global Cloud-Based VDI Usership 2012-2017
9.1.3 Methods of Delivering Cloud-Based VDI
9.1.3.1 SaaS Global Cloud-Based VDI Market 2012-2017
9.1.3.2 IaaS Global Cloud-Based VDI Market 2012-2017
9.1.3.3 Private Hosting Global Cloud-Based VDI Market 2012-2017
9.2 Regional Cloud-Based VDI Markets 2012-2017
9.2.1 The North American Global Cloud-Based VDI Market 2012-2017
9.2.2 The Asia-Pacific Global Cloud-Based VDI Market 2012-2017
9.2.3 The European Global Cloud-Based VDI Market 2012-2017
9.2.4 The Latin American Global Cloud-Based VDI Market 2012-2017
9.2.5 The Middle East and African Global Cloud-Based VDI Market 2012-2017
9.3 Cost of Cloud-Based VDI Technology
9.4 Prospects and Influence

10. GLOSSARY

LIST OF FIGURES

Figure 1.1: Elements of the Cloud-Based Virtual Desktop Infrastructure
Figure 4.1: Smartphone as a PC Replacement
Figure 4.2: Features and Capabilities of the 'Nirvana Smartphone'
Figure 4.3: Drivers for the Nirvana Smartphone
Figure 4.4: VMWare View Layer Interaction
Figure 5.1: SMB Business Value Drivers & Enablers
Figure 5.2: Top 5 Concerns when Deploying VDI (descending order of importance to firms)
Figure 5.3: Amazon EC2 Structure
Figure 5.4: Amazon EC2 EBS RDS Link

COMPANIES LISTED

2X Software
Amazon
Apple
AppSense
Aterity
AWS
Catbird
Ceedo
Cisco
Citrix
ClearCube
Dell
Desktone
Desktoposites
Dynamic Network Factory
EMC
Ericom Software
Eucalyptus
Flexera
Fujitsu
GoGrid
Google
GridCentric
Hewlett-Packard (HP)
IBM
IGEL
Joyent
Kaviza
LG
Microsoft
MokaFive
Motorola
NComputing
Nokia
Oracle
Oracle Corporation
Pano Logic
Piston Cloud Computing
Rackspace
Red Hat
Salesforce.com
Samsung
Sun Microsystems
Teradici
V3
VDIworks
Virtual Bridges
VMWare
Wyse
ZenithInfotech
LIST OF CHARTS

Chart 2.1: Global Cloud-Based VDI Revenue Forecast 2012-2017 ($ billion)
Chart 2.2: Global Cloud-Based VDI Revenue AGR Forecast 2012-2017 (%)
Chart 2.3: Global Cloud-Based VDI User Forecast 2012-2017 (million users)
Chart 2.4: Global Cloud-Based VDI Revenue AGR Forecast 2012-2017 (%)
Chart 2.5: VDI ACPU and User Forecast 2012-2017 (million users; $)
Chart 2.6: SaaS, IaaS, and Private Cloud VDI Submarket Revenue Forecast 2012-2017 ($ billion)
Chart 2.7: VDI Submarket Share 2012 (%)
Chart 2.8: VDI Submarket Share 2014 (%)
Chart 2.9: VDI Submarket Share 2017 (%)
Chart 2.10: Global VDI-SaaS Revenue Forecast 2012-2017 ($ billion)
Chart 2.11: Global VDI-SaaS AGR Forecast 2012-2017 (%)
Chart 2.12: Global VDI-IaaS Revenue Forecast 2012-2017 ($ billion)
Chart 2.13: Global VDI-IaaS Revenue AGR Forecast 2012-2017 (%)
Chart 2.14: Global VDI-IaaS Revenue Forecast 2012-2017 ($ billion)
Chart 2.15: Global VDI-IaaS Revenue AGR Forecast 2012-2017 (%)
Chart 3.1: Regional Cloud-Based VDI Revenue Forecast 2012-2017 ($ billion)
Chart 3.2: Regional Cloud-Based VDI Market Share Forecast 2012-2017 (%)
Chart 3.3: Regional Cloud-Based VDI Market Share Forecast 2012 (%)
Chart 3.4: Regional Cloud-Based VDI Market Share Forecast 2014 (%)
Chart 3.5: Regional Cloud-Based VDI Market Share Forecast 2017 (%)
Chart 3.6: North American Cloud-Based VDI Revenue Forecast 2012-2017 ($ billion)
Chart 3.7: North American Cloud-Based VDI Revenue AGR Forecast 2012-2017 (%)
Chart 3.8: Asia-Pacific Cloud-Based VDI Revenue Forecast 2012-2017 ($ billion)
Chart 3.9: Asia-Pacific Cloud-Based VDI Revenue AGR Forecast 2012-2017 (%)
Chart 3.10: European Cloud-Based VDI Revenue Forecast 2012-2017 ($ billion)
Chart 3.11: European Cloud-Based VDI Revenue AGR Forecast 2012-2017 (%)
Chart 3.12: Latin American Cloud-Based VDI Revenue Forecast 2012-2017 ($ billion)
Chart 3.13: Latin American Cloud-Based VDI Revenue AGR Forecast 2012-2017 (%)
Chart 3.14: MEA Cloud-Based VDI Revenue Forecast 2012-2017 ($ billion)
Chart 3.15: MEA Cloud-Based VDI Revenue AGR Forecast 2012-2017 (%)
Chart 4.1: Global Digital Project Shipment Forecast 2012-2017 (million units)
Chart 4.2: Global VDI-IaaS AGR Forecast 2012-2017 (%)
Chart 5.1: Global Cloud Computing Market Forecast 2012-2017 ($bn)
Chart 5.2: Global Cloud Computing Market Forecast 2013-2017 (AGR %)
Chart 5.3: Tech Companies Planning VDI Migration 2009; 2012 (%)
Chart 5.4: Average Cost Per User for VDI and PC, 2012-2017 Forecast (US$)
Chart 5.5: Average Cost of System Ownership Per User for VDI and PC, 2012-2017 AGR Forecast (%)


LIST OF TABLES

Table 1.1 Challenges of Traditional IT Departments
Table 1.2: Five Essential Characteristics of Cloud Computing
Table 1.3: Cloud Service Delivery Models
Table 1.4: Cloud-Based Virtualisation - Elements and Processes
Table 1.5: Benefits of Cloud Virtualisation
Table 2.1 Global Cloud-Based VDI Revenue Forecast 2012-2017 ($ billion, AGR %)
Table 2.2: Global Cloud-Based VDI Revenue CAGR Forecast 2012-2017; 2012-2014; 2014-2017 (%)
Table 2.3: Global Cloud-Based VDI User Forecast 2012-2017 (million users, AGR %)
Table 2.4: Global Cloud-Based VDI User CAGR Forecast 2012-2017; 2012-2014; 2014-2017 (%)
Table 2.5: Average Cost Per User for PC and VDI Model Forecast 2012-2017 ($, AGR %)
Table 2.6: Average Cost Per User for PC and VDI Model CAGR Forecast 2012-2017; 2012-2014; 2014-2017 (%)
Table 2.7: SaaS, IaaS, and Private Cloud VDI Submarket Revenue and AGR Forecast 2012-2017 ($ billion; %)
Table 2.8: Global VDI-SaaS Revenue and AGR Forecast 2012-2017 ($ billion, %)
Table 2.9: Global VDI-SaaS Revenue CAGR Forecast 2012-2017; 2012-2014; 2014-2017 (%)
Table 2.10: Global VDI-IaaS Revenue and AGR Forecast 2012-2017 ($ billion, %)
Table 2.11: Global VDI-IaaS Revenue CAGR Forecast 2012-2017; 2012-2014; 2014-2017 (%)
Table 2.12: Global VDI-IaaS Revenue and AGR Forecast 2012-2017 ($ billion, %)
Table 2.13: Global VDI-IaaS Revenue CAGR Forecast 2012-2017; 2012-2014; 2014-2017 (%)
Table 3.1: Regional Cloud-Based VDI Revenue Forecast 2012-2017 ($ billion, AGR%)
Table 3.2: North American Cloud-Based VDI Revenue and AGR Forecast 2012-2017 ($ billion, %)
Table 3.3: North American Cloud-Based VDI Revenue CAGR Forecast 2012-2017; 2012-2014; 2014-2017 (%)
Table 3.4: Asia-Pacific Cloud-Based VDI Revenue and AGR Forecast 2012-2017 ($ billion, %)
Table 3.5: Asia-Pacific Cloud-Based VDI Revenue CAGR Forecast 2012-2017; 2012-2014; 2014-2017 (%)
Table 3.6: European Cloud-Based VDI Revenue and AGR Forecast 2012-2017 ($ billion, %)
Table 3.7: European Cloud-Based VDI Revenue CAGR Forecast 2012-2017; 2012-2014; 2014-2017 (%)
Table 3.8: Latin American Cloud-Based VDI Revenue and AGR Forecast 2012-2017 ($ billion, %)
Table 3.9: Latin American Cloud-Based VDI Revenue CAGR Forecast 2012-2017; 2012-2014; 2014-2017 (%)
Table 3.10: MEA Cloud-Based VDI Revenue and AGR Forecast 2012-2017 ($ billion, %)
Table 3.11: MEA Cloud-Based VDI Revenue CAGR Forecast 2012-2017; 2012-2014; 2014-2017 (%)
Table 4.1: Microsoft, Selected Corporate Acquisition and Partnership Timeline 2006-2012
Table 4.2: Citrix - Selected Product and Service Descriptions
Table 4.3: Global VDI-IaaS Revenue and AGR Forecast 2012-2017 ($ billion, %)
Table 4.4: Global VDI-IaaS CAGR Forecast 2012-2017; 2012-2014; 2014-2017 (%)
Table 4.5: HP VDI Building Blocks and Characteristic Features
Table 4.6: Additional Capabilities of Virtual Desktop for Smart Business 6.0
Table 4.7: Focal Points of VMWare's Workstation 8
Table 4.8: VMWare View Desktop Types Comparison
Table 4.9: VMWare View Desktop Types Description
Table 4.10: Technical Specifications for Oracle VDI 3.3
Table 4.11: Key Features of Oracle VDI 3.3
Table 4.12: Key Features of Microsoft VDI in Windows Server 2012
Table 4.13: V3 Systems Appliance Controls
Table 4.14: V3 Appliances and Capabilities
Table 4.15: Red Hat Enterprise Virtualisation (RHEV) Benefits and Features
Table 4.16: Cisco Systems Featured VDI/UCS Products
Table 4.17: Vendors in the Cloud-Based VDI Market
Table 5.1: Global Cloud Computing Market Forecast 2012-2017 ($ billion, AGR %)
Table 5.2: Global Cloud Computing Market Forecast CAGR (%), 2012-2017, 2012-2014, and 2014-2017
Table 8.1: SWOT Analysis of the Cloud-Based VDI Market 2012-2017


---
---
More Publications