Global High Performance Alloys Market 2013-2023: Prospects for Titanium, Nickel & Cobalt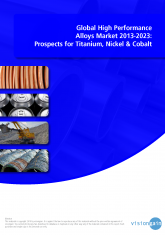 The global market for high performance alloys is currently going through somewhat of a boom thanks to its heavy use within the aerospace sector which is thriving due to heavy demand for long haul aircraft from Boeing and Airbus. However, this is imminently due to slow and move onto its next phase of growth focused on regional and business jets. Over the analysed period we expect the global high performance alloy industry to consume over 400kt of high performance alloys. We also expect the market to grow slightly above the level of global output and this is due to the vital industries that the high performance alloys are chiefly used in such as energy generation and medical care which are not directly correlated to global output. However leading industries that use high performance alloys such as the general industrial sector are highly correlated with global manufacturing output.
The majority of growth in the global market for high performance alloys over the decade will come from the emerging markets of China, Russia, Brazil and India which all have a rapidly growing industrial sector. In addition to this all of these countries will try to enter the oligopolistic aerospace industry over the next decade despite the industries consolidated structure. The current aerospace market is dominated by a small number of European and North American companies and the failed integration of Europe's aerospace industry gives these emerging countries a chance to break into the large and lucrative industry.
While the chief sub industries comprising the overall market for high performance alloys will keep on growing and accelerating at greater speeds, the use of high performance alloys within these industries will start to fall simply due to the difficulty and high cost of using these metals. These metals currently have a monopolistic hold over the market as these high performance alloys are the only materials that can survive operating in the harsh conditions exacted by these industries. Due to this tight grip on the industry and lack of alternatives tentative steps are currently being made to find alternatives to these metals but commercialisation of these technologies and materials is slow and these new materials will only start to creep into the markets towards the end of the decade. Over the short and medium run this gives the high performance alloys free reign to grow in their use within the industries of aerospace, general industry, energy generation and medical applications. This is only within very technical aspects of these industries and where no other material is able to exist in their place. However, this monopoly will start to fade in the long run.
What makes this report unique?
Visiongain consulted widely with industry experts and full transcripts from these exclusive interviews with a specialist engineer from a major global high performance alloy manufacturer in the US, a leading academic from a specialist university in Scotland and an independent consultant on the industry with a deep history of working alongside leading companies in the industry are included in the report. As such, our reports have a unique blend of primary and secondary sources providing informed analysis. This methodology allows insight into the key drivers and restraints behind market dynamics and competitive developments, as well as identifying the technological issues. The report therefore presents an ideal balance of qualitative analysis combined with extensive quantitative data including global, submarket and regional markets forecasts from 2013-2023 - all identifying strategic business opportunities.
Why you should buy the Global High Performance Alloys Market 2013-2023: Prospects for Titanium, Nickel & Cobalt
Stay ahead with this comprehensive analysis of the high performance alloy market prospects

The report comprises 161 pages

Get ahead by studying highly quantitative content that delivers solid conclusions benefiting your research and analysis

99 tables, charts, and graphs quantifying and forecasting the market

Read exclusive expert opinion interviews from high performance alloy industry specialists informing the analysis

Metals researcher & analyst from an independent consultancy
Lecturer & researcher from Robert Gordon University
Specialist engineer from a major global high performance alloy manufacturer

View global market forecasts from 2013-2023 to keep your knowledge one step ahead of the competition

The report provides an analytical overview with detailed national sales projections and analysis of the market, the competitors, and both the commercial and non commercial drivers and restraints.

Keep informed about the potential for each of the high performance alloy end use submarkets with forecasts from 2013-2023

Aerospace high performance alloy submarket
Industrial high performance alloy submarket
Energy high performance alloy submarket
Medical high performance alloy submarket

Learn about the prospects for each of the high performance alloy material submarkets with forecasts from 2013-2023
Learn about the opportunities in 11 leading countries with high performance alloy market forecasts between 2013-2023

US
France
UK
Germany
Canada
Japan
China
Russia
Italy
Brazil
India
RoW

Find out about the market dynamics & opportunities in 11 leading countries
52 detailed tables and graphs detailing national high performance alloy market progression and dynamics
Understand the competitive landscape with high performance alloy market share (tonnage and % share) data for the 8 leading companies with profiles examining their positioning, focus and strategies.

Precision Castparts Corporation
Allegheny Technologies
Carpenter Technology Corporation
Aperam
Haynes International Inc.
RTI
VSMPO
Outokumpu

Discover the qualitative analysis informing the high performance alloy market forecasts

SWOT analysis of competitive factors: strengths, weaknesses, opportunities and threats revealing what drives and restrains the industry and the prospects and pitfalls for market operators.
How the Global High Performance Alloys Market 2013-2023: Prospects for Titanium, Nickel & Cobalt report can benefit you
Visiongain's report is for anyone requiring analysis of the high performance alloy industry and market. You will discover market forecasts, technological trends, predictions and expert opinions providing you with independent analysis derived from our extensive primary and secondary research. Only by purchasing this report will you receive this critical business intelligence revealing where revenue growth is likely and where the lucrative potential market prospects are.
If you buy our report today your knowledge will stay one step ahead of your competitors. Discover how our report could benefit your research, analyses and strategic decisions, saving you time. To gain an understanding of how to tap into the potential of this market and keep one step ahead of the competition you must order now our report the Global High Performance Alloys Market 2013-2023: Prospects for Titanium, Nickel & Cobalt
1. EXECUTIVE SUMMARY

1.1 Global High Performance Alloy Market Overview
1.2 Benefits of This Report
1.3 Who is This Report For?
1.4 Methodology
1.5 Global High Performance Alloy Market Forecast 2013-2023
1.6 High Performance Alloys Metal Composition Forecasts 2013-2023
1.7 High Performance Alloy Submarket Forecasts 2012-2023
1.8 Leading National High Performance Alloy Market Forecasts 2013-2023

2. INTRODUCTION TO THE HIGH PERFORMANCE ALLOY MARKET

2.1 High Performance Alloys
2.2 High Performance Alloys Submarket Structure Overview
2.3 High Performance Alloys Market Drivers and Restraints

3. GLOBAL HIGH PERFORMANCE ALLOY MARKET FORECAST 2013-2023

3.1 Global High Performance Alloy Market Forecast 2013-2023
3.1.1Global High Performance Alloy Market Analysis
3.2 Western European High Performance Alloy Market Outlook
3.3 Eastern European High Performance Alloy Market Outlook
3.4 Asia-Pacific High Performance Alloy Market Outlook
3.5 South American High Performance Alloy Market Outlook
3.6 North American High Performance Alloy Market Outlook
3.7 African High Performance Alloy Market Outlook
3.8 Middle Eastern High Performance Alloy Market Outlook
3.9 Oceanic High Performance Alloy Market Outlook

4. HIGH PERFORMANCE ALLOY SUBMARKETS FORECAST 2013-2023

4.1 High Performance Alloy Submarkets General Overview 2013-2023
4.2 Aerospace High Performance Alloy Submarket 2013-2023
4.2.1 Aerospace High Performance Alloy Submarket Analysis
4.2.2 Aerospace Short Run Growth in the Middle Ground
4.2.3 Middle Run Growth via Regional Flight Growth
4.2.4 2.5% CAGR Marks Lowest Aerospace Growth
4.2.5 The Rise of Business Jets
4.2.6 Comac and Embraer Breaking into the Industry
4.3 Industrial High Performance Alloy Submarket 2013-2023
4.3.1 Industrial High Performance Alloy Submarket Analysis
4.3.2 Hesitant Growth for Industrials
4.3.3 Industrial Market Share Falls by Over 2.5%
4.3.4 Middle Run Manufacturing Output Set to Fall
4.3.5 "Made in America" Re-Shoring Production
4.3.6 Slowing Industrial Demand from Slowing Economies
4.3.7 6.3% Long Run CAGR through High Tech Production
4.4 Energy High Performance Alloy Submarket 2013-2023
4.4.1 Energy High Performance Alloy Submarket Analysis
4.4.2 Stable Growth through Stable Policies
4.4.3 Gas and Nuclear Fuel Exchanged for Coal
4.4.4 An 89% Increase in Size
4.4.5 Modular Nuclear Reactors Fuel Demand
4.5 Medical High Performance Alloy Submarket 2013-2023
4.5.1 Medical High Performance Alloy Submarket Analysis
4.5.2 Medical Short Run Growth Faster than Energy
4.5.3 7,100t Increase in Medical Use High Performance Alloys
4.5.4 Slower Growth from FDA Warnings
4.6 Other High Performance Alloy Submarket 2013-2023
4.6.1 Other High Performance Alloy Submarket Analysis
4.6.2 Jagged Growth and Constant Dynamism

5. LEADING NATIONAL HIGH PERFORMANCE ALLOYS MARKETS FORECAST 2013-2023

5.1 Leading National High Performance Alloy Markets Share Forecasts 2013-2023
5.2 US High Performance Alloy Market 2013-2023
5.2.1 US High Performance Alloy Market Overview
5.2.2 Slowest US Growth of 4.2% CAGR Over Short Run
5.2.3 4 Year Re-Engagement from the Aerospace Sector
5.2.4 Industrial and Energy Sectors Pick Up with the Economy
5.2.5 US High Performance Alloy Long Run High/Low Scenarios
5.3 French High Performance Alloy Industry 2013-2023
5.3.1 French High Performance Alloy Market Overview
5.3.2 Slow Short Run, 0.1% AGR
5.3.3 Highest AGR Achieved over the Middle Run
5.3.4 French Nuclear Movements
5.3.5 Failed Mergers Causing Lagging Sector Growth
5.3.6 French High Performance Alloy Long Run High/Low Scenarios
5.4 UK High Performance Alloy Market 2013-2023
5.4.1 UK High Performance Alloy Market Overview
5.4.2 Creative Engineering Lends a Hand
5.4.3 Far Reaching Olympic Effects
5.4.4 Constant Increasing Growth to a 3.6% AGR
5.4.5 Skilled Labour Flight Slows Growth
5.4.6 UK High Performance Alloy Long Run High/Low Scenarios
5.5 German High Performance Alloy Market 2013-2023
5.5.1 German High Performance Alloy Market Overview
5.5.2 4,000t Increase in Tonnage over the Short Run
5.5.3 Industrial Tonnage Vs Aerospace Tonnage
5.5.4 Germany Losses ThyssenKrupp's Innoxum
5.5.5 German Heavy Industry Not Held Back By EU Regulations
5.5.6 Nuclear Loss Equals Gas Gain
5.5.7 German High Performance Alloy Long Run High/Low Scenario
5.6 Canadian High Performance Alloy Market 2013-2023
5.6.1 Canadian High Performance Alloy Market Overview
5.6.2 A Standalone but Competitive Aerospace Industry
5.6.3 Canada's Mining Industry and Appetite for Risk
5.6.4 Slowing Nuclear Sentiment
5.6.5 Canadian High Performance Alloy Long Run High/Low Scenario
5.7 Japanese High Performance Alloy Market 2013-2023
5.7.1 Japanese High Performance Alloy Market Overview
5.7.2 The Leading Asian Pacific Nation for Now
5.7.3 Overtaken but a New Merger of Giants Gives Hope
5.7.4 Embracing Waste Free Technology a Double Edged Sword
5.7.5 Japanese High Performance Alloy Long Run High/Low Scenarios
5.8 Chinese High Performance Alloy Market 2013-2023
5.8.1 Chinese High Performance Alloy Market Overview
5.8.2 China's Leading Growth Rate
5.8.3 Asia-Pacific's New Leading Country
5.8.4 No Longer "Made in China"
5.8.5 Chinese High Performance Alloy Long Run High/Low Scenarios
5.9 Russian High Performance Alloy Market 2013-2023
5.9.1 Russian High Performance Alloy Market Overview
5.9.2 Energy at the Forefront of Russia's Growth
5.9.3 Russia's Impassable Growth Ceiling
5.9.4 Pushing for Arctic Oil & Gas Requires High Performance Alloys
5.9.5 Russian High Performance Alloy Long Run High/Low Scenarios
5.10 Italian High Performance Alloy Market 2013-2023
5.10.1 Italian High Performance Alloy Market Overview
5.10.2 1,100kt Increase in the Italian Market
5.10.3 Pulled into Growth by Europe
5.10.4 The End of Italian Aerospace, the Beginning of Something Else
5.10.5 Italian High Performance Alloy Long Run High/Low Scenarios
5.11 Brazilian High Performance Alloy Market 2013-2023
5.11.1 Brazilian High Performance Alloy Market Overview
5.11.2 Growing Middle Classes and a Push for Off-Shore Oil Drives Demand
5.11.3 A 7% CAGR over the Middle Run and a Seat at the UN Security Council
5.11.4 Growth Slows but Aided by Clearer Tax Laws
5.11.5 Brazilian High Performance Alloy Long Run High/Low Scenarios
5.12 Indian High Performance Alloy Market 2013-2023
5.12.1 Indian High Performance Alloy Market Overview
5.12.2 Cutting Interest Rates to Keep Consumers Consuming
5.12.3 A Spark for India's Military Jet Market
5.12.4 A Limit to Growth through Coal Attachment
5.12.5 Indian High Performance Alloy Long Run High/Low Scenarios
5.13 RoW High Performance Alloy market 2013-2023

6. SWOT ANALYSIS OF THE HIGH PERFORMANCE ALLOY MARKET 2013-2023

7. EXPERT OPINION

7.1 Expert - Ravi Rastogi - Metals Researcher & Analyst, Independent Consultancy, The US.
7.1.1 Holding the Industry Back
7.1.2 A Technological Halt
7.1.3 Benefits of Titanium
7.1.4 High Performance Alloys & Electronics
7.1.5 People Want Cell Phones
7.1.6 Eastern Manufacturing
7.1.7 Possible Re-Shoring
7.1.8 Getting Rid of the Forging Industry
7.1.9 Powder Metallurgy and its Uses
7.1.10 The Costs of Powder
7.1.11 Ceramic and Composite Interference
7.1.12 Longevity and Space Programmes
7.1.13 Metals Vs Ceramics
7.1.14 Materials in the Energy Industry
7.1.15 Substituting Titanium
7.1.16 Commercialising New Materials
7.1.17 Different Processes, Same End Use
7.1.18 High Performance Alloys Staying Put
7.2 Expert - Dr.Nadimul H. Faisal, Researcher & Lecturer, Robert Gordon University, Scotland.
7.2.1 Medical Applications and the Search for Alternatives
7.2.2 Composites within 5 Years
7.2.3 How Long will High Performance Alloys Last?
7.2.4 Chinese Quality Issues
7.2.5 The Need for High Quality Suppliers
7.2.6 Improving China
7.2.7 Western Supply Still Leads
7.2.8 A Rising Middle East
7.2.9 A Middle Eastern Recession, Impossible
7.2.10 Choosing Your Partners
7.2.11 Infrastructure Demands Metals
7.2.12 Component Applications Dictate Choice of Material
7.2.13 Niche Technology for Niche Applications
7.2.14 An Abundance of Technology and Information
7.2.15 Use Super Alloys Only When You Have To
7.2.16 Elementary Substitutes
7.2.17 The Best of a Hard Bunch
7.3 Expert - Specialist Engineer, Major Global High Performance Alloy Manufacturer, The US.
7.3.1 High Performance Alloy Characteristics
7.3.2 A Fight for the Aerospace Market
7.3.3 The Indian Market
7.3.4 Aerospace to Drive the High Performance Alloy Industry
7.3.5 Developing New Technologies
7.3.6 Adapting to New Technology
7.3.7 Emerging Markets Poised for the Very Long Run
7.3.8 Other Subsector uses of High Performance Alloys
7.3.9 The Aerospace Market Remains Key

8. LEADING COMPANIES IN THE MARKET

8.1 Precision Castparts Corporation
8.1.1 Precision Castparts Corporation Analysis
8.2 Outokumpu
8.2.1 Outokumpu Analysis
8.3 Aperam
8.3.1 Aperam Analysis
8.4 Allegheny Technologies
8.4.1 Allegheny Technologies Analysis
8.5 Carpenter Technologies Corporation
8.5.1 Carpenter Technologies Corporation Analysis
8.6 VSMPO
8.6.1 VSMPO Analysis
8.7 Haynes International. Inc
8.7.1 Haynes International. Inc Analysis
8.8 RTI International Metals
8.8.1 RTI International Metals Analysis
8.9 Other Companies in the Market

9. CONCLUSIONS

9.1 High Performance Alloys Market Outlook
9.2 Global High Performance Alloys Market Forecast 2013-2023
9.3 High Performance Alloys Submarket Forecasts 2013-2023
9.4 Leading National High Performance Alloys Market Forecasts 2013-2023

10. GLOSSARY


LIST OF TABLES

Table 1.1 Global High Performance Alloy Market Forecast Summary 2013, 2018, 2023 (kt, CAGR%)
Table 1.2 High Performance Alloy Metal Composition Forecast Summary 2013, 2018, 2023 (kt)
Table 1.3 High Performance Alloy Submarket Forecasts Summary 2013,2018, 2023 (kt, CAGR%)
Table 1.4 Leading National High Performance Alloy Market Forecasts Summary 2013, 2018, 2023 (kt, CAGR%)
Table 3.1 Global High Performance Alloy Market Forecast 2013-2023 (kt, AGR%, CAGR%, Cumulative)
Table 4.1 High Performance Alloy Submarket Forecasts 2013-2023 (kt, AGR%)
Table 4.2 Aerospace High Performance Alloy Submarket Forecast 2013-2023 (kt, AGR%, CAGR% Cumulative)
Table 4.3 Industrial High Performance Alloy Submarket Forecast 2013-2023 (kt, AGR%, CAGR% Cumulative)
Table 4.4 Energy High Performance Alloy Submarket Forecast 2013-2023 (kt, AGR%, CAGR%, Cumulative)
Table 4.5 Medical High Performance Alloy Submarket Forecast 2013-2023 (kt, AGR%, CAGR%, Cumulative)
Table 4.6 Other High Performance Alloy submarket Forecast 2013-2023 (kt, AGR%, CAGR%, Cumulative)
Table 5.1 Leading National High Performance Alloy Market Forecast 2013-2023 (kt, AGR%)
Table 5.2 US High Performance Alloy Market Forecast 2013-2023 (kt, AGR%, CAGR% Cumulative)
Table 5.3 French High Performance Alloy Market Forecast 2013-2023 (kt, AGR%, CAGR%, Cumulative)
Table 5.4 UK High Performance Alloy Market Forecast 2013-2023 (kt, AGR%, CAGR%, Cumulative)
Table 5.5 German High Performance Alloy Market Forecast 2013-2023 (kt, AGR%, CAGR%, Cumulative)
Table 5.6 Canadian High Performance Alloy Market Forecast 2013-2023 (kt, AGR%, CAGR%, Cumulative)
Table 5.7 Japanese High Performance Alloy Market Forecast 2013-2023 (kt, AGR%, CAGR%, Cumulative)
Table 5.8 Chinese High Performance Alloy Market Forecast 2013-2023 (kt, AGR%, CAGR%, Cumulative)
Table 5.9 Russian High Performance Alloy Market Forecast 2013-2023 (kt, AGR%, CAGR%, Cumulative)
Table 5.10 Italian High Performance Alloy Market Forecast 2013-2023 (kt, AGR%, CAGR%, Cumulative)
Table 5.11 Brazilian High Performance Alloy Market Forecast 2013-2023 (kt, AGR%, CAGR%, Cumulative)
Table 5.12 Indian High Performance Alloy Market Forecast 2013-2023 (kt, AGR%, CAGR%, Cumulative)
Table 5.13 RoW High Performance Alloy Market Forecast 2013-2023 (kt, AGR% CAGR% Cumulative)
Table 6.1 SWOT Analysis of the High Performance Alloy Market 2013-2023
Table 8.1 Leading 8 High Performance Alloy Companies 2013 (Market Ranking, Total Revenue, Revenue in Sector, Market Share %)
Table 8.2 Precision Castparts Corporation Overview 2012 (Total Revenue, Revenue from Market, % Revenue from Market, Global Market Share %, HQ, Ticker, Contact, Website)
Table 8.3 Outokumpu Overview 2012 (Total Revenue, Revenue from Market, % Revenue from Market, Global Market Share %, HQ, Ticker, Contact, Website)
Table 8.4 Aperam Overview 2012 (Total Revenue, Revenue from Market, % Revenue from Market, Global Market Share %, HQ, Ticker, Contact, Website)
Table 8.5 Alleghney Technologies Overview 2012 (Total Revenue, Revenue from Market, % Revenue from Market, Global Market Share %, HQ, Ticker, Contact, Website)
Table 8.6 Carpenter Technologies Corporation Overview 2012 (Total Revenue, Revenue from Market, % Revenue from Market, Global Market Share %, HQ, Ticker, Contact, Website)
Table 8.7 VSMPO Overview 2012 (Total Revenue, Revenue from Market, % Revenue from Market, Global Market Share %, HQ, Ticker, Contact, Website)
Table 8.8 Haynes International Inc Overview 2012 (Total Revenue, Revenue from Market, % Revenue from Market, Global Market Share %, HQ, Ticker, Contact, Website)
Table 8.9 RTI International Metals Overview 2012 (Total Revenue, Revenue from Market, % Revenue from Market, Global Market Share %, HQ, Ticker, Contact, Website)
Table 9.1 Global High Performance Alloys Market Forecast Summary 2013, 2018, 2013 (kt, CAGR%)
Table 9.2 High Performance Alloys Submarket Forecasts Summary 2013, 2018, 2023 (kt, CAGR%)
Table 9.3 Leading National High Performance Alloy Market Forecasts Summary 2013, 2018, 2023 (kt, CAGR%)


LIST OF FIGURES

Figure 1.1 High Performance Alloy Metal Composition Forecast Summary 2013, 2018, 2023 (kt)
Figure 2.1 Global High Performance Alloy Market Structure Overview
Figure 3.1 Global High Performance Alloy Market Forecast 2013-2023 (kt, AGR %)
Figure 4.1 High Performance Alloy Submarket Forecasts 2013-2023 (kt)
Figure 4.2 High Performance Alloy Submarkets Share Forecast 2013 (%)
Figure 4.3 High Performance Alloy Submarkets Share Forecast 2018 (%)
Figure 4.4 High Performance Alloy Submarkets Share Forecast 2023 (%)
Figure 4.5 Aerospace High Performance Alloy Submarket Forecast 2013-2023 (kt, AGR%)
Figure 4.6 Aerospace High Performance Alloy Submarket Share Forecast 2013, 2018 and 2023 (% Share)
Figure 4.7 UK Aerospace Sales Market Share by Sector Turnover (%)
Figure 4.8 Aircraft by % Component Value (%) and Leading Aircraft Engine Manufacturers by Market Share 2013 (%)
Figure 4.9 Business Jet Manufactures by Market Share 2013 (%)
Figure 4.10 Industrial High Performance Alloy Submarket Forecast 2013-2023 (kt, AGR%)
Figure 4.11 Industrial High Performance Alloy Submarket Share Forecast 2013, 2018 and 2023 (% Share)
Figure 4.12 Energy High Performance Alloy Submarket Forecast 2013-2023 (kt, AGR%)
Figure 4.13 Energy High Performance Alloy Submarket Share Forecast 2013, 2018 and 2023 (% Share)
Figure 4.14 Number of UK Offshore Oil Wells Drilled 2006-2011
Figure 4.15 Energy Generation Turbine Manufacturers Market Share (%)
Figure 4.16 Medical High Performance Alloy Submarket Forecast 2013-2023 (kt, AGR%)
Figure 4.17 Medical High Performance Alloy Submarket Share Forecast 2013, 2018 and 2023 (% Share)
Figure 4.18 Other High Performance Alloy Submarket Forecast 2013-2023 (kt, AGR%)
Figure 4.19 Other High Performance Alloy Submarket Share Forecast 2013, 2018 and 2023 (% Share)
Figure 5.1 Leading National High Performance Alloys Markets Forecast 2013-2023 (kt)
Figure 5.2 Leading National High Performance Alloys Markets Share Forecast 2013 (%)
Figure 5.3 Leading National High Performance Alloys Markets Share Forecast 2018 (%)
Figure 5.4 Leading National High Performance Alloys Markets Share Forecast 2023 (%)
Figure 5.5 US High Performance Alloy Market Forecast 2013-2023 (kt, AGR%)
Figure 5.6 US High Performance Alloy Market Share Forecasts 2013, 2018 and 2023 (% Share)
Figure 5.7 US Long Run High Performance Alloy Market High/Low Scenario Forecast 2013 - 2023 (kt)
Figure 5.8 French High Performance Alloy Market Forecasts 2013-2023 (kt, AGR%)
Figure 5.9 French High Performance Alloy Market Share Forecast 2013, 2018 and 2023 (% Share)
Figure 5.10 French Long Run High Performance Alloy Market High/Low Scenario Forecast 2013 - 2023 (kt)
Figure 5.11 UK High Performance Alloy Market Forecasts 2013-2023 (kt, AGR%)
Figure 5.12 UK High Performance Alloy Market Share Forecasts 2013, 2018 and 2023 (% Share)
Figure 5.13 UK Long Run High Performance Alloy Market High/Low Scenario Forecast 2013-2023 (kt)
Figure 5.14 German High Performance Alloy Market Forecast 2013-2023 (kt, AGR%)
Figure 5.15 German High Performance Alloy Market Share Forecasts 2013, 2018 and 2023 (% Share)
Figure 5.16 German Long Run High Performance Alloy Market High/Low Scenario Forecast 2013-2023 (kt)
Figure 5.17 Canadian High Performance Alloy Market Forecasts 2013-2023 (kt, AGR%)
Figure 5.18 Canadian High Performance Alloy Market Share Forecast 2013, 2018 and 2023 (% Share)
Figure 5.19 Canadian Long Run High Performance Alloy Market High/Low Scenario Forecast 2013-2023 (kt)
Figure 5.20Japanese High Performance Alloy Market Forecasts 2013-2023 (kt, AGR%)
Figure 5.21 Japanese High Performance Alloy Market Share Forecast 2013, 2018 and 2023 (% Share)
Figure 5.22 Japanese Long Run High Performance Alloy Market High/Low Scenario Forecast 2013-2023 (kt)
Figure 5.23 Chinese High Performance Alloy Market Forecast 2013-2023 (kt, AGR%)
Figure 5.24 Chinese High Performance Alloy Market Share Forecasts 2013, 2018 and 2023 (% Share)
Figure 5.25 Chinese Long Run High Performance Alloy Market High/Low Scenario Forecast 2013-2023 (kt)
Figure 5.26 Russian High Performance Alloy Market Forecasts 2013-2023 (kt, AGR%)
Figure 5.27 Russian High Performance Alloy Market Share Forecasts 2013, 2018 and 2023 (% Share)
Figure 5.28 Russian Long Run High Performance Alloy Market High/Low Scenario Forecast 2013-2023 (kt)
Figure 5.29 Italian High Performance Alloy Market Forecasts 2013-2023 (kt, AGR%)
Figure 5.30 Italian High Performance Alloy Market Share Forecasts 2013, 2018 and 2023 (% Share)
Figure 5.31 Italian Long Run High Performance Alloy Market High/Low Scenario Forecast 2013-2023 (kt)
Figure 5.32 Brazilian High Performance Alloy Market Forecasts 2013-2023 (kt, AGR%)
Figure 5.33 Brazilian High Performance Alloy Market Share Forecast 2013, 2018 and 2023 (% Share)
Figure 5.34 Brazilian Long Run High Performance Alloy Market High/Low Scenario Forecast 2013-2023 (kt)
Figure 5.35 Indian High Performance Alloy Market Forecast 2013-2023 (kt, AGR%)
Figure 5.36 Indian High Performance Alloy Market Share Forecasts 2013, 2018 and 2023 (% Share)
Figure 5.37 Indian Long Run High Performance Alloy Market High/Low Scenario Forecast 2013-2023 (kt)
Figure 5.38 RoW High Performance Alloy Market Forecast 2013-2023 (kt, AGR%)
Figure 5.39 RoW High Performance Alloy Market Share Forecasts 2013, 2018 and 2023 (% Share)
Figure 8.1 Leading 8 High Performance Alloy Companies Market Share by Tonnage 2013 (%)

COMPANIES LISTED

A.M. Castle & Co.
A.T. Wall Company
Admiral Metals
Advanced Alloys
Airbus
Alcan
Alfa Aesar
All Foils, Inc.
All Metals & Forge, LLC
All Tube / Microgroup
Allegheny Technologies
Allvac
Altemp Alloys
Aluminum Resources, Inc.
Amaga West Services
American Elements Corporation
Aperam
Apple
Arcam
Arcelor Mittal
Areva
Argonide Nanomaterials Group
Astrolite Alloys
Astrup AS
Avio
Babcock & Wilcox
BAE Systems
BASF
Boeing
Bombardier
British Titanium Plc.
Carpenter Technology Corporation
Caterpillar
Cessna
Clama Trade S.r.l.
Comac
Crucible Materials
Dassault
De Nora Deutschland GmbH.
Dynamic Metals Ltd.
EADS
EBX Group
Ed Fagan, Inc.
EDF
Electralloy
Electronic Space Products International (ESPI)
Embraer
Eramet Group
Ethiopian Airlines
Falcon Metals Group
Ferguson Metals
Finmeccanica
Future Metals
G.O. Carlson, Inc.
Gazprom
General Dynamics
General Electric
General Electric Aviation
GMT International
Goodfellow Corporation
Grandis Metals International Corporation
Hawker Beechcraft
Haynes International, Inc.
Hempel Special Metals Group
Hi Performance Alloys
Hi Temp Metals
Hindustan Aeronautics
Hitachi
Honeywell
Horizon Nuclear Power
IBM
Imphy Ugine Precision
Industrial Metals, Inc.
Jaguar Land Rover
Kawasaki
Kobe Steel, LTD.
Ladish
Linde
Luxembourg Company of Metals & Alloys
McMaster-Carr
Metal Supermarkets
Metal Technology Co
Metallurg Group
Metals USA, Inc.
Micron Metals, Inc. - AEE
MIDHANI
Mitsubishi Heavy Industries
Morris Technologies
MTU
National Electronic Alloys
Nike
OBKM Afrikantov
Ocean International
OJSC Power Machines
OKBM Afrikantov
OnlineMetals
Outokumpu
Paramount Wire Co.
Petrobras
Plymouth Tube Company
Pratt & Whitney
Precision Castparts Corporation
Precision Specialty Metals, Inc.
Premium Aerotec
President Titanium
Primis International
Principal Metals
Procter & Gamble
Rapid Quality Manufacturing
Reade Advanced Materials
Reading Alloys, Advanced Engineered Materials
Remmele Engineering
Rio Algom Metals Distribution (RAMD)
Rio Tinto
RMI Titanium
Rockwell Collins
Rolled Alloys
Rollmet
Rolls Royce
R°rhandel
RTI
RTI Advanced Forgings
Schuur Metals, Inc.
Schwarzkopf Technologies Corp.
Scientific Tube, Inc.
Shell
Siemens
Sikorsky
Sky Aviation
SNECMA
Sophisticated Alloys, Inc.
Specialty Steel & Forge
Standard & Poors
Strategic Aerospace Materials
Sudamin
Sukhoi
Sumitomo Metal Industries, Ltd.
Supra Alloys, Inc.
Sure Pure Chem Metals
TATA Group
TATA Steel
TATA Steel Europe
Teuling Staal BV
ThyssenKrupp AG
Tico Titanium, Inc.
Titan Service Center
Titanex GmbH
Titanium Industries
Titanium Metals Corporation (TIMET)
Titanium Mill Products Ltd.
TK VDM
Tomco Energy
Trans World Alloys Inc.
TSI Titanium
TW Metals
Ulbrich Stainless Steel & Specialty Metals, Inc.
Uniform Tubes
Unilever
Unison Engine Components
United Aircraft Corporation
Uniti Titanium
VSMPO (Verkhnaya Salda Metallurgical Production Association)
VSMPO-Avisma
ZAPP Group

GOVERNMENT AGENCIES AND OTHER ORGANISATIONS MENTIONED IN THIS REPORT

CALM (Centre for Additive Layer Manufacturing)
CEA (French nuclear research organisation)
FIFA (Federation Internationale de Football Association)
Gulf Aluminium Council
Reserve Bank of India
Robert Gordon University
Tennessee Valley Authority
UN Security Council
US Department of Energy
US Food and Drug Administration
World Bank
---
---
More Publications