The Waste-to-Energy Market 2013-2023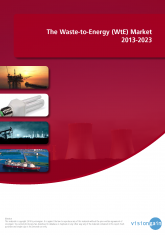 Report Details
Waste-to-energy (WtE) provides a win-win solution to urban consumer societies by effectively processing large municipal solid waste (MSW) volumes, while creating electricity and/or local heating. WtE however is expensive and cannot compete with low-cost landfill without incentives, therefore an increasing amount of governments are offering support to the industry or creating regulations to drive it forward. Challenges such as unsustainable landfilling, methane emissions reduction, growing waste volumes and lack of space are key to driving the growth in new build WtE facilities.
Visiongain has determined that the value of the global waste-to-energy market (MSW conversion to electricity/heat) will reach $7.4bn in 2013.
What makes this report unique?
Visiongain consulted widely with industry experts and transcripts of these exclusive interviews are included in the report. As such, our reports have a unique blend of primary and secondary sources providing informed opinion. The report provides insight into key drivers and restraints behind waste-to-energy project developments, as well as identifying leading companies. The report also provides a unique blend of qualitative analysis combined with extensive quantitative data including global, submarket and national markets forecasts from 2013-2023 - all highlighting key business opportunities.
Why you should buy The Waste-to-Energy Market 2013-2023
139 pages of comprehensive analysis
2 Exclusive Visiongain interviews with experts from-

Covanta Energy Corporation
C&G Environmental Protection Holdings Limited

114 tables, charts, and graphs
Global waste-to-energy market forecasts between 2013-2023
Regional and national waste-to-energy market forecasts between 2013-2023

Europe
UK
Finland
Italy
Poland
Asia Pacific
China
Japan
Korea
North America
US
Canada
Rest of the World (R0W)

22 detailed tables of significant waste-to-energy projects
A PEST analysis of the WtE market
10 leading companies identified and profiled -

B&W Volund
CNIM
Covanta Energy Corporation
C&G Environmental Protection Holdings Limited
China Everbright
Hitachi Zosen Inova
Suez Environnement (SITA)
MARTIN GmbH
Keppel Seghers
Mitsubishi Heavy Industries Environmental & Chemical (MHIEC)
You can order this report today
Gain an understanding of how to tap into the potential of this market by ordering The Waste-to-Energy (WtE) Market 2013-2023
1. EXECUTIVE SUMMARY

1.1 Global Waste-to-Energy Market Overview
1.2 Benefits of This Report
1.3 Who is This Report For?
1.4 Methodology
1.5 The Global Waste-to-Energy Market Forecast 2013-2023
1.6 The Regional & Leading National Waste-to-Energy Market Forecasts 2013-2023

2. INTRODUCTION TO THE WASTE-TO-ENERGY MARKET

2.1 Definition of Waste-to-Energy
2.2 Major trends in the Waste-to-Energy Market
2.3 The Current Waste-to-Energy Market Situation

3. THE GLOBAL WASTE-TO-ENERGY MARKET

3.1 The Global Waste-to-Energy Market Forecast 2013-2023
3.2 Global Waste-to-Energy Market Drivers & Restraints

4. THE LEADING NATIONAL WASTE-TO-ENERGY MARKETS 2013-2023

4.1 The European Waste-to-Energy Market
4.1.1 The UK Waste-to-Energy Market Forecast 2013-2023
4.1.1.1 Drivers and Restraints in the UK Waste-to-Energy Market
4.1.1.2 Major UK Waste-to-Energy Projects
4.1.1.3 Analysis of the UK Waste-to-Energy Market
4.1.2 The Finnish Waste-to-Energy Market Forecast 2013-2023
4.1.2.1 Drivers and Restraints in the Finnish Waste-to-Energy Market
4.1.2.2 Major Finnish Waste-to-Energy Projects
4.1.2.3 Analysis of the Finnish Waste-to-Energy Market
4.1.3 The Italian Waste-to-Energy Market Forecast 2013-2023
4.1.3.1 Drivers and Restraints in the Italian Waste-to-Energy Market
4.1.3.2 Major Italian Waste-to-Energy Projects
4.1.3.3 Analysis of the Italian Waste-to-Energy Market
4.1.4 The Polish Waste-to-Energy Market Forecast 2013-2023
4.1.4.1 Drivers and Restraints in the Polish Waste-to-Energy Market
4.1.4.2 Major Polish Waste-to-Energy Projects
4.1.4.3 Analysis of the Polish Waste-to-Energy Market
4.1.5 The Rest of Europe Waste-to-Energy Market Forecast 2013-2023
4.1.5.1 The Rest of Europe Waste-to-Energy Facilities and Projects
4.2 The Asia Pacific Waste-to-Energy Market
4.2.1 The Chinese Waste-to-Energy Market Forecast 2013-2023
4.2.1.1 Drivers and Restraints in the Chinese Waste-to-Energy Market
4.2.1.2 Major Chinese Waste-to-Energy Projects
4.2.1.3 Analysis of the Chinese Waste-to-Energy Market
4.2.2 The Japanese Waste-to-Energy Market Forecast 2013-2023
4.2.2.1 Drivers and Restraints in the Japanese Waste-to-Energy Market
4.2.2.2 Major Japanese Waste-to-Energy Projects
4.2.2.3 Analysis of the Japanese Waste-to-Energy Market
4.2.3 The Korean Waste-to-Energy Market Forecast 2013-2023
4.2.3.1 Drivers and Restraints in the Korean Waste-to-Energy Market
4.2.3.2 Major Korean Waste-to-Energy Projects
4.2.3.3 Analysis of the Korean Waste-to-Energy Market
4.2.4 The Rest of Asia Pacific Waste-to-Energy Market Forecast 2013-2023
4.2.4.1 Rest of Asia Pacific Waste-to-Energy Facilities and Upcoming Projects
4.2.4.2 Analysis Rest of Asia Pacific Waste-to-Energy Market
4.3 The North American Waste-to-Energy Market
4.3.1 The US Waste-to-Energy Market Forecast 2013-2023
4.3.1.1 Drivers and Restraints in the US Waste-to-Energy Market
4.3.1.2 Major US Waste-to-Energy Projects
4.3.1.3 Analysis of the US Waste-to-Energy Market
4.3.2 The Canadian Waste-to-Energy Market Forecast 2013-2023
4.3.2.1 Drivers and Restraints in the Canadian Waste-to-Energy Market
4.3.2.2 Major Canadian Waste-to-Energy Projects
4.3.2.3 Analysis of the Canadian Waste-to-Energy Market
4.4 The Rest of the World Waste-to-Energy Market Forecast 2013-2023
4.4.1 Waste-to-Energy Projects in the Rest of the World
4.4.2 Analysis of the Rest of the World Waste-to-Energy Market

5. PEST ANALYSIS OF THE WASTE-TO-ENERGY MARKET 2013-2023

6. EXPERT OPINION

6.1 Covanta Energy Corporation
6.1.1 The Status of the US Waste-to-Energy Market
6.1.2 Policy Remains a Pivotal Issue in the Waste-to-Energy Market
6.1.3 Barriers to Entry to the Chinese Waste-to-Energy Market
6.1.4 Covanta's Future Developments
6.1.5 The Growing Importance of Technology in Waste-to-Energy
6.1.6 Waste-to-Energy as a Renewable Power Source
6.1.7 Improving the Public Image of Waste-to-Energy
6.2 C&G Environmental Protection Holdings Limited
6.2.1 Waste-to-Energy Growth Opportunities in China and South East Asia
6.2.2 Strong Incentives from the Chinese Government
6.2.3 The Competitive Landscape in the Chinese Waste-to-Energy Market
6.2.4 Drivers of Waste-to-Energy in Asia
6.2.5 C&G's Latest Project Developments
6.2.6 Major Waste-to-Energy Growth Markets Outside of Asia
6.2.7 Build-Operate-Transfer versus Design-Build-Operate
6.2.8 The Environmental Impact of Chinese Waste-to-Energy Facilities
6.2.9 Coping with Increasingly Stringent Emissions Standards
6.2.10 Potential of the Chinese Waste-to-Energy Market

7. LEADING COMPANIES IN THE WASTE-TO-ENERGY MARKET

7.1 Babcock & Wilcox Vшlund A/S
7.1.1 Babcock & Wilcox Vшlund Analysis
7.1.2 Babcock & Wilcox Vшlund Regional Focus
7.1.3 Future Outlook
7.2 C&G Environmental Protection Holdings Limited
7.2.1 C&G Environmental Protection Holdings Limited Analysis
7.2.2 C&G Environmental Protection Holdings Limited Regional Focus
7.2.3 Future Outlook
7.3 China Everbright International Limited
7.3.1 China Everbright International Limited Analysis
7.3.2 China Everbright International Limited Regional Focus
7.3.3 Future Outlook
7.4 CNIM
7.4.1 CNIM Analysis
7.4.2 CNIM Regional Focus
7.4.3 Future Outlook
7.5 Covanta Energy Corporation
7.5.1 Covanta Energy Analysis
7.5.2 Covanta Energy Regional Focus
7.5.3 Future Outlook
7.6 Hitachi Zosen Inova AG
7.6.1 Hitachi Zosen Inova Analysis
7.6.2 Hitachi Zosen Inova Regional Focus
7.6.3 Future Outlook
7.7 Keppel Seghers
7.7.1 Keppel Seghers Analysis
7.7.2 Keppel Seghers Regional Focus
7.7.3 Future Outlook
7.8 MARTIN GmbH
7.8.1 MARTIN GmbH Analysis
7.8.2 MARTIN GmbH Regional Focus
7.8.3 Future Outlook
7.9 Mitsubishi Heavy Industries Environmental & Chemical (MHIEC)
7.9.1 Mitsubishi Heavy Industries Environmental & Chemical Analysis
7.9.2 Mitsubishi Heavy Industries Environmental & Chemical Regional Focus
7.9.3 Future Outlook
7.10 Suez Environnement (SITA)
7.10.1 Suez Environnement Analysis
7.10.2 Suez Environnement Regional Focus
7.10.3 Future Outlook
7.11 Other Leading Companies in the Waste-to-Energy Market

8. CONCLUSIONS

8.1 The Global Waste-to-Energy Market Outlook
8.2 Regional & Leading National Waste-to-Energy Market Forecasts 2013-2023
8.3 Concluding Observations of the Waste-to-Energy Market

9. GLOSSARY


LIST OF TABLES

Table 1.1 Regional & Leading National Waste-to-Energy Market Forecasts Summary 2013, 2018, 2023 ($m, CAGR %)
Table 2.1 Sources of Municipal Solid Waste
Table 2.2 Installed WtE Capacity and Produced MSW in Leading Waste-to-Energy Markets (million tonnes/annum, %)
Table 3.1 Global Waste-to-Energy Market Forecast 2013-2023 ($m, AGR %, CAGR %, Cumulative)
Table 3.2 Global Waste-to-Energy Market Drivers & Restraints
Table 4.1 Regional & Leading National Waste-to-Energy Market Forecasts 2013-2023 ($m, AGR %)
Table 4.2 European Waste-to-Energy Market Forecast 2013-2023 ($m, AGR %, CAGR %, Cumulative)
Table 4.3 UK Waste-to-Energy Market Forecast 2013-2023 ($m, AGR %, CAGR %, Cumulative)
Table 4.4 UK WtE Projects (Company, Capacity, Investment, Completion Year)
Table 4.5 Key UK WtE Statistics (Population, MSW/year, Incineration rate, Landfill rate Recycling rate, WtE Facilities, WtE Capacity, New Plants)
Table 4.6 Finnish Waste-to-Energy Market Forecast 2013-2023 ($m, AGR %, CAGR %, Cumulative)
Table 4.7 Finnish WtE Projects (Company, Capacity, Investment, Completion Year)
Table 4.8 Key Finnish WtE Statistics (Population, MSW/year, Incineration rate, Landfill rate Recycling rate, WtE Facilities, WtE Capacity, New Plants)
Table 4.9 Italian Waste-to-Energy Market Forecast 2013-2023 ($m, AGR %, CAGR %, Cumulative)
Table 4.10 Italian WtE Projects (Company, Capacity, Investment, Completion Year)
Table 4.11 Key Italian WtE Statistics (Population, MSW/year, Incineration rate, Landfill rate Recycling rate, WtE Facilities, WtE Capacity, New Plants)
Table 4.12 Polish Waste-to-Energy Market Forecast 2013-2023 ($m, AGR %, CAGR %, Cumulative)
Table 4.13 Polish WtE Projects (Company, Capacity, Investment, Completion Year)
Table 4.14 Key Polish WtE Statistics (Population, MSW/year, Incineration rate, Landfill rate Recycling rate, WtE Facilities, WtE Capacity, New Plants)
Table 4.15 Rest of Europe Waste-to-Energy Market Forecast 2013-2023 ($m, AGR %, CAGR %, Cumulative)
Table 4.16 Rest of Europe Current and Future WtE Facilities by Country
Table 4.17 Asia Pacific Waste-to-Energy Market Forecast 2013-2023 ($m, AGR %, CAGR %, Cumulative)
Table 4.18 Chinese Waste-to-Energy Market Forecast 2013-2023 ($m, AGR %, CAGR %, Cumulative)
Table 4.19 Chinese Waste-to-Energy Projects (Company, Capacity, Investment, Completion Year)
Table 4.20 Key Chinese WtE Statistics (Population, MSW/year, Incineration rate, Landfill rate Recycling rate, WtE Facilities, WtE Capacity, New Plants)
Table 4.21 Japanese Waste-to-Energy Market Forecast 2013-2023 ($m, AGR %, CAGR %, Cumulative)
Table 4.22 Japanese WtE Projects (Company, Capacity, Investment, Completion Year)
Table 4.23 Key Japanese WtE Statistics (Population, MSW/year, Incineration rate, Landfill rate Recycling rate, WtE Facilities, WtE Capacity, New Plants)
Table 4.24 Korean Waste-to-Energy Market Forecast 2013-2023 ($m AGR %, CAGR %, Cumulative)
Table 4.25 Korean WtE Projects (Company, Capacity, Investment, Completion Year)
Table 4.26 Key Korean WtE Statistics (Population, MSW/year, Incineration rate, Landfill rate Recycling rate, WtE Facilities, WtE Capacity, New Plants)
Table 4.27 Rest of Asia Pacific Waste-to-Energy Market Forecast 2013-2023 ($m, AGR %, CAGR %, Cumulative)
Table 4.28 Current & New WtE Facilities in the Rest of the Asia Pacific by Country
Table 4.29 North American Waste-to-Energy Market Forecast 2013-2023 ($m, AGR %, CAGR %, Cumulative)
Table 4.30 The US Waste-to-Energy Market Forecast 2013-2023 ($m, AGR %, CAGR %, Cumulative)
Table 4.31 US WtE Projects (Company, Capacity, Investment, Completion Year)
Table 4.32 Key US WtE Statistics (Population, MSW/year, Incineration rate, Landfill rate Recycling rate, WtE Facilities, WtE Capacity, New Plants)
Table 4.33 Canadian Waste-to-Energy Market Forecast 2013-2023 ($m, AGR %, CAGR %, Cumulative)
Table 4.34 Canadian Waste-to-Energy Projects (Company, Capacity, Investment, Completion Year)
Table 4.35 Key Canadian WtE Statistics (Population, MSW/year, Incineration rate, Landfill rate Recycling rate, WtE Facilities, WtE Capacity, New Plants)
Table 4.36 Rest of the World Waste-to-Energy Market Forecast 2013-2023 ($m, AGR %, CAGR %, Cumulative)
Table 4.37 Major WtE Projects in the Rest of the World (Company, Country, Capacity, Investment, completion Year)
Table 7.1 The Leading Waste-to-Energy Companies 2013 (Market Ranking, Market Share %)
Table 7.2 Babcock & Wilcox Vшlund Overview (Total Revenue 2011, 2013 Global Market Share %, 2013 Market Rank, HQ, Employees, Website)
Table 7.3 Babcock & Wilcox Vшlund Waste-to-Energy Projects (Project, Country, Capacity, Cost, Completion Year)
Table 7.4 Babcock & Wilcox Vшlund Company Divisions & Capabilities
Table 7.5 C&G Environmental Protection Overview (Total Revenue 2012, 2013 Global Market Share %, 2013 Market Rank, HQ, Employees, Ticker, Contact, Website)
Table 7.6 C&G Environmental Protection Waste-to-Energy Projects (Project, Country, Capacity, Cost Completion Year)
Table 7.7 China Everbright Overview (Total Revenue 2012, % Revenue from WtE, 2013 Global Market Share %, 2013 Market Rank, HQ, Employees, Ticker, Website)
Table 7.8 China Everbright Waste-to-Energy Projects (Project, Country, Capacity, Cost, Completion Year)
Table 7.9 China Everbright Company Divisions & Capabilities
Table 7.10 CNIM Overview (Total Revenue, Revenue from Market, % Revenue From Market, Global Market Share %, 2013 Market Rank, HQ, Ticker, Website)
Table 7.11 CNIM Waste-to-Energy Projects (Project, Country, Capacity, Cost, Completion Year)
Table 7.12 CNIM Company Divisions & Capabilities
Table 7.13 Covanta Energy Corporation Overview (Total Revenue 2012, 2013 Global Market Share %, 2013 Market Rank, HQ, Employees, Ticker, Contact, Website)
Table 7.14 Covanta Energy Corporation Waste-to-Energy Projects (Project, Country, Capacity, Cost, Completion Year)
Table 7.15 Hitachi Zosen Inova Overview (Total Revenue, 2013 Global Market Share %, 2013 Market Rank, HQ, Employees, Website)
Table 7.16 Hitachi Zosen Inova Waste-to-Energy Projects (Project, Country, Capacity, Cost Completion Year)
Table 7.17 Keppel Seghers Overview (Total Revenue, % Revenue from Infrastructure Division, 2013 Global Market Share %, 2013 Market Rank, Employees, HQ, Ticker, Website)
Table 7.18 Keppel Seghers Waste-to-Energy Projects (Project, Country, Capacity, Cost, completion year)
Table 7.19 Keppel Seghers Company Divisions & Capabilities
Table 7.20 MARTIN Overview (Total Revenue, 2013 Global Market Share %, 2013 Market Rank, HQ, Employees, Website)
Table 7.21 Projects using MARTIN Technology from 2012 (Project, Country, Capacity, Thermal Capacity, Completion Year)
Table 7.22 Mitsubishi Heavy Industries Environmental & Chemical (Total Revenue, 2013 Global Market Share %, 2013 Market Rank, HQ, Employees, Ticker, Website)
Figure 7.23 Mitsubishi Heavy Industries Environmental & Chemical Waste-to-Energy Projects (Project, Country, Capacity, Cost, Completion Year)
Table 7.24 Mitsubishi Heavy Industries Environmental & Chemical Divisions & Capabilities
Table 7.25 Suez Environnement Overview (Total Revenue, % Revenue From Waste Market, Global Market Share %, 2013 Market Rank, HQ, Employees, Ticker, Website)
Table 7.26 Suez Environnement Waste-to-Energy Projects (Project, Country, Capacity, Cost, Completion Year)
Table 7.27 Other Leading Companies in the Waste-to-Energy Market (Company, Activity)
Table 8.1 Regional & Leading National Waste-to-Energy Market Forecasts Summary 2013, 2018, 2023 ($m), 2013-2023 CAGR (%)


LIST OF FIGURES

Figure 2.1 Breakdown of Typical US MSW Content (%)
Figure 2.2 Waste-to-Energy Capacity by Country End 2012 (million tonnes/annum)
Figure 2.3 Number of Waste-to-Energy Plants by Country End 2012
Figure 3.1 Global Waste-to-Energy Market Forecast 2013-2023 ($m, AGR %)
Figure 3.2 Regional Waste-to-Energy Market Forecast 2013-2023 ($m)
Figure 4.1 Leading National Waste-to-Energy Markets Forecast 2013-2023 ($m)
Figure 4.2 Leading National Waste-to-Energy Markets Share Forecast 2013 (%)
Figure 4.3 Leading National Waste-to-Energy Markets Share Forecast 2018 (%)
Figure 4.4 Leading National Waste-to-Energy Markets Share Forecast 2023 (%)
Figure 4.5 European Waste-to-Energy Market Forecast 2013-2023 ($bn, AGR %)
Figure 4.6 UK Waste-to-Energy Market Forecast 2013-2023 ($m, AGR %)
Figure 4.7 UK Waste-to-Energy Market Share Forecast 2013, 2018 and 2023 (% Share)
Figure 4.8 UK Cumulative Waste-to-Energy Facilities & Capacity 1995-2016 (Number, tonnes/year)
Figure 4.9 Finnish Waste-to-Energy Market Forecast 2013-2023 ($m, AGR %)
Figure 4.10 Finnish Waste-to-Energy Market Share Forecast 2013, 2018 and 2023 (% Share)
Figure 4.11 Finnish Cumulative Waste-to-Energy Facilities & Capacity 2009-2014 (Number, tonnes/year)
Figure 4.12 Italian Waste-to-Energy Market Forecast 2013-2023 ($m, AGR %)
Figure 4.13 Italian Waste-to-Energy Market Share Forecast 2013, 2018 and 2023 (% Share)
Figure 4.14 Italian Cumulative Waste-to-Energy Facilities & Capacity 1995-2016 (Number, tonnes/year)
Figure 4.15 Polish Waste-to-Energy Market Forecast 2013-2023 ($m, AGR %)
Figure 4.16 Polish Waste-to-Energy Market Share Forecast 2013, 2018 and 2023 (% Share)
Figure 4.17 Rest of Europe Waste-to-Energy Market Forecast 2013-2023 ($m, AGR %)
Figure 4.18 Rest of Europe, Poland, Italy, Finland and UK Waste-to-Energy Markets Forecast 2013-2023 ($m)
Figure 4.19 Asia Pacific Waste-to-Energy Market Forecast 2013-2023 ($m, AGR %)
Figure 4.20 Chinese Waste-to-Energy Market Forecast 2013-2023 ($m, AGR %)
Figure 4.21 Chinese Waste-to-Energy Market Share Forecast 2013, 2018 and 2023 (% Share)
Figure 4.22 Chinese Cumulative Waste-to-Energy Facilities & Capacity 2002-2015 (Number, tonnes/year)
Figure 4.23 Japanese Waste-to-Energy Market Forecast 2013-2023 ($m, AGR %)
Figure 4.24 Japanese Waste-to-Energy Market Share Forecast 2013, 2018 and 2023 (% Share)
Figure 4.25 Japanese Cumulative Waste-to-Energy Facilities & Capacity 1990-2016 (Number, tonnes/year)
Figure 4.26 Korean Waste-to-Energy Market Forecast 2013-2023 ($m, AGR %)
Figure 4.27 Korean Waste-to-Energy Market Share Forecast 2013, 2018 and 2023 (% Share)
Figure 4.28 Korean Cumulative Waste-to-Energy Facilities & Capacity 1995-2013 (Number, tonnes/year)
Figure 4.29 Rest of Asia Pacific Waste-to-Energy Market Forecast 2013-2023 ($m, AGR %)
Figure 4.30 North American Waste-to-Energy Market Forecast 2013-2023 ($m, AGR %)
Figure 4.31 The US Waste-to-Energy Market Forecast 2013-2023 ($m, AGR %)
Figure 4.32 The US Waste-to-Energy Market Share Forecast 2013, 2018 and 2023 (% Share)
Figure 4.33 US Cumulative Waste-to-Energy Facilities & Capacity 1985-2016 (Number, tonnes/year)
Figure 4.34 Canadian Waste-to-Energy Market Forecast 2013-2023 ($m, AGR %)
Figure 4.35 Canadian Waste-to-Energy Market Share Forecast 2013, 2018 and 2023 (% Share)
Figure 4.36 Canadian Waste-to-Energy Facilities & Capacity 1974-2016 (Number, tonnes/year)
Figure 4.37 Rest of the World Waste-to-Energy Market Forecast 2013-2023 ($m, AGR %)
Figure 7.1 Leading Companies in Waste-to-Energy 2013 Market Share (% share)
Figure 8.1 Regional Waste-to-Energy Market Forecast ($m) & AGR (%) 2013-2023

COMPANIES LISTED

Alpina Energy
AmeyCespa
Anqing Wanneng Zhongke Green Power
Babcock & Wilcox Power Generation Group, Inc
Babcock & Wilcox Vшlund A/S (B&W)
Balfour Beatty
C&G Environmental Protection Holdings Limited
China Everbright International Limited
Chongoing Sanfeng Environmental Industry Group Co. Ltd. (CSEG)
Chongqing Sanfeng Covanta
CNIM
Coopsette
Cory Environment
Covanta Energy Corporation
E.ON
E.ON Energy from Waste
Eco Center
EDF
Ekokem
Energos
EZO
Fisia Babcock Environment
Fortum
Greenlight Energy Solutions
Hera DGI
Hitachi Zosen Corporation
Hitachi Zosen Inova
International Electric Power
Jindal ITF
KARA/NOVEREN
Keppel Corporation
Keppel Integrated Engineering
Keppel Seghers
Linhai Weiming Environment Protection and Energy Co. Ltd.
MARTIN GmbH
MBC Contractors
Mercia EnviRecover
Mitsubishi Heavy Industries
Mitsubishi Heavy Industries Environmental & Chemical (MHIEC)
Mizuda
Nesher
Onyx Ta-Ho Environmental Services
Peel Environment
Pennine Resource Recovery
Pertamina
Plasco Energy Group
SITA
Spencer Group
Suez Environnement
Tamiz Shahar
Taizhou Wanna Environmental Protection and Energy Co. Ltd.
Taqa
TIRU
TRM
Urbaser
Vaanta Energia
Veolia Environmental Services
Veolia Environnement
Viridor
Waste Recycling Group (WRG)
Westenergy
Wheelabrator Technologies
Wuhan Shenneng Environmental Engineering Xingou MSW Power Generation Co. Ltd
Zhejiang Weiming Environmental Protection Co. Ltd.

GOVERNMENT AGENCIES AND OTHER ORGANISATIONS MENTIONED IN THIS REPORT

Bank of China
Clean Association of Tokyo23
Dan Municipal Sanitation Association
Environmental Protection Agency (EPA)
European Union (EU)
Eurostat
Monash University
Singapore Institute of Directors
State Communal Enterprise Koktem


---
---
More Publications