Production and Market of Turpentine in China(2007 edition)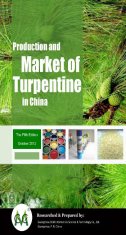 Turpentine hot topic:
In December 2011, State Administration for Quality Supervision and Inspection and Quarantine, along with the general Administration of Customs of China published an announcement about adjusting the category of goods needed inspection and quarantine before import or export by modifying the regulatory conditions. The announcement was about to put into practice on 1 Jan, 2012. Among the goods, gum turpentine was one of them, which meant only getting the guarantee or report from national specified department after inspecting and quarantining could gum turpentine be imported or exported.
In export, Japan and Mexico were no longer the major export destinations of China in the last two years. While in import, Indonesia took up more shares. Behind the changes, price is a decisive factor. However, political relation is also an important one. On one hand, the conflict over Diaoyu Island hampered the trade. Diminishing the trade volume in GT is just one of the outcomes. On contrary, benefited from the establishment of Association of Southeast Asian Nations, preferential tariff is applied among member countries, which created price advantages for trade partners, like Indonesia. Definitely, the superior quality of Indonesia GT is also a reason for the attraction, but it is still clear that political situation plays an important role.
On 3rd Sept. 2014, gum turpentine was officially listed in Bohai Commodity Exchange, creating a platform of electric business for the involvers and facilitating transactions. Such platform meant a lot. For example, information released more immediately, helping producers to sell goods and reducing the stocks. Additionally, transparent information guaranteed justice in negotiation, dispute processing and other aspects. As the equal party, companies could enjoyed the equivalent treatment no matter how differed in scale, which ensuring the price to be reasonable. Nevertheless, since the platform was young, the regulations in monitoring and management were immature. There were some places needed improved.
Background:
Guaranteed by the abundant pine resources, China is the largest producer of gum turpentine in the world with the contribution rate of about 40%. Chinese gum turpentine industry enjoys great influence in the world .However, in recent years, China's gum turpentine fluctuated, like the situation of import and export that Japan and Mexico were no longer the major destination, and as for production in 2013, it had reduced by 40% compared with 2012. In order to predict the tendency of gum turpentine, it is necessary to tidy up the data in a scientific way in recent years. Analyzing not only domestically but combining foreign aspects is also vital. Only from multi measures, that the future of GT could be portrayed.
What to report:
This report can generally divides into three parts. The first two parts introduced the GT and the CST elaborately from production, price, import and export, as well as consumption. In recent five years, the GT experienced great fluctuation, which resulted from domestically macroeconomic factors, extreme weather, RMB appreciation and so on. Comprehensive explanations came after each unit to make a deeper study of GT. In the third part, there are comparisons between GT and CST. Even though GT dominated the market, CST still deserved our expectation along with the increasing attention towards technology innovations and environmental protection.
Forecast: The GT will enjoy stable development supported by rigid demand.
1 GUM TURPENTINE (GT)

1.1 Brief introduction
1.2 Production
1.3 Governmental policy and its influence
1.4 GT price
1.4.1 Influencing factors of price
1.4.2 Price in 2008-2013
1.4.3 Price in 2014
1.5 Import & export in 2010-H1 2014
1.5.1 Import
1.5.2 Export
1.6 Consumption situation of GT in China
1.6.1 Consumption pattern
1.6.2 Introduction of key end use
1.6.2.1 Pharmaceuticals
1.6.2.2 Solvent & cleaner
1.6.2.3 Others
1.6.3 Introduction of key derivatives
1.6.3.1 Pinene
1.6.3.2 Synthetic camphor
1.6.3.3 Synthetic borneol
1.6.3.4 Terpineol
1.6.3.5 Terpene resin
1.6.3.6 Synthetic perfume
1.6.3.7 Camphene
1.6.3.8 Bioactive compounds
1.7 Future forecast
1.7.1 Drivers and restraints
1.7.2 Outlook of GT in the future

2 CRUDE SULPHATE TURPENTINE (CST)

2.1 Production
2.1.1 Information before 2010
2.1.2 Information after 2010
2.2 Price
2.3 Import & export
2.4 Consumption
2.4.1 Direct application
2.4.2 Derivatives
2.5 Future forecast
2.5.1 Drivers and restraints
2.5.2 Outlook of CST in the next ten years

3 COMPARISON BETWEEN GT AND CST

3.1 Comparison of turpentine availability between GT and CST
3.2 Analysis on GT and CST
3.3 Suggestion for purchasing in China

4 CONCLUSION


LIST OF TABLES

Table 1.1-1 Technical specifications of different grades of GT (National Standard: GB/T 12901-91)
Table 1.1-2 Composition of various kinds of super-grade gum turpentine in China
Table 1.1-3 Composition of heavy-grade GT in China
Table 1.2-1 Number of gum turpentine producers in different regions of China, 2002-H1 2014
Table 1.2-2 Output distribution of gum turpentine in China, 2005-2013, tonne
Table 1.2-3 Active producers of gum turpentine with capacities of over 1,000 t/a in China, 2012 and 2013
Table 1.5-1 Import & export of gum turpentine (HS code 38051000) in China, 2000-H1 2014
Table 1.5.2-1 Export destinations of gum turpentine in China, 2009-2011
Table 1.5.2-2 Export destinations of gum turpentine in China, 2012-July 2014
Table 1.6.1-1 Consumption pattern of gum turpentine in China before 2000
Table 1.6.1-2 Consumption pattern of gum turpentine in China, 2006-2013
Table 1.6.3-1 Development history of GT's derivatives in China
Table 1.6.3-2 Comparison on components of turpentine in the world
Table 1.6.3.1-1 List of major 30 pinene producers in China, 2013
Table 1.6.3.2-1 Active synthetic camphor producers in China, 2013
Table 1.6.3.3-1 Major synthetic borneol producers in China, 2013
Table 1.6.3.4-1 List of major terpineol producers in China, 2013
Table 1.6.3.5-1 Comparison of α-terpene resin and β-terpene resin
Table 1.6.3.5-2 List of some major producers of terpene resin in China, 2013
Table 1.6.3.6-1 Major producers of synthetic perfume in China, 2012
Table 1.6.3.7-1 List of major producers of camphene in China, 2013
Table 2.1.1-1 CST and GT production in the world, 1996, tonne
Table 2.1.1-2 Comparison of main constituents of CST from China and the US
Table 2.1.1-3 CST producers in China, 2002
Table 2.1.2-1 Previous pulp producers who don't produce CST in 2012
Table 2.1.2-2 CST producers in China, H1 2014
Table 2.1.2-3 Capacity and output distribution of CST in China by region, as of 2013
Table 2.4-1 Consumption pattern of CST in China, 2013
Table 3.2-1 Comparison between GT and CST


LIST OF FIGURES

Figure 1.2-1 Output of GT in China, 2004-2013
Figure 1.4.2-1 Annual average market price of gum turpentine in China, 2008-2013
Figure 1.4.2-2 Market price of PE-based gum turpentine in China, Feb. 2009-Dec. 2013
Figure 1.4.2-3 Market price of PM-based gum turpentine in China, Feb. 2009-Dec. 2013
Figure 1.4.2-4 Market price of PKVL-based gum turpentine in Yunnan Province, Feb. 2009-Dec. 2013
Figure 1.4.3-1 Market price of PM-based gum turpentine in China, Jan. 2014-Aug. 2014
Figure 1.4.3-2 Market price of PE-based gum turpentine in China, Jan. 2014-Aug. 2014
Figure 1.4.3-3 Market price of PKVL-based gum turpentine in Yunnan Province, Jan. 2014- Aug. 2014
Figure 1.5.1-1 Monthly import volume of gum turpentine in China, 2010-2013, tonne
Figure 1.5.1-2 Monthly import volume of gum turpentine in China, H1 2014, tonne
Figure 1.5.1-3 Monthly import price of gum turpentine in China, 2010-H1 2014, USD/t
Figure 1.5.2-1 Monthly export volume of gum turpentine in China, 2010-H1 2014, tonne
Figure 1.5.2-2 Monthly export price of gum turpentine in China, 2010-H1 2014, USD/t
Figure 1.6.1-1 Consumption of gum turpentine in China, 2005-2013
Figure 1.6.1-2 Consumption situation of gum turpentine in China
Figure 1.6.3-1 Diagram of GT derivatives
Figure 1.6.3.1-1 Market price of pinene in China, Jan. 2013-July 2014
Figure 1.6.3.1-2 The export volume and price of pinene in China, 2011-2013
Figure 1.6.3.2-1 Basic flow chart to make synthetic camphor
Figure 1.6.3.2-2 The export volume and price of synthetic camphor in China, 2011-2013
Figure 1.6.3.3-1 Basic flow chart to make synthetic borneol
Figure 1.6.3.3-2 The export volume and price of synthetic borneol in China, 2011-2013
Figure 1.6.3.4-1 The export volume and price of terpineol in China, 2011-2013
Figure 1.6.3.6-1 Production methods to synthesize dihydromyrcenol
Figure 1.6.3.7-1 Process flow of camphene
Figure 1.7.2-1 Forecast on output of gum turpentine in China, 2014-2018
Figure 1.7.2-2 Forecast on export volume of gum turpentine in China, 2014-2018
Figure 1.7.2-3 Forecast on consumption of gum turpentine in China, 2014-2018
Figure 2.4-1 Consumption volume of CST in China, 2005-2013
---
---
More Publications