Increase in Farm Machinery Production Needed in Thailand
21 Apr 2011 • by Natalie Aster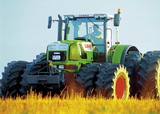 LONDON – Mechanization plays a very important role in the present agricultural production of Thailand, mostly due to labour shortage and necessity to reduce production cost. Therefore, Thai government started the first National Economic and Social Development Plan (NESP) in 1961. During 1997-2001, the general objective of developing the agriculture sector was to improve the capacity in agricultural production by promoting the replacement of human labour with agricultural machineries. Undoubtedly, the demand for farm machinery in Thailand is going to remarkably increase during next ten years.
However, the needs differ from region to region. Sophisticated control-intensive machines such as harvesters, transplanters, planters and powered sprayers will be highly needed by farmers in more progressive regions such as the central plain and the lower part of the north. At the same time labour intensive machines such as single axle two-wheel tractors, water pumps and manual operated sprayers will keep expanding in the north and northeast.
Agricultural equipment used in Thailand is produced locally, which is, however, not standardized in quality, efficiency and durability. Therefore Thailand is still dependent on import supplies of farm machinery. Agricultural machinery imports in Thailand increased more than twice within the last few years, major countries-suppliers being Japan and China (85% total). This trend is most likely to continue in the near future.
While importing modern equipment for agricultural use, Thailand has also increased its exports. Over the last period export deliveries increased 80% and achieved US$69.3 millions, with the top categories being tractors and combine harvester-threshers. Thailand exports agricultural machinery to neighboring countries Lao, Cambodia, Myanmar.
Thailand GDP is worth 261 billion dollars or 0.42% of the world economy, with the agricultural sector accounting for 12.3% of total GDP. On the whole, well-developed infrastructure, a free-enterprise economy, and pro-investment policies have made Thailand one of East Asia's best performers.
More information on farm machinery market in Thailand may be found in the report Farm Machinery Market in Thailand: Business Report 2011 recently published by The Market Publishers, Ltd.
Contacts
The Market Publishers, Ltd.
Mrs. Alla Martin
Tel: +44 208 123 2220
Fax: +44 207 900 3970