Global FLNG (Floating LNG) Development and Outlook to 2015 - The new investment Destination
04 Apr 2011 • by Natalie Aster

The global FLNG industry is expected to witness strong growth in the future. As the demand for natural gas is growing across the globe, companies are investing heavily in the industry. From hundreds of millions, investments are expected to rise to tens of billions in the next five to six years.
To ensure that the LNG companies don't fall behind in the race to invest in FLNG and to ensure that their investments are diverted to right locations, LNGreports have come up with a brand new report "Global FLNG (Floating LNG) Development and Outlook to 2015- The new investment Destination". In addition to introducing you to different technologies, different FLNG facilities and components, the report allows you to identify the prospects of market through planned investments and capacity outlooks. The report enables you to identify key markets, companies, technologies and facilities being used in global and regional FLNG industry. The report is designed in a user friendly style and assumes the reader doesn't have a prior knowledge of FLNG technologies and concepts.
Report Details:
Global FLNG (Floating LNG) Development and Outlook to 2015- The new investment Destination
Published: January 2011
Pages: 165
Price: US$ 3,000.00
Report Sample Abstract:
Floating Liquefied Natural Gas (FLNG) business is growing at a rapid growth since 2005 and has now emerged as one of the leading investment destinations for most of the oil and gas companies. Building on its strategic advantages of low cost, low price and ability to capitalize stranded reserves, most companies and countries are opting for FLNG.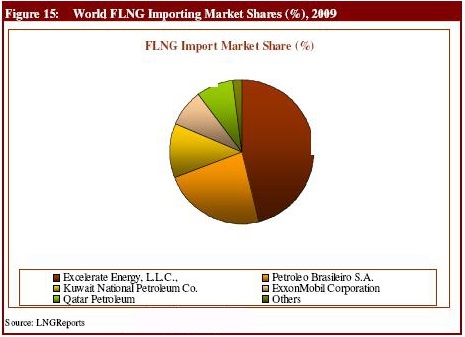 Exploration and Production
Exploration and production (E&P) is the first step of FLNG value chain. E&P activity ranges from ideation of natural gas resources availability (prospect generation) to capital mobilization to support drilling and field development to ultimate production. Initially, seismic surveys are conducted to identify geological structures by relying on reflective properties of sound waves. Once a promising geological structure has been identified, these blocks are drilled to confirm the presence of hydrocarbons. When exploratory drilling is successful, more wells are drilled to determine the size and the extent of the field, which is followed by appraisal process. The appraisal stage aims to evaluate the size and nature of the reservoir, to determine the number of confirming or appraisal wells required, and whether any further seismic work is necessary. Once the exploration process is completed, the field will be ready for production.
Mooring Systems
Mooring systems are used to fasten FLNG vessels to a fixed object like a pier, quay or seabed, or to a floating object like anchor buoy to facilitate loading and offloading of LNG. Mooring is often accomplished using thick ropes called mooring lines or hawsers. It is also accomplished by fastening the vessel to a fixed turret.
Listed below are the different types of mooring systems currently being used in the industry:
Spread Mooring;
Tower Yoke Mooring;
Double Point Mooring;
Conventional Buoy Mooring;
Internal Turret Mooring;
External Turret Mooring;
Disconnectable Turret Mooring.
Golar LNG Limited
Golar LNG Limited is one of the largest independent owners and operators of LNG carriers in the world. The company performs LNG tanker to FLNG terminal conversion operation. To date, the company has converted four LNG tankers- Golar Spirit, Golar Winter, Golar Freeze and Golar Frost. However, the company has 50% ownership in only one planned FLNG terminal in the US. Liberty LNG is scheduled for operation in 2011 and will have an equity weighted capacity of 12.4 Bcm.
More information can be found in the report "Global FLNG (Floating LNG) Development and Outlook to 2015- The new investment Destination" by LNGreports.
To order the report or ask for sample pages contact ps@marketpublishers.com
CONTACTS
The Market Publishers, Ltd.
Mrs. Alla Martin
Tel: +44 208 144 6009
Fax: +44 207 900 3970
ps@marketpublishers.com
www.marketpublishers.com