Drug in Focus: Remifentanil
28 Mar 2011 • by Natalie Aster
The following data is extracted from GenericsWeb Pipeline Patent Intelligence and is intended to give a brief outline of factors affecting the potential launch of generic equivalents of Remifentanil, a GSK/Abbott opioid analgesic.
You can find the available report in the core version (7 country coverage), or in its extended version (44 country coverage). To have the report with full details, please refer to the corresponding Pipeline Developer report.
General information
An analysis of the currently marketed products containing Remifentanil shows that Remifentanil is currently available as a lyophilised powder for intravenous (IV) administration following reconstitution and dilution.
Figure 1: General Information table for Remifentanil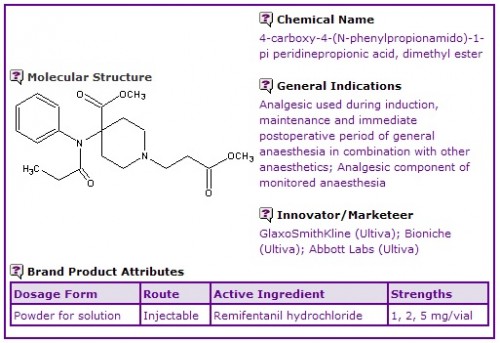 INN Constraint Comment
At the time of publication, the most constraining patent family preventing the launch of generics in certain countries is the first API family - US31131189A (15/02/1989). Patents in this family have lapsed in Canada, Hungary and both the Czech and Slovak Republics, and have expired after their normal terms in Greece, Latvia, Mexico, New Zealand and Portugal where generic opportunities may therefore exist. The US equivalent had benefited from an s156 patent term extension plus an additional 6 months paediatric extension however this extended patent expired in January 2011.
API patent protection is still valid in most western European countries, where SPC protection lasts until May 2011 and therefore prevents generic entry, however it should be noted that in Spain the European patent is limited to process claims. Also, a s70 patent term extension in Australia prevents generic entry there until May 2013, and a Japanese extension exists for Remifentanil Hydrochloride which expires in March 2015. Data exclusivity (where available) is not a factor when considering generic constraint in the case of this molecule.
Both the second and third key patent families contain only US equivalents, and whilst not being as considerable a constraint factor as the API patent family, they are still worthy of consideration. The second family US11403293A (30/08/1993) claims the use of Remifentanil as an anaesthetic (the currently marketed indication) and expires in March 2014 however the patent in question has now been delisted from the FDA Orange Book. The third family US2594096P (11/09/1996) has molecule claims to Remifentanil Glycinate and formulation claims which match the currently marketed product, and is due to expire in March 2018 following a paediatric extension. The apparent absence of generics in the US suggests that this patent may be a constraining factor.
Figure 2: Key Patent Indicator; the most significant patents protecting products containing Remifentanil
Category
Priority Data
Patentee
Patent Scope
Flags
API

US31131189A

(15/02/1989)

Glaxo Wellcome Inc [US]

Molecule patent (or processes) for 4-carboxy-4-(N-phenplpropionamido)-1-piperidenepropionic acid? Dimethyl ester, i.e. Remifentanil.

EXT,OB
Use

US11403293A

(30/08/1993)

Glaxo Wellcome Inc [US]

Use of Remifentanil for the induction or maintenance of anaesthesia or conscious sedation.

EXT

API: Salt:

Formulation

US2594096P

(11/09/1996)

Glaxo Wellcome Inc [US]

Remifentanil Glycinate; complexes of Remifentanil, Glycine and water; and solid lyophilised compositions comprising Remifentanil and Glycine.

EXT,OB
Figure 3: Patent Family View priority application US31131189A
Patent

Country

Publication

Number

Normal

Expiry

Extension

Number

Extension

Expiry

Extension

Subject

Data Excl.

Expiry

AU
AU636330
14/02/2010


04/05.2013
Remifentanil
04/05/2003
CA
CA2010011
Lapset
24/12/2001
DE
EP0383579
14/02/2010
DE960028
17/05/2011
Remifentani HCL
17/05/2006
ES
EP0383579
14/02/2010
ES980003
17/05/2011
Remifentani
17/05/2002
FR
EP0383579
14/02/2010
FR970016
17/05/2011
Remifentani
17/05/2006
GB
EP0383579
14/02/2010
GB960059
16/05/2011
Remifentani
17/05/2006
US
US5019583
15/02/2009
12/01/11
Figure 4: Companies who have established activity in developing Remifentanil API
| | | |
| --- | --- | --- |
| Company* | Patent Filing | MA Holder |
| Aryx Therap | X | |
| Braun Melsunqen | X | X |
| Cilag | X | |
| Fresenius | | X |
| Generics UK | | X |
| Jamie Fine Chem | X | |
| Kern Fharma | X | |
| Laboratorio Medea | | X |
| Mallinkrodt | X | |
| Ratiopharm | | X |
| Sandoz | | X |
| Teva | | X |
*Other companies may also have developed the API but this cannot be confirmed via patent, marketing authorisation and DMF data.
Figure 5: Marketing Authorisations for products containing Remifentanil in Key Countries
Marketing Authorisations approved in the UK since October 2009 suggest that generic competition will be strong upon expiry of the API patent in the UK.
| | | |
| --- | --- | --- |
| Priority Data | Innovator (GSK/Abbott/Bioniche) | Other (Generics) |
| UK | 3 (GSK) | 21 |
| Australia | 3 (GSK) | 0 |
| Canada | 3 (Abbott) | 0 |
| USA | 6 (Abbott/Bioniche Teoranta) | 0 |
Figure 6: Top Patent Applicants
A representation of patentees who have filed the most patent families for this INN. Note the strong filing activity by Euroceltique which concerns formulation and use patents. In total there exist over 140 individual patentees assigned to patent families relating to Remifentanil.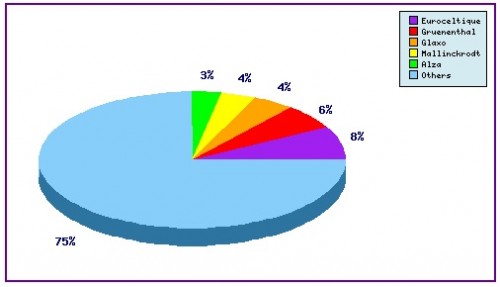 Figure 7: Patent Filing Trend
Represents the timing of the earliest priority filing date for each patent family identified for this molecule as well as the type of claims found in the applications. Note the strong responsive patenting by generic companies post-launch, particularly in the area of formulations.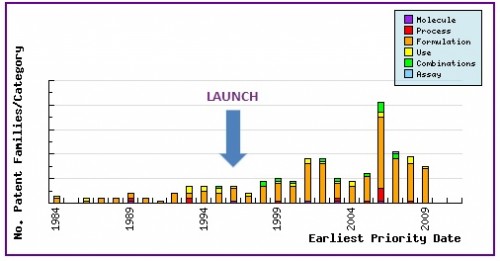 Figure 8: Patent Category Distribution
The types, number and relative distribution of patents that have been filed for Remifentanil obtained via a comprehensive patent search (Pipeline Developer report). Note that over 180 patent families - or 75% of all patent families - relate to formulations, an unusually high proportion. Of these formulation families, nearly half concern oral formulations (not the currently marketed form).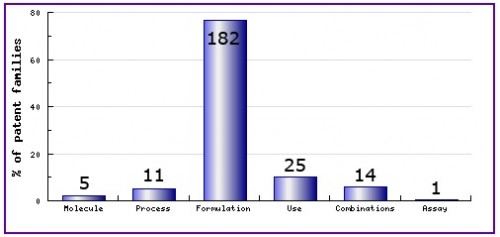 In summary, Remifentanil is likely to become available to generic companies in Europe upon expiry of the SPCs in May 2011, indeed the UK market authorisation applicant data suggests that several generic players are preparing to market generic Remifentanil in the UK. The fact that the API patent for Remifentanil has expired in the US yet no generics have appeared suggests that in this case the other US patent families may be playing a part in preventing generic competition.
To order the report or ask for sample pages contact ps@marketpublishers.com
CONTACTS
The Market Publishers, Ltd.
Mrs. Alla Martin
Tel: +44 208 144 6009
Fax: +44 207 900 3970
ps@marketpublishers.com
www.marketpublishers.com