Thailand's Palm Oil Industry Is the 3rd Largest in the World
13 Aug 2010 • by Natalie Aster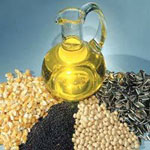 According to USDA data, global oil seeds output accounted for 440.88 million tones in 2009-2010 (Apr/May) – global production has increased by 11% comparing this level with the previous year. USA, Brazil and China are major oil seeds producers.
Soybean is considered to be the main world oil seed crop, it occupies 57% in the total global output. In 2009-2010 global soybean output achieved 259.2 million tones, with US – the biggest producer, and China, EU and USA – the biggest consumers. Thailand is a large-scale importer of soybeans. In 2009 Thai import share in world turnover was 2.4% and that is the 4th major importer after China, Germany and Mexico.
Thailand is a promising market for imported soybeans due to a steadily increasing demand and a stagnant and small domestic production. Domestic soybean production remains small covering about 10% of total domestic demand. Soybean consumption within the country is forecast to grow 9% from 1.81 million tons in 2009-2010 to 1.98 million tons in 2010-2011 as two new soybean oil crushing plants by Thai Vegetable Oil Co. (TVO) and Thanakorn Vegetable Oil Products Co. (TVOP) will start operations in 2010 and the continued growing demand for soy-based food products.
This expansion will lower production costs as economies of scale are attained, improving their competitive position in the domestic soybean meal and global soybean oil markets. The structure of the soybean crushing industry has developed into an oligopolistic competition. Out of 10 soybean crushing mills in Thailand, TVO and TVOP utilize 90% of soybeans destined for oil crushing. The smaller crushers have been facing difficulties due to financial limitations and fluctuating soybean prices, and have been forced to scale down production, with some running at less than 50% capacity.
Palm oil is the second major one among plant oils after soybean oil. Thailand's palm oil industry is the 3rd in the world after Indonesia and Malaysia. The current area of oil palm is 512,000 hectares. One hectare of palm oil can produce 4 to 5 tons of crude palm oil which is 5 to 10 times more than the yield of any commercially grown oil crop. Thailand is making big plans, in particular for the next ten years, to boost agrofuel production particularly through expansion of oil palm plantations.
Thailand is among top 10 producers of coconuts and the 4th largest exporter of copra on the global market. Three-quarters of total production is sold as fresh nuts used in cooking or for other purposes and the remaining quarter converted into copra. According to USDA data Thailand produces 72,000 tons of copra annually.
More information on the Thai oil seeds market may be found in the report Oil Seeds Market in Thailand: Business Report 2010 recently published by TD The Market Publishers, Ltd.
Source: MarketPublishers, Ltd.