The Cocoa and Chocolate Market in Columbia Is Considered to Be an "Exciting" One
09 Aug 2010 • by Natalie Aster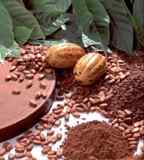 Cocoa is the world's smallest soft commodity market. Cocoa and its products (including chocolate) are used worldwide. The largest producing countries are Cote d'Ivoire, Ghana and Indonesia.
For the current cocoa year, world production is projected to increase from around 3.7 million tons in 2007/2008 to about 4.5 million tons in 2012/13, increasing at an estimated average growth rate of nearly 3.7% per annum.
Africa is the main region supplier of cocoa beans on the global market. It provided 70.1% in 2008/09 year. The main country-producer is Cote d'Ivoire – the country produced 1,210 thousand tons in 2008/09. Among Asian countries the biggest producer is Indonesia (country's cocoa beans output achieved 490 thousand tons in 2008/09).
Cocoa beans are not harvested in European countries. But in spite of the fact, Netherlands is the leading cocoa processing country, manufacturing 435 thousand tons or 12.5%. The leading cocoa bean importing nations are the Netherlands, United States and Germany.
Among American countries the biggest producer of cocoa are Brazil and Ecuador – 61.6% of American total cocoa output. Columbia takes the 3rd place with 10% of South American output.
According to International Cocoa Organization Columbia is included in the group of countries producing 10-100 thousand tons of cocoa beans. Cocoa beans are among primary agricultural products in Colombia.
Columbian demand for cocoa beans exceeds country's production. The share of imported cocoa beans on Columbian domestic consumption is 30%. Main countries suppliers are neighboring Ecuador and Venezuela.
The cocoa and chocolate market in Columbia is considered as an "exciting" one, regardless of economic and political conditions. Domestic chocolate market is annually growing by 9.5% on average.
National companies play a large role in domestic cocoa and chocolate production in Colombia, competing head to head with the multinational confectionery conglomerates. Compania Nacional de Chocolates is the leading producer for the domestic market, and also exports to and invests in surrounding countries. The company's brand is Santander, named after the bean source. One of the most interesting cacao growing areas in Colombia is in the Magdalena valley, sandwiched between two spurs of the Andes, in the Department of Santander.
More information on the cocoa and chocolate market in Colombia may be found in the report Cocoa Market in Colombia: Business Report 2010 recently published by TD The Market Publishers, Ltd.
Source: MarketPublishers, Ltd.