The Success of Hong Kong's Finishing Materials Industry Lies in Efficient Management
07 Jul 2010 • by Natalie Aster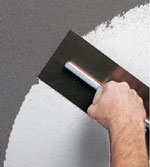 The finish carpentry is divided into exterior finish (located principally on the outside of the structure) and interior finish (located inside). The principal items of the exterior finish are the roof sheathing and covering, exterior trim, and wall sheathing. Interior finish include floor covering, ceiling, wall coating, and painting, wallpaper hanging, tile paving, etc.
Hong Kong companies have earned a reputation in rapid construction of quality high-rise apartment blocks and office towers. The adoption of specialized construction techniques (reclamation, design-and-build methods) has made Hong Kong a regional leader.
The success of Hong Kong's Finishing Materials industry lies in efficient management. Hong Kong companies emphasize quick response to ensure effective marketing services to their customers, and to monitor the changing product trends. Additionally, many companies have strengthened their quality assurance systems. It is remarkable that for production of building materials and hardware requiring large space and special treatment, most Hong Kong companies have relocated their production facilities to the Chinese mainland on the grounds of cost and environmental considerations.
Hong Kong construction industry is characterized by dependence on imported raw materials and semi-finished goods. Over 90% of the building materials are imported. At the same time Hong Kong exports a number of Finishing Materials and hardware. While there are a number of manufacturing establishments still maintaining their operations in Hong Kong, the export sector is dominated by re-exports.
The largest export share on the Finishing Materials market in Hong Kong belongs to electrical apparatus for building, including air-conditioning machines, relays, switches, electric conductors, electric insulators, wires and cables. Hong Kong also exports a variety of building hardware like nails, screws, nuts, hand and machine tools, sanitary ware and locks and keys. A significant portion of total exports is also shared by steel tubes and steel pipes for building, as well as wood/board for building, such items as plastic tubes, paints, wallpapers, tiles, floor coverings, lime, cement, marble, stone.
The Chinese mainland is the largest export market, sharing more than half of the total exports. Sales to the mainland increased by only 3% in 2008 and dropped by 23% in the first eight months of 2009. Exports were also affected by the rise of local Chinese suppliers, which have posed a threat to Hong Kong companies in the mainland market.
Meanwhile, on the back of keen competition from the mainland and Southeast Asia in the low-end market segment, Hong Kong companies have diversified their businesses to higher value-added products, introduced advancements to the technology, durability of items, are adopting new types of materials (foam metal, for instance).
More information on Finishing Materials market in Hong Kong may be found in the report Finishing Materials Market in Hong Kong: Business Report 2010 recently published by TD The Market Publishers, Ltd.
Source: MarketPublishers, Ltd.