Polymethyl Methacrylate (PMMA) Demand will Rise by 3-5% Annually
28 Jun 2010 • by Natalie Aster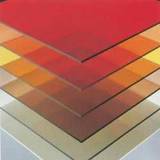 PMMA is widely referred to as organic (resin) glass on the market. The light transmission of organic glass reaches 92% for visible light, this parameter being better than of any other polymer material.
PMMA is used for manufacturing of windows, transparent roofs, lighting equipment, automotive industry, etc. Methacrylates are a constituent for production of latex coatings, emulsions, and other materials.
According to 2009 data, today there are 16 manufacturers in the world active on Polymethyl Methacrylate market, 66% of them are situated in the Asian region (15% of global production capacity is made up by China). Eastern Europe accounts for 23,3%, the USA – 7,7%. Russia takes up only 0,8%.
"ROHM GMBH", "ВAYER AG", "Degussa Huls", "Atoglas", "ICI Acrylics", "Barlo Plastics" are major global producers of PMMA. These companies manufacture organic glass under various trade marks, but their operational characteristics do not differ greatly, apart from those of specialized organic glass types. However, different producers use different equipment, technologies, packages, raw materials, additive agents, opacifiers, colourants and thus there are some differences between various kinds of the end product.
Overall global PMMA production capacity accounts for 650 thousand tons a year. More than 80% of PMMA is utilized by construction and automotive industries. A growing consumer of PMMA is the electrical equipment sector, where it is used for Liquid Crystal Displays and flat TV screens. Nevertheless, demand in these sectors has dropped sharply in 2009 as a result of financial crisis, as consumers delayed purchasing of the respective products for a later period.
Market experts predict that starting with 2010 demand for PMMA will rise by 3-5% annually – this trend will prove valid for a long period ahead.
More information on Polymethyl Methacrylate may be found in the report Polymethyl Methacrylate (Organic Glass) Market Research recently published by TD The Market Publishers, Ltd.
Source: MarketPublishers, Ltd.