In the Beginning of 2010 Russia Produced More Calcium Carbide than in the Previous Period
18 Jun 2010 • by Natalie Aster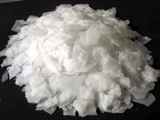 JSC "Khimprom" (Volgograd) and "Usolyekhimprom" Ltd. (Usolye-Sibirskoye) are the major producers of Calcium Carbide in Russia. 133 tons of Calcium Carbide was manufactured by Russian enterprises in 2008. Production volumes tumbled significantly in 2009 (by 40.5%) and made up 79.16 thousand tons. This was the result of halting the production on "Usolyekhimprom" Ltd. in October, 2009.
In 2009 the foreign trade balance for Calcium Carbide in Russia turned out to be negative. The steeping production volumes led to the rising volume of the imported material. In 2009 it reached 13.65 thousand tons.
Uzbekistan and Ukraine have been the key consumers of Russian Calcium Carbide. In 2009 Russian export decreased by 42.5%. This was due to the falling demand for Calcium Carbide in Uzbekistan and Ukraine, shutdown of large consumers in Slovakia and Romania, that is attributed to the overall tumbling volumes of product consumption on the European and Russian markets – the level of Calcium Carbide consumption in Russia fell down twofold in 2009.
The process of Calcium Carbide production is energy-consuming, thus the rising energy tariffs entail the increase of the product price. In this respect, due to the unfavourable market situation raw material prices of rose by 7%, end product prices rose by 4%.
It is also notable that Russian Calcium Carbide market has been destabilized lately by a new manufacturer, JSC "Alash" (Temirtau, Kazakhstan), that sells products at damping prices –Kazakh Calcium Carbide is shipped at damping prices to Europe.
However, it is essential that the volume of Calcium Carbide produced in the first quarter of 2010 in Russia is 15.61% larger than in the respective period in 2009.

Related Research:
Calcium carbide (CAS 75-20-7) Market Research Report 2010
Source: MarketPublishers, Ltd.