Vietnam's participation in WTO, rising consumer price index, increasing income have positive impact on country's pharmaceutical market
11 Jun 2010 • by Natalie Aster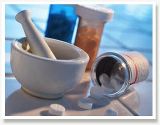 In 2007 Pharmaceutical industry in Vietnam produced $600 mln worth volume of medications (16.5% more than in 2006). However due to the economic recession in 2009 this growth started to slow down.
According to the forecasts, in 2019 per capita expenditure on medicine in Vietnam will rise from $16,13 (the level of 2008) to $60,30.
Today Pharmaceutical products prices have significantly risen on the Vietnamese market. Major reasons for that are the country's sign-up to WTO, rising consumer price index, increasing income and electricity tariffs.
Notwithstanding the positive moves, Pharmaceutical industry in Vietnam is still relatively weak. By such criteria as per capita drugs consumption, IPR system the country is at the bottom of Asian-Pacific countries ranking lists.
Pharmaceutical industry in Vietnam faces such problems as counterfeit production of drugs, quotas on foreign drugs import, etc.
Ministry for Healthcare of Vietnam plays the key-role in Pharmaceutical industry regulation in the country. The authorities have endorsed a development plan for Pharmaceutical raw materials production through 2015, which will support the coverage of domestic demand that is projected to boom.
This sector welcomes foreign investment into specialty medication production so as to cut import volume and prices. Modernization of the exiting chemical enterprises also receives much consideration.
Vietnamese administration has set a course for applying Good manufacturing practice, or GMP quality control system. According to the official statistical data, nowadays there are 165 pharmaceutical producers in Vietnam, 48 of them are GMP certified.
Vietnamese Pharmaceutical enterprises cooperate closely with their foreign partners. Today 53% of the respective market is taken by domestic producers, foreign companies account for the remaining 43%. The outside producers in Vietnam are represented by Pfizer, Sanofi-Aventis, Novartis, Merck & Co. National companies are, among others, Vietnam Pharmaceutical Corporation (Vinapharm), Vietnam OPV Pharmaceutical Co, Vietnam Pharmaceutical Joint Stock Company (Ampharco).
Natural drugs, used traditionally in Eastern medicine, are applied broadly in Vietnam. There are 83 domestic companies producing more than 4000 brands of such natural drugs.
More information on Pharmaceutical industry in Vietnam may be found in the report Pharmaceutical industry in Vietnam: Business Report 2010 recently published by TD The Market Publishers, Ltd.
Source: MarketPublishers, Ltd.